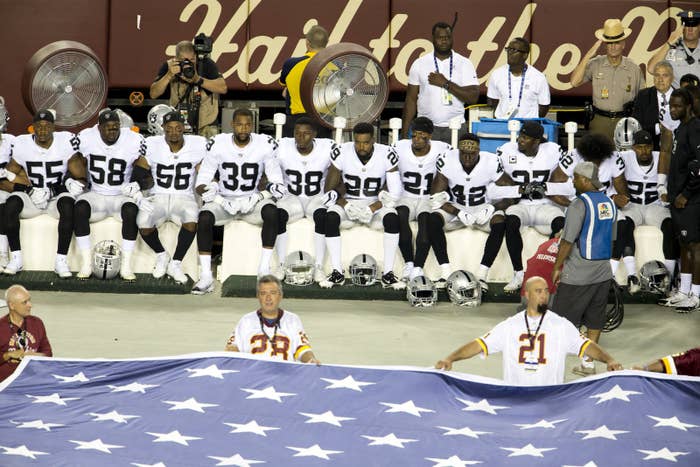 WASHINGTON — In a photo that went viral after President Donald Trump called on the NFL to fire players who kneel during the national anthem, a young Marine stares straight into the camera, hands clasped. Where his legs once were, two artificial limbs extend into his brightly shined shoes.
"I wonder what this BRAVE American would give to stand on his OWN two legs just ONCE MORE for our #Anthem?" reads the post, which was tweeted at the president with the photo. It was captioned, "This is a Hero."
The tweet was shared more than 22,000 times, and as of Wednesday afternoon had 63,000 likes.
Asked how he felt about the 10-year-old photo being used as an internet meme now, retired Marine Staff Sgt. John Jones, who lost both legs below the knee in Iraq in 2005, gave a grim chuckle.
"The thing is, I do stand," he told BuzzFeed News. "Hello, I have technology."
But Jones says he is sick of military veterans being used as props "to push a political agenda" in the renewed controversy over whether athletes' protests, which they say draw attention to racial discrimination and police brutality, disrespect the military. If you really want to honor the troops, listen to them, he says.

"Just stop with this sycophantic bullshit and actually do something to support us," said Jones, who works for Workshops for Warriors, a San Diego nonprofit that has trained more than 400 veterans for skilled manufacturing jobs. "I would want Trump to tweet about that, instead of fueling the fire with the people making 10 million to score a freaking touchdown. And for people (seeing the photo) to say, 'Look, he's still standing for this country, and getting veterans good jobs.'"
Civilians on both sides are using respect for veterans and the flag as a bargaining chip, he said.
"The president's got to unify the country, that's his job, but do it in a different manner and don't use veterans for it unless you're going to put them on the national stage and say, 'Hey, let's work on more important things than NFL overpaid pansies,'" he said.
Personally, Jones says he would stand for the anthem to honor the sacrifice of fellow troops — but that's not the point.
"I've got my own views about this, but that's why I put the uniform on, so people can do whatever they want in a lawful, peaceful manner," he said. "I'm sorry, but if you want to know what the real issues are – go to Iraq, or Syria, or Afghanistan, go to places that don't have the freedoms that we have and see how far you get."
Trump similarly shared a photo of a soldier to make his point, retweeting an image of NFL player-turned-US Army Ranger Pat Tillman with the hashtags #StandForOurAnthem and #BoycottNFL. Tillman was killed by friendly fire in Afghanistan in 2004.
Tillman's widow, Marie, sharply criticized the president's use of her husband's photo. Military service, she said, "should never be politicized in a way that divides us."

Richard Allen Smith, a former Army sergeant who served in Afghanistan, took a similar view. "Not in our name," he said. "You're not going to criticize these guys on the back of our service."
Many veterans may not agree with the players, but, Smith said, they "acknowledge that this was a right we fought for as soldiers and pledged to defend with our lives, to be able to express our right to protest."
Last fall, Smith posted an open letter that was signed by dozens of military veterans in support of Colin Kaepernick, the former quarterback for the San Francisco 49ers whose refusal to stand during the national anthem started the protest movement. They also started the #VeteransForKaepernick hashtag.
"A lot of veterans actually agree with their message," he said. "Honestly, the military isn't this conservative monolith that everyone thinks it is."
Many veterans have said as much on social media since Trump made his comments. In one widely shared photo, a 97-year-old World War II veteran and farmer in Missouri knelt in support, saying "those kids have every right to protest."
Gen. Michael Hayden, a retired four-star general and former director of the CIA and National Security Agency, also objected to Trump using the military as an argument against the players.
"As a 39-year military veteran, I think I know something about the flag, the anthem, patriotism, and I think I know why we fight," Hayden wrote in an editorial in The Hill on Tuesday. "It's not to allow the president to divide us by wrapping himself in the national banner. I never imagined myself saying this before Friday, but if now forced to choose in this dispute, put me down with Kaepernick."
Others blamed the athletes, not Trump, for injecting politics into sports in the first place.
"Your desire to focus on division and anger has shattered what many people loved most about the sport," Taya Kyle, the widow of American Sniper Navy Seal Chris Kyle, wrote in an open letter to the NFL on Facebook.
The dismay of many veterans at the assumption that they somehow are offended by expressions of protest at football games shouldn't come as a surprise. The melding of sports with patriotic pageantry is a fairly recent phenomenon.
Until 2009 — four years after Jones lost his legs — players weren't required to stand on the sidelines during the national anthem. Previously, players stayed in their locker rooms as the anthem was played and ran onto the field afterward.
But then came a Defense Department program intended to promote the military that saw millions of taxpayer dollars routed to US sports organizations.
Between 2012 and 2015, the Defense Department spent $6.8 million on sports events to showcase support for the military and increase recruitment, doled out to 50 teams representing the NFL, Major League Baseball, the National Basketball Association, NASCAR, and Major League Soccer.
Roughly $5.4 million of that went to 14 NFL teams. That money paid for color guard ceremonies, flag presentations, on-field enlistment ceremonies, performances of the anthem, and jackets branded with both NFL and military insignia.
Some $675,000 went to the New England Patriots to pay for the team's "True Patriot" promotion during halftime shows honoring National Guard troops.
The Defense Department also paid teams for the "opportunity" to perform surprise welcome-home promotions for troops returning from deployments, and to recognize "hometown heroes" and wounded soldiers on jumbotrons during games.
In a scathing 2015 report, Arizona Republican Sens. John McCain and Jeff Flake slammed the Pentagon payments as "paid patriotism."
"For many Americans, football is deeply patriotic and woven into the very fabric of our country's unique history and heritage," McCain said on the Senate floor in 2015. "That is why I and so many other Americans were shocked and disappointed to learn that several NFL teams weren't sponsoring these activities out of the goodness of their own hearts, but were doing it to make an extra buck, taking money from the American taxpayers in exchange for honoring American troops."
Soon after, lawmakers passed legislation that barred Pentagon funds from going to sports teams for patriotic salutes, and the NFL told its teams to no longer accept money for patriotic displays.
Paid or not, Jones said it makes him uncomfortable when current and former troops are asked to stand up and be recognized at sports events.
"I didn't go and join the service to be patted on the back," he said.
CORRECTION
Pat Tillman's name was misspelled in an earlier version of this post.
CORRECTION
Taya Kyle's name was misspelled in an earlier version of this post.