WASHINGTON — With relations between Turkey and the United States once again in crisis, some former US military leaders are saying it may be time to reassess just how much the US really needs Turkey's Incirlik Air Base — and whether it's worth the leverage it gives the increasingly combative government of President Recep Tayyip Erdoğan.
Over the weekend, the two countries halted the processing of nonimmigrant visas for citizens of the other after Turkey arrested a US consulate employee and charged him with espionage, the latest in a series of arrests diplomats believe is a campaign of hostage-taking to force the US to extradite an Erdoğan rival who lives in Pennsylvania.
As in previous diplomatic standoffs, Incirlik, a strategically located air base just 60 miles from the Syrian border that houses 2,700 American service members, has become a key point of contention, with US officials insisting it remains strategically important. Pro-Erdoğan media outlets trumpeted those statements Tuesday.
Incirlik "has been a symbol of our commitment to work with and help defend our ally and strategic partner for decades," Pentagon spokesman Johnny Michaels told BuzzFeed News, adding that counter-ISIS operations out of the base continue to be closely coordinated with Turkey. "We're fully in this fight and intend to continue to cooperate closely with Turkey."
But some former US military leaders question that position, noting that Incirlik has become a card that trumps all others in disputes with a supposed ally that's seemed less and less of one in recent years.
"Turkey needs to know we're not held hostage by the fact that we need to have this base. We don't," retired Gen. Chuck Wald, former deputy commander of the US European Command, told BuzzFeed News. "It's a good place to have a base, but can we do it somewhere else? Absolutely."
Incirlik's strategic location has long given Turkey a "special aura" in dealing with the US and other NATO allies which its government has relished playing up, he said.
"We've kind of talked ourselves into Turkey being this super geostrategic location ... that it's such a special place that we turn a blind eye on bad behavior," Wald said. "But they are threatening and arresting our people there, beating up people in DC, making side pacts with China and Russia, shooting at people we support in Syria ... That's not the kind of behavior you expect from a pretty strong ally."
As relations with the US have deteriorated, Erdoğan has increasingly coordinated with Russia and Iran. Last week he also welcomed Venezuelan President Nicolas Maduro amid stringent sanctions by the United States.
Not all former military leaders agree with Wald. Retired Adm. James Stavridis, the former supreme allied commander of NATO, argues that the US "ought to do all we can to remain strategically engaged despite all the recent frustrations," and that Incirlik "remains of very high strategic and tactical importance."
"If we were to leave, we'd have to increase the load on … more distant locations," he told BuzzFeed News. "More importantly, [Incirlik] is a strong symbol of US connection to Turkey."
But there is much debate. Many analysts say that the base has become less critical, now that the war against ISIS has moved away from the Turkish border and to the eastern Syrian desert. That means aircraft have shorter travel times from Jordan. Last month, Germany, angered by Turkey's refusal to allow lawmakers to visit German forces there, withdrew its troops from Incirlik and moved them to Jordan's al-Asrak air base.
"Honestly, for a long time Incirlik was everything in the US–Turkey relationship," said Bulent Aliriza, director of the Turkey project at the Center for Strategic and International Studies in Washington. "It's like a bad marriage. If you take (the base) out of the equation, both sides are left saying 'What have you done for me lately?'"
Built in the early 1950s, the facility has been jointly operated by the Turkish military and the US Air Force since 1954. Located between Europe and the Middle East, it served as a bulwark against the Soviet Union during the Cold War. During the First Gulf War, coalition forces flew combat missions over Iraq from the base.
"This relationship was born in the Cold War, and they've spent 25 years after the fall of the Soviet Union looking for a new rationale," Aliriza said. "But we could move out of Incirlik tomorrow. It is far less important in the fight against ISIS than it was during the Gulf War."
The shared threat of ISIS and Turkey's agreement in 2015 to allow the US military to use its base to fight the group gave them a joint purpose. Incirlik became a key staging area where the US military keeps A-10 Thunderbolts for close-air support missions, EA-6B Prowlers which can jam ISIS communications, and KC-135 Stratotankers for aerial refueling.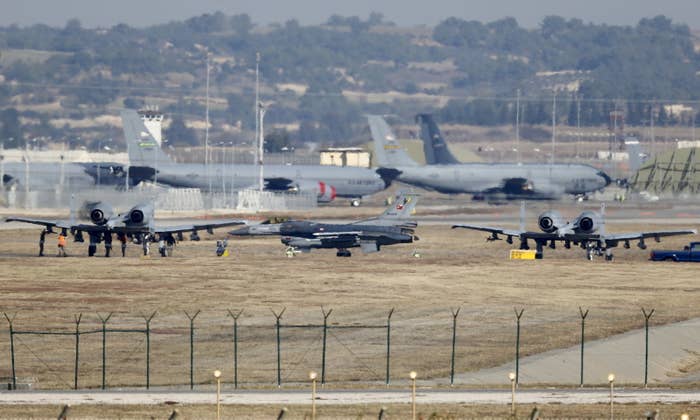 This has continued even as Turkey vehemently opposes the US partnering with the Peoples Protection Units, a Syrian Kurdish militia known as the YPG that Turkey sees as an offshoot for an armed movement battling for Kurdish autonomy in southeast Turkey. The US sees the Syrian Kurdish forces as its most effective partner in the fight against ISIS and has provided them weapons over Erdoğan's objections.
The tug of war over the base is full of contradictions, as Turkey threatens to attack YPG forces in Syria — while hosting the air assets that the coalition uses to help the group. As the relationship between the US and Turkey has deteriorated, the Turkish government has repeatedly flirted with closing the base as leverage.
After a failed coup attempt against Erdoğan in the summer of 2016, the Turkish government alleged that some of the plotters had flown aircraft out of the base. As a result, they cut off power to the base and temporarily grounded US air operations against ISIS. Months earlier, the Pentagon had ordered hundreds of military family members to evacuate the base due to security concerns.
The base became the center of another round of furious statements from Turkish officials in January, after they said repeated appeals for US air cover to help Turkish troops capture the Syrian town of al-Bab from ISIS were ignored.
Erdoğan's spokesman, Ibrahim Kalin, said Turkey would consider its "sovereign right" to deny the US access to the air base. Turkish Foreign Minister Melvut Cavusoglu warned of a "confidence crisis in the relationship" between the two countries.
"Our people ask, 'Why are they using the Incirlik Airbase?" he told the state-run Anadolu news agency. "What purpose are you serving if you do not provide aerial support against (ISIS) in the most sensitive operation for us?"
They did not follow through on the threat, but did up the pressure by delaying the approval of U.S. air missions out of the base, as well as for supplies going in and out.
Incirlik also holds the largest stockpile of nuclear weapons in Europe, with 50 Cold War-era B61 hydrogen bombs being kept in underground vaults. There have been increasing concerns that the weapons could be left vulnerable to terrorist attacks or escalating disputes with the Turkish government.
"The US military does not store nuclear weapons at any location anywhere in the world where the security conditions are as dire as in Turkey," said Hans Kristensen, director of the Nuclear Information Project at the Federation of American Scientists.
"[It is] less than 100 miles from a raging civil war in Syria, inside a country with a violent terrorist campaign with bombing attacks in the nuclear base area, and a host government that is vocally antagonistic with its allies and moving in a significantly more authoritarian direction," he said.

The illusion of leverage has worked with many Turks, many of whom have been taking to social media to call for US military personnel to be expelled from the base in the wake of the visa dispute.
The pro-government newspaper Yeni Safak ran a column on Tuesday stating that the US and its allies are "controlling many terrorist organizations from Incirlik."
"The US is no longer an ally and will not be able to become an ally," it says. "Military bases like Incirlik have turned into threats for Turkey's national security."
Roughly 79 percent of Turks have a negative opinion of the United States, according to a survey released this summer by the Pew Research Center. In fact, 58 percent in Turkey said they had a "very negative" opinion of the US, up 26 percentage points since 2015.
Still, Pentagon officials on Tuesday insisted that the escalating diplomatic dispute between the two countries has not affected the anti-ISIS campaign out of Incirlik.
"I can confirm that these developments have not impacted our operations or personnel," Pentagon spokesman Col. Robert Manning told reporters.