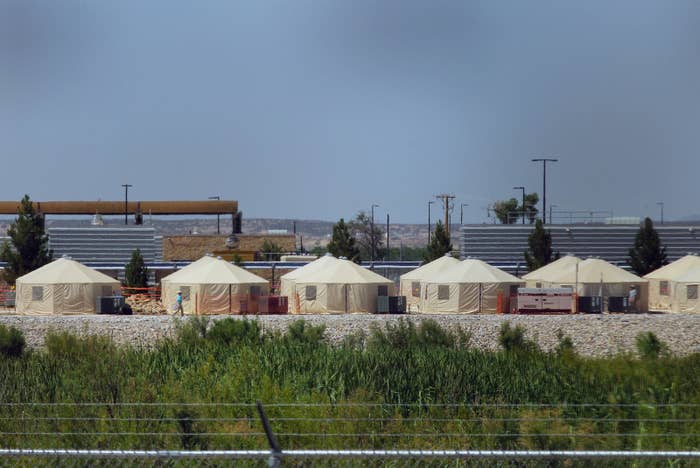 The Pentagon said Friday it was preparing to house up to 20,000 immigrant children at four military bases while US immigration officials issued a notice that it may seek up to 15,000 additional beds to detain immigrant families, as government agencies scrambled to carry out President Trump's executive order to keep families together after they are detained at the border.
The US military was asked to help provide temporary housing for children on its installations, a Pentagon spokesperson told BuzzFeed News, and it has been "working closely to determine the requirements and timing for support."

"Secretary Mattis' guidance has been clear: that the DOD will support our federal partners," the spokesperson said.
The Pentagon is looking at four US bases — Fort Bliss, Goodfellow Air Force Base, and Dyess Air Force Base in Texas, and Little Rock Air Force Base in Arkansas — to potentially house unaccompanied children who either crossed the border alone or were separated from their families, although the Department of Health and Human Services would be in charge of caring for them.
Trump's order directs the Department of Homeland of Security to keep detained families together, but any long-term enforcement of the order is contingent on a judge approving changes to a 1997 settlement agreement that restricts the detention of children.

It was not clear Friday where in the country the extra beds requested by US Immigration and Customs Enforcement (ICE) would be located, although the document outlines the need to be near infrastructure such as highways and airports, as well as medical facilities.
"ICE is seeking information regarding potential facilities to accommodate up to 15,000 beds, which would ideally be comprised of several service locations and/or providers," the notice says.
ICE currently has 3,300 beds for detained immigrant families across three facilities in Texas and Pennsylvania. The agency describes its housing as providing "quality and compassionate care for non-criminal families in a residential setting."
The Trump administration's controversial "zero tolerance" policy — which separated more than 2,300 children who crossed the border illegally from the adults they were traveling with from May 5 to June 9 – has led to chaotic scenes as the children have been sent to facilities all over the country. It's still unclear when or how most of them will be reunited with their families.

Defense Secretary Jim Mattis this week insisted that housing the children on US bases would not be a departure from the military's usual mission. The Obama administration rolled out a similar policy in 2014, temporarily housing 7,000 children in three military bases.
"We have housed refugees, we have housed people thrown out of their homes by earthquakes and hurricanes," Mattis told reporters outside the Pentagon on Wednesday ahead of a meeting with his German counterpart. "We do whatever is in the best interest of the country."
The Navy is also looking at plans to build "temporary and austere" detention centers in Alabama, Arizona, and California, according to a memo obtained by Time. It describes facilities that would house as many as 47,000 people at the former Concord Naval Weapons Station in California, another 47,000 people at Camp Pendleton, the Marines training facility in the same state, and as many as 25,000 people at abandoned airfields in Alabama.
The Pentagon said it was "conducting prudent planning and is looking nationwide at DoD installations should DHS ask for assistance in housing adult illegal immigrants," adding that, at this time, there has not been such a request from Homeland Security.