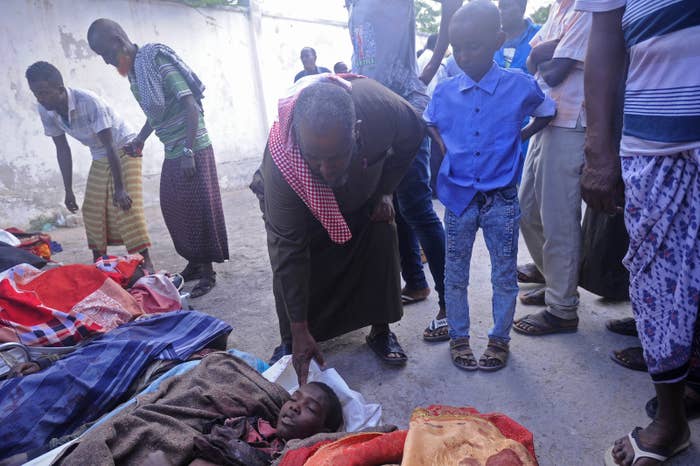 WASHINGTON — A deadly August raid on a Somali village that caused an uproar and rocked that country's fragile government did not kill civilians, only terrorist fighters, the US military declared on Wednesday.
The statement contradicts Somali officials' acknowledgment that 10 civilians, including children, were killed in the US-backed operation.

After a "thorough assessment … US Special Operations Command Africa has concluded that the only casualties were those of armed enemy combatants," said the brief statement by US Africa Command.
But Somali government and military officials already have admitted that their troops, backed by US forces, killed civilians in the village of Bariire, 35 miles southwest of the capital of Mogadishu, and paid reparations to the families.
After the Aug. 25 raid, the battered bodies of the victims were displayed in the capital of Mogadishu to garner media attention. As bystanders looked at the shrouded corpses and snapped photos, the deputy governor of the region said that three children, aged 8 to 10, and a civilian woman, were among the dead.
"These local farmers were attacked by foreign troops while looking after their crops," Ali Nur Mohamed, the deputy governor of the Lower Shabelle region, told reporters at the scene, calling it a "real genocide."
"The troops could have arrested them, because they were unarmed, but instead shot them one by one mercilessly," he said.
The chief of the Somali Army, which partners with the US military against the al-Shabaab terrorist group, also said that civilians had been killed in the joint raid, calling it "a misunderstanding and an accident."
An AFRICOM spokesperson declined to clarify the discrepancy between the US military's assessment and those of their Somali partners, referring BuzzFeed News back to its statement.
"Your military are just lying since they hope that no one will believe the Somalis," Roland Marchal, an expert on al-Shabaab at the Paris Institute of Political Studies, known as Sciences Po, told BuzzFeed News on Wednesday. "This killing became a huge crisis in Mogadishu. It created such a problem that the Somali government has had to pay hundreds of thousands in blood money to the families."
Relatives of the victims refused to bury the bodies until the government acknowledged what had happened, according to local news reports. Hundreds of people also demonstrated in Afgoye, 20 miles southwest of Mogadishu, to demand justice for those killed.
According to Marchal and Somali news reports, the Somali government ended up paying the families $70,000 for every civilian killed, a total of $700,000.
Wednesday's statement from AFRICOM created a stir among his Somali friends, said Marchal, who just recently returned from Mogadishu, but they don't expect their government to contradict the Pentagon.
"The blood money has been paid and they accepted the responsibility for having killed the wrong persons, so the issue is closed for Somalia," he said. "I believe the US (military) is betting that whatever they say internationally, their allies won't say that this is untrue. But the pictures clearly show three kids were killed. … That American forces are lying won't help their support in Somalia. It's a cynical calculation."
US Africa Command's statement on Wednesday came hours after a report published in the Daily Beast, reported from Mogadishu, claimed that US troops played a lead role in the mission, firing on civilians and planting guns near the bodies afterward.
The Trump administration's rapid escalation of its campaign against al-Qaeda-linked militants in Somalia in recent months has gone largely unnoticed. Earlier this month, the Pentagon acknowledged that the number of US troops deployed in the country has grown from 50 to 500 since the spring, and launched a series of drone strikes against al-Shabaab targets. This comes after the administration gave the military broader authority to carry out counterterrorism operations in Somalia in March, relaxing rules meant to avoid civilian casualties.
"It's very important and very helpful for us to have little more flexibility, a little bit more timeliness, in terms of the decision-making process," Gen. Thomas Waldhauser, who oversees US troops in Africa, said in March. "It allows us to prosecute targets in a more rapid fashion."
Under the previous restrictions imposed by President Barack Obama in 2013, ground operations and air strikes had to be vetted by multiple agencies, and targets would only be approved if they posed a real threat to Americans and could be hit without endangering civilians.