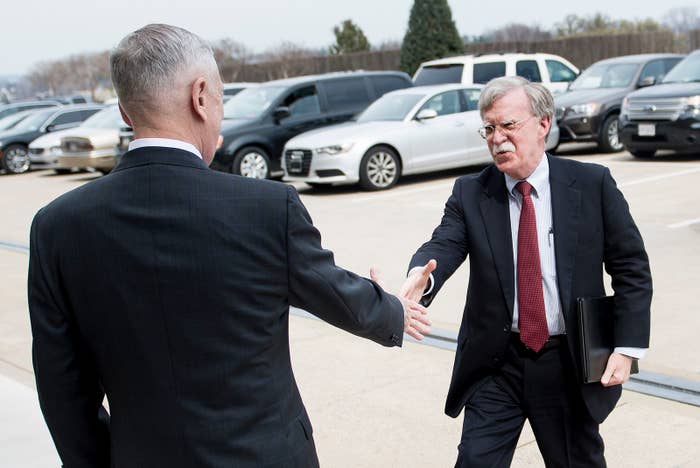 The long-awaited first meeting between Defense Secretary Jim Mattis and Trump's bombastic incoming national security adviser John Bolton did not disappoint.
"I've heard that you're actually the devil incarnate and I wanted to meet you," Mattis told him in an off-mic moment that was caught by TV cameras when he greeted him on the Pentagon steps. Bolton laughed.
The relationship between the two key members of Trump's war cabinet, who hadn't met before and seem to hold opposing views on top national security issues, has been the subject of speculation since the president announced last week that Bolton will replace national security adviser H.R. McMaster.
The Pentagon chief has said he has "no reservations" and "no concerns at all" about working with Bolton, who has been accused of abusive workplace behavior by subordinates.

"Last time I checked, he's an American and I can work with an American, okay?" he quipped to reporters at the Pentagon on Tuesday. "I'm not the least bit concerned with that sort of thing."
Mattis also dismissed questions about how he and the uber-hawkish Bolton will work together on national security and foreign policy issues where they appear to clash.
"Well, I hope that there's some different worldviews," Mattis said. "That's the normal thing you want, unless you want groupthink…don't worry about [it], we'll be fine."
Bolton has suggested the possibility of a preemptive attack on North Korea to destroy its nuclear arsenal — publishing an op-ed last month titled, "The Legal Case For Striking North Korea First" — a position strongly opposed by Mattis, who has pushed firmly for a diplomatically led strategy to pressure North Korea.
Bolton, who will start on April 9, will play a crucial role advising Trump during the sensitive upcoming talks with North Korea, a country whose officials publicly denounced him as "human scum and a bloodsucker" in 2003. At the time, the North Korean Foreign Ministry said it refused to deal with Bolton, who was serving as the State Department's undersecretary for arms control and international security. In his 2007 memoir, Bolton wrote that being personally insulted as "human scum" was "probably the highest accolade I received during all my service in the Bush years."
The 69-year-old former US ambassador to the United Nations has been best known in recent years as a Fox News commentator and prolific opinion page writer, including columns that advocated bombing North Korea and Iran — and for regime change in both.
Earlier this week, Mattis said he is hoping to build a close relationship with Bolton, referring to how he spoke sometimes two or three times a day with ousted secretary of state Rex Tillerson, and was "constantly meeting" with Bolton's predecessor McMaster.
"So, that's the way it's going to be," he said. "I'll tell you right up front, it's going to be a partnership."
Earlier Thursday, Mattis also met with CIA Director and Secretary of State designate Mike Pompeo, Attorney General Jeff Sessions, and Republican Sen. Lindsey Graham. Pentagon officials said it was just a "routine meeting of Cabinet members," and that Graham was included because of his work on the Senate Armed Services Committee and to keep Congress in the loop.
When asked about what was discussed at the meeting, chief Pentagon spokesperson Dana White was vague.
"The secretary talked about his three priorities, and that's the lethality of the force, its alliances and partnerships, and the reform that we're bringing…so that was the conversation," she told reporters at the Pentagon on Thursday. "But it was a routine conversation."
A day earlier, Graham had a 90-minute meeting with the president about North Korea and other foreign policy matters.