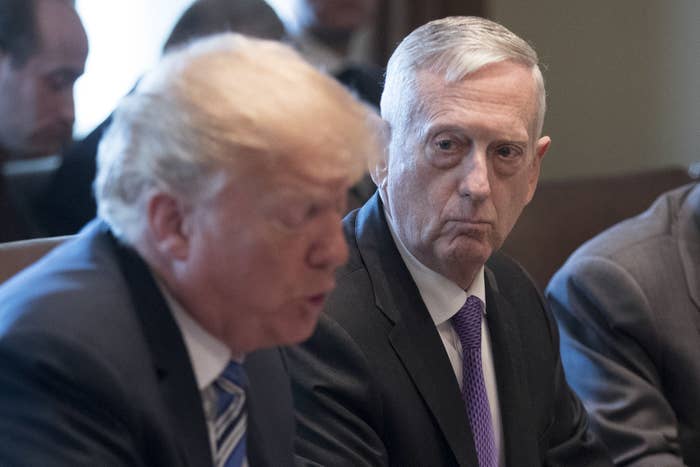 Defense Secretary James Mattis will retire in February, President Donald Trump tweeted Thursday night.
But a letter from Mattis made clear the decision was not that harmonious.
The decision comes a day after Trump announced he'd withdraw troops from Syria, which Mattis opposes, and reports that he may also withdraw troops from Afghanistan.

In a letter to the president dated Thursday, Mattis wrote about his beliefs in "treating allies with respect," and that the US "must be resolute and unambiguous" in how it approaches countries "whose strategic interests are increasingly in tension with ours," including China and Russia.
"We must do everything possible to advance an international order that is most conducive to our security, prosperity and values, and we are strengthened in this effort by the solidarity of our alliances," Mattis wrote.
"Because you have the right to have a Secretary of Defense whose views are better aligned with yours on these and other subjects, I believe it is right for me to step down from my position," he wrote. Mattis added that his last day in office would be Feb. 28, 2019.
Mattis personally hand-delivered his resignation letter to the White House on Thursday, a defense official confirmed to BuzzFeed News. When he returned to the Pentagon, he told his staff.

Trump said a new secretary would "be named shortly."
Mattis's resignation capped a year of significant shift in the Trump administration's military and national security leadership, with the president replacing top officials with loyalists more in line with his beliefs. He replaced Secretary of State Rex Tillerson with then-CIA chief Mike Pompeo in March, the same month he replaced national security adviser H.R. McMaster with John Bolton, a controversial hardline figure.

Earlier this month, Trump already announced the replacement for Gen. Joseph Dunford, chair of the Joint Chiefs of Staff, even though he had 10 months left in his term.

Mattis, a 67-year-old former general who led a Marine division to Baghdad during the 2003 invasion of Iraq, was until the final months considered a steady presence in Trump's volatile Cabinet.
When Trump nominated him on Dec. 1, 2016, he called Mattis "the closest thing we have to Gen. George Patton." In the early months of his presidency, Trump relished playing up the gruff retired Marine's reputation as a tough military strategist. At rallies and speeches, Trump would frequently call him by the nickname he acquired as a battlefield commander, "Mad Dog Mattis," which Mattis privately loathes.
Trump, who often bashed members of his Cabinet and did not like to be contradicted, gave Mattis rare reverence. He even admitted that during their first meeting the Pentagon chief nominee had changed his mind about torture, which until then he had said he strongly favored.
Unlike the long list of Trump Cabinet members who left in his first nearly two years in office, Mattis' standing was rarely in doubt, even though he was widely seen as constraining the president's more unpredictable impulses.
In several instances where Trump seemed to publicly announce a major change to the US military — such as the transgender troop ban, or saying the US would leave Syria "very soon" — Mattis backed him in public, but seemed to stymie the implementation back at the Pentagon. In some cases, when the president demanded more lethal action — such as his reported directive to kill Syria's Bashar al-Assad or be given military options to strike North Korea — Mattis slow-walked Trump's orders.
In one case in April 2017, recounted in journalist Bob Woodward's book Fear, Trump responded to a Syrian chemical attack by calling Mattis and saying, "Let's fucking kill him," meaning Assad.
Mattis hung up and told his aides, "We're not going to do any of that. We're going to be much more measured," and eventually presented Trump with options for an airstrike.
Mattis's restraint reportedly frustrated the president. As their relationship grew more strained in the second year of his presidency, Trump privately downgraded the defense secretary to "Moderate Dog" and started to signal that he could soon make a change at the Pentagon. In an interview in October, Trump seemed to dismiss Mattis by calling him "sort of a Democrat," and saying he "may leave."
It was no secret that Mattis opposed many of Trump's decisions in the White House, including decertifying the Iran deal, withdrawing from the Paris climate accord, imposing tariffs on steel and aluminum, and moving the US embassy in Israel to Jerusalem from Tel Aviv.
However, in public and to the press, Mattis was unfailingly deferential to Trump. While the two met frequently, Mattis's busy travel schedule and the distance between the White House and the Pentagon seemed to insulate him from the fate of national security adviser H.R. McMaster and White House chief of staff John Kelly, two other former generals initially lauded by Trump who soon saw their roles diminished.
The seemingly constant contradictions between Trump's words and Mattis's actions often put the defense secretary on the defensive, and his aides at the Pentagon frequently expressed frustration at what they said were journalists' attempts to create drama by pitching them against each other.
"Right now, if I say 'six' and the president says 'half a dozen,' they're going to say I disagree with him, so let's just get over that," Mattis said, chiding reporters in August 2017 when he was asked about contradicting the president on North Korea. "If that's the story that some people want to write, then they'll find the way."