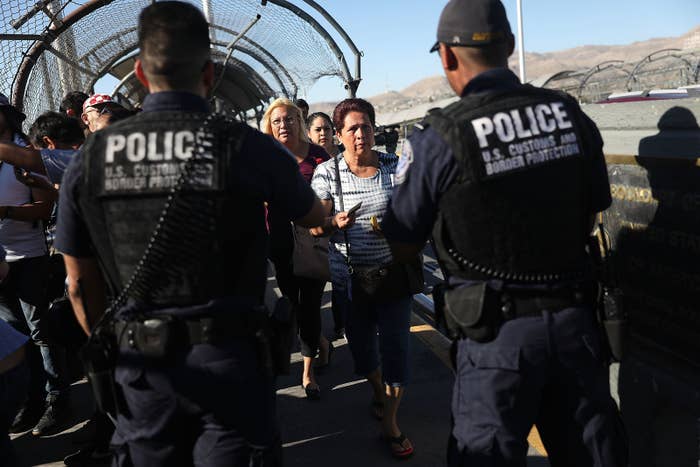 US Border Patrol agents on Tuesday canceled a "crowd control exercise" they had planned in El Paso, Texas, after civil rights groups and lawmakers slammed it as a voter intimidation tactic.
The location, near the Hispanic neighborhood of Chihuahuita, and the timing on Election Day raised suspicions, said Terri Burke, the executive director of the ACLU of Texas.
"It shouldn't have taken outrage by us, congresspeople and the community for Border Patrol to know this would cause serious problems on Election Day," she said in an emailed statement. "These suspicious exercises scheduled in a Latinx neighborhood raise serious concerns about whether this was intended to intimidate Texans from exercising their right to vote."
Texas Democrats were quick to denounce the planned drill as a "political stunt."
"This administration continues to use immigration policy for political purposes," Democratic state Rep. Mary González, who serves as vice chair of the Mexican American Legislative Caucus in the Texas House, said in a statement. "The made-for-media 'crowd control' drill, conducted on Election Day, is a cynical effort to suppress the Latino vote in a region seeing record turnout."

Earlier Tuesday, Texas officials denied that the exercise — which was planned to take place between the Hispanic neighborhood and its designated polling place about a half-mile away — would suppress voter turnout.
"I'm convinced the exercises aren't getting in the way of Texans going to the polls," Texas Secretary of State Rolando Pablos told the Texas Monthly, noting that he has spoken with the US Customs and Border Protection director of field operations. Soon after, the "mobile field force demonstration" was canceled.
Border Patrol officials did not give a reason for scrapping the exercise, which they told BuzzFeed News was supposed to take place Tuesday morning at the railroad crossing west of the Paso del Norte point of entry in El Paso, which is also the hometown of the state's Democratic Senate candidate Beto O'Rourke.
"No walls, no CBP exercises [are] going to keep us from honoring our laws, our commitments," he said before his final campaign rally Monday evening. "Why this is happening now, why the president is stirring these issues up at this moment with 24 hours before we decide this election, I'll leave that to you to conclude."
The Department of Homeland Security and CBP officials did not immediately respond to BuzzFeed News' request for comment.
El Paso residents and local media have reported heavier than usual law enforcement activity around the site of the canceled exercise, the Paso del Norte International Bridge, as a caravan of Central American migrants making their way through Mexico has dominated the political news cycle and President Donald Trump has deployed 5,200 active-duty troops to the US–Mexico border.
Last week, CBP officers in riot gear blocked the Paso del Norte bridge in a similar training exercise, although the caravan remains hundreds of miles away. The agency called the show of force a training mission to improve "operational readiness for the potential impact of the caravan."

Roughly 100 migrants have been camped on the bridge waiting to enter the US.