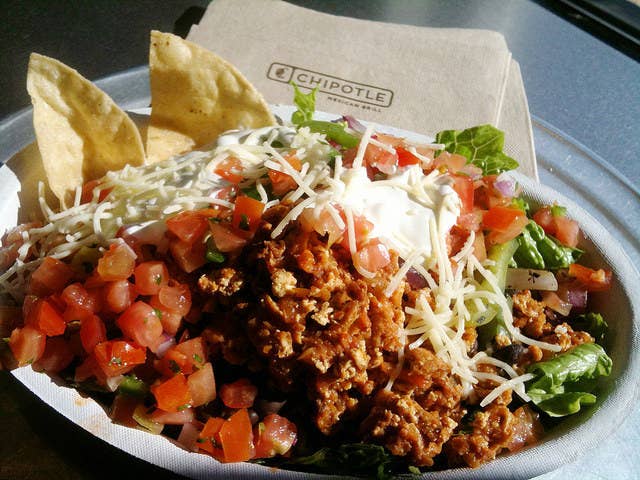 Chipotle sales fell by almost 30% in the first three months of the year, as customers continued to abandon the chain after a string of food safety incidents in late 2015.
The burrito chain reported Tuesday that sales at stores open at least 13 months declined by 29.7% in the first three months of the year. Total revenue fell by 23.4%, even though the chain opened more than 200 restaurants over the last year.
And as customers and revenue evaporate, the chain's food costs are rising due to new "food testing and waste costs," and higher costs for purchasing pre-cut ingredients, the company said. Chipotle said it is gradually shifting back to preparing certain ingredients in restaurants again, after finding customers unhappy with some of the changes, such as using pre-shredded lettuce.
Combined with higher marketing costs, these factors drove restaurant-level operating profit margins down to 6.8%, compared to 27.5% a year ago.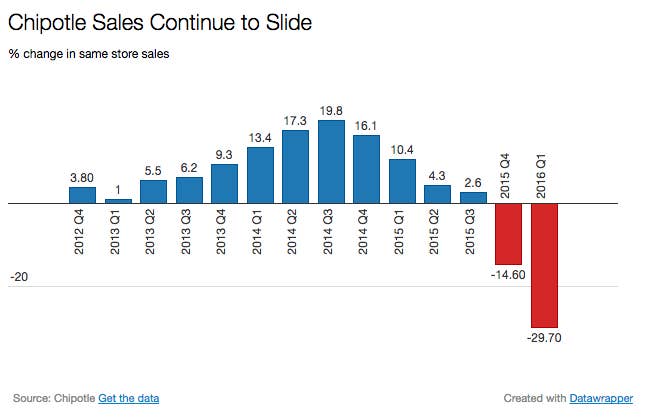 Chipotle is keen to put the food safety crisis behind it. In February and March the company gave away six million burritos and burrito bowls, and a million orders of chips with salsa or guacamole, to encourage customers to return.
But these deals have only had a limited effect on restaurant sales. Comparable sales in April remained down by more than 20%.
Later this year, Chipotle is planning to promote a loyalty program and new menu items, including a chorizo option that tested well in Kansas City last year, to enhance its marketing program.

As it faces wary consumers, the once booming chain intends to stick to its messaging around simple, fresh ingredients and classic cooking techniques thatmade it the envy of the restaurant business in the not-too-distant past.
Its return to growth won't be easy. Fast food burger burger chains have been offering steep discounts this year to win customers as beef prices remain low. Promotions, such as four for $4 meal deals, have made it harder for low-cost competitors like Taco Bell.
Despite these results, Chipotle still expects to open 220 to 235 new restaurants in 2016 and does not expect a slowdown in development.