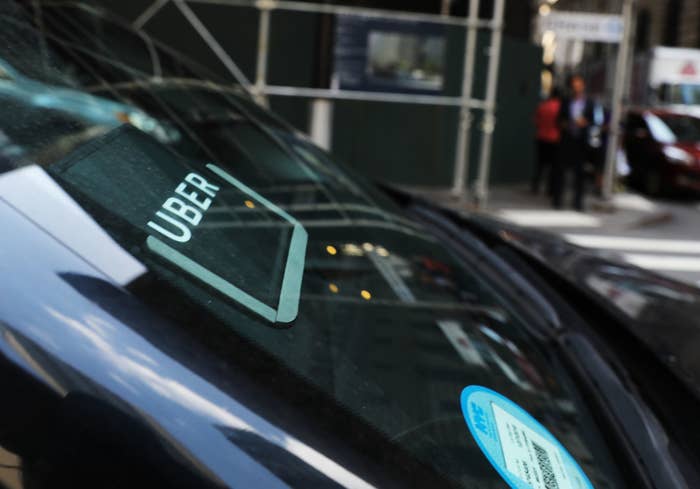 It's been one year since Uber gave riders the ability to tip their drivers through the app, and there has yet to be a consensus among customers about whether this means leaving a gratuity is now customary, or if it remains optional.
The company said this week that the number of trips that were tipped increased by nearly 30% in the last three months alone, and though it declined to specify what share of riders tip their Uber drivers, it indicates that plenty of them don't.
As more people use ride-hailing apps, will tipping an Uber driver be seen as optional, like leaving a dollar in the tip jar at a cafe, or essentially expected, like adding a gratuity to a sit-down restaurant bill? A year after Uber added a tipping feature to its app, people remain confused.
A business would never say that tipping is mandatory, but it's a topic that triggers strong feelings among both people who provide the service and customers.
For what it's worth, the company's official line on tipping today is this: "In most cities, Uber is a cashless experience. Tipping is voluntary. Tips are not included in the fare, nor are they expected or required."
A couple of very unscientific surveys about the matter on Twitter show the split between consumers.
The lack of consensus makes sense when you consider that Uber's app didn't prompt riders to tip when the service first went live in San Francisco in 2010 — costing about 1.5 times as much as a cab — or when it expanded globally in 2011. Moreover, the company has always described its service as "a cashless experience."

Uber's competitor Lyft, on the other hand, had an in-app tipping option when it launched in 2012.

So without the ability to tip on the app, and explicit marketing from Uber that a ride was cash-free, many customers took that to mean that you paid your fare, and that was that, no tip. Those who were intrigued enough to take up the issue of tipping with Uber were explicitly told by the company for years that there was no tipping on Uber, and that the money taxi drivers normally receive as a gratuity was baked into Uber's fare, a message that spread quickly between users by word of mouth.
For example, in 2012, Uber told one passenger "tips are built into the fare at standard industry rates (approx 20%). I promise it's all good."
And in 2013, it assured a concerned rider, "With Uber there is no need to tip!"
Through 2014, Uber continued to tell riders not to tip, as "the driver receives the majority of the fare."
It wasn't all good, though. Drivers had been protesting Uber's fare cuts and wanted a tip feature added (Uber would sometimes say that riders were free to offer cash tips). BuzzFeed News reported in 2016 that in Denver, Detroit, and Houston, drivers overall earned less than an average of $13.25 an hour after expenses. It wasn't until 2017, after a series of scandals, a lawsuit with Waymo about its self-driving car technology, a raft of executive departures, and then-CEO Travis Kalanick taking a leave of absence, that Uber finally announced it would roll out a tipping feature.
A year later, Uber says that drivers in the US and Canada have earned $600 million in tips. By comparison, as of this April, US Lyft drivers, despite having been able to collect gratuities since 2012, had earned $500 million in tips total over the years.

One Uber driver wrote in a forum last month: "In the last 4 days I have taken 66 trips ... Not one tip. People are strange." Another said last week, "U will receive tips 5-10% of the time."
Tipping etiquette has recently been called into question in the US as new business models emerge. Some restaurants are experimenting with no-tipping policies, offset by higher menu prices. And voters in Washington, DC, recently approved a measure to boost the minimum wage for tipped employees (who currently have a lower "tipped minimum wage" of $3.33 an hour, offset by the tips they earn) to the standard minimum wage — but some fear that diners will stop tipping when the wage change goes into effect.

As for ride-hailing apps, it seems that even with in-app tipping prompts, plenty of passengers don't tip today.
Those who do tip do so most often with Uber on Thursday at 8:12 p.m. (probably when they're leaving happy hour), Friday at 2:12 a.m. (probably when they're drunk), and Saturday at 10:33 p.m. (probably when they're hopping to another bar), according to data from the company. Lyft drivers also get more tips Friday and Saturday nights, during weekday commuting hours, and also when it's brunch time.