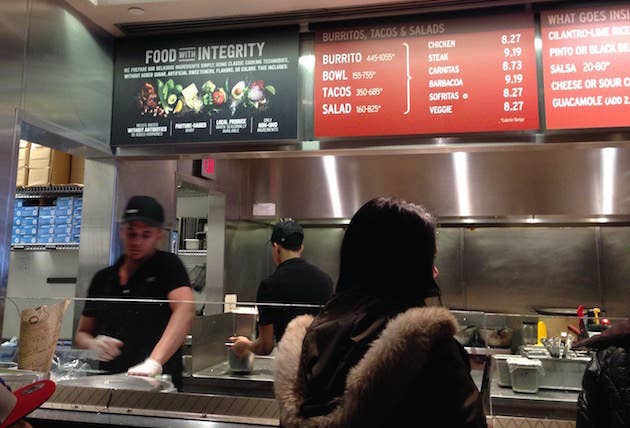 One day after the Centers for Disease Control and Prevention declared the end of the multistate E. coli outbreak linked to Chipotle, the company has revealed that the U.S. Attorney's office for the Central District of California has widened its criminal investigation of the company.
Investigators were previously looking into "an isolated norovirus incident" at single California restaurant last August, but are now requesting information about company-wide "food safety matters" going back three years, Chipotle said on Tuesday afternoon in its earnings report:
"On January 28, 2016, Chipotle was served with a subpoena broadening the scope of the previously-announced criminal investigation by the U.S. Attorney's office for the Central District of California. The new subpoena requires us to produce documents and information related to company-wide food safety matters dating back to January 1, 2013, and supersedes the subpoena served in December 2015 that was limited to a single Chipotle restaurant in Simi Valley, California. We intend to fully cooperate in the investigation."
Chipotle co-CEO Monty Moran told investors during Tuesday's earnings call that there is a federal statute concerning the sale of adulterated food. "I think they just wanted to make sure that everything we did was on the up and up," he said.
A spokesman for the United States Attorney's Office for the Central District of California declined to comment on the investigation.
The series of food safety outbreaks linked to Chipotle —which included E. coli, norovirus, and salmonella — have wrecked the chain's sales. Comparable sales at stores open at least 13 months declined by 14.6% in the fourth quarter, which ended Dec. 31. Things did not improve in the month of January, when comparable sales fell by about 36%.
Chipotle has implemented new food safety measures including new tests and cooking procedures. It will close all restaurants the morning of Feb. 8 for an employee meeting to inform crew about all the changes, including those happening outside of the restaurants, and will kick off a marketing and promotional campaign this month.