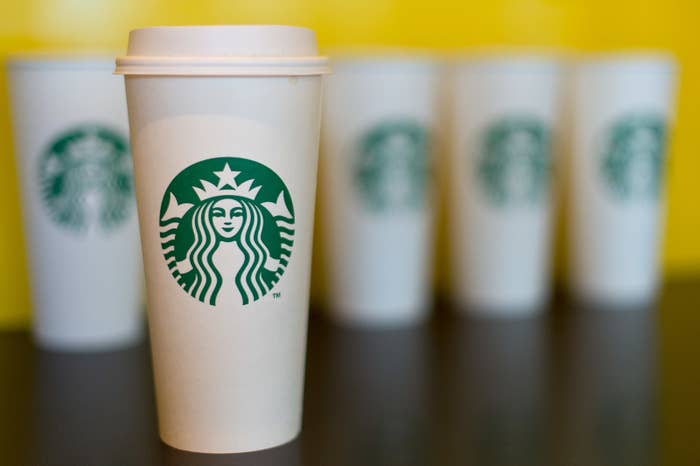 You might have noticed the lines getting longer at your local Starbucks, but prepare for even more people coming through the doors in 2017: The coffee chain is pushing every one of its US cafés to bring in an extra 20 customers per day this year, BuzzFeed News has learned.

The drive, known internally as #20More, is one of the first projects that will be led by Starbucks's incoming CEO, Kevin Johnson, who will take over in April. After multiple quarters of record-breaking expansion, growth has been slowing down at Starbucks in recent months.
Alongside the push to bring more customers into already-busy stores, the company is also working on a plan, known internally as #Simplify, to reduce frictions behind the counter. The plan includes changes in technology and mobile ordering so baristas can work smoothly as transactions increase.
In a letter to employees, Johnson, currently the company's chief operating officer, said the two initiatives were launched earlier this year "to engage more directly in the urgent needs of our business, ensuring that together, we are working to reduce complexity and allow our store partners more time to nurture teams and connect with customers."

Some baristas worry the new "20 more" goal will be a challenge to meet, especially when looked at as an extra 140 transactions per week. "It's like they want us to pull these customers from the air magically. It's confounding," said one employee, who asked not to be named.

In mid-2016, Starbucks management rushed to pacify a wave of discontent among baristas who complained their stores were understaffed and unable to cope with growing crowds of customers. Last summer, the company's top executive overseeing US stores, Cos LaPorta, wrote to all store staff and managers assuring them that his team would make sure all stores are adequately staffed as they head into the busy fall period — also known as Pumpkin Spice Latte season.
Last month, LaPorta's role was taken over by the Starbucks executive formerly responsible for its packaged goods business, Kris Engskov. His priority will be "a focus on operational excellence and the customer and partner experience," according to his company bio.
While boosting mobile orders is part of the chain's strategy, peak-hour traffic recently declined in stores where mobile orders are most popular, according to a note by analysts at William Blair. "Satisfaction declined for consumers not using mobile order and pay," they wrote, and "congestion has increased around the order pick-up area."
In response, Starbucks is testing a number of solutions, including a separate preparation line for mobile orders, a digital order manager that lets baristas prioritize orders based on complexity or time involved, redeployment of labor at peak hours, and sending mobile order customers a push notification when their order is ready, the William Blair note said.
Many restaurant analysts expect a difficult year ahead in the fast-food industry. Starbucks's growth has already slowed: From October to December, sales at stores open at least a year grew by 3% in the US and 3% globally. That's down from growth rates of 9% and 8% respectively during the same period in 2015.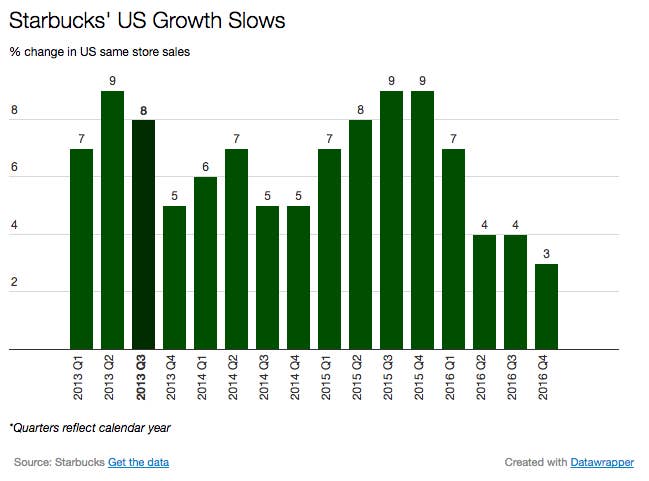 As it tries to distinguish itself from the growing number of fast-food chains focusing on upping their coffee game, Starbucks is focusing on its new high-end Reserve brand. It's also working on enhancing its mobile app, which now accounts for roughly 7% of US orders, and an ambitious global plan to open 12,000 new stores by 2021, with a focus on expansion in China.