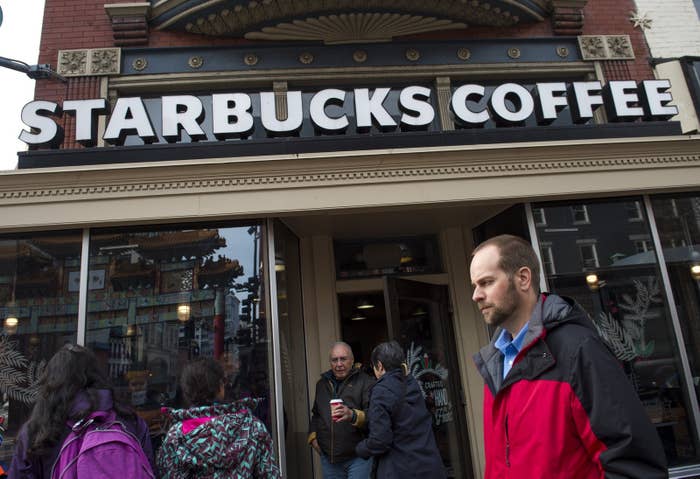 Starbucks has told its employees it will provide them and their families with free legal advice and guidance on immigration issues, to help them "get answers in these uncertain times," BuzzFeed News has learned.
The advice will come from professional services firm Ernst & Young, and "will allow all partners and family members to help navigate immigration issues," according to a letter sent to staff. "If you are a partner or a family member and you have questions about immigration, travel restrictions, or how the Executive Order and any related actions may otherwise impact you, please access this legal support and guidance from the Global Mobility and Immigration team."
President Trump's plans to tighten immigration laws has alarmed workers and employers around the country, including wide swathes of the country's business community. In a recent letter, technology industry leaders said that "these actions are both morally and economically misguided, and will inflict irreversible harm on the startup community and America's ability to compete globally."
Starbucks CEO Howard Schultz took one of the strongest stands on the Trump administration's executive order barring immigration from seven predominantly Muslim countries, saying the American dream was being "called into question" by the move.
A Starbucks spokesperson confirmed the company has rolled out the free immigration advice service. "We believe it will be a helpful service for those who have questions about their status, and we are helping them navigate through this confusing period," the spokeswoman said in an email.
Companies like Microsoft and Amazon have also offered legal assistance to affected employees, and such services are a staple of many corporate human resources departments. But Starbucks stands out as an employer of predominantly low-wage service workers in offering such a perk.
In a letter sent to employees days after the executive order was announced, Schultz also said the company would hire 10,000 refugees around the world and expressed support for the Deferred Action for Childhood Arrivals program, which allows certain undocumented immigrants to remain in the US to study and work.