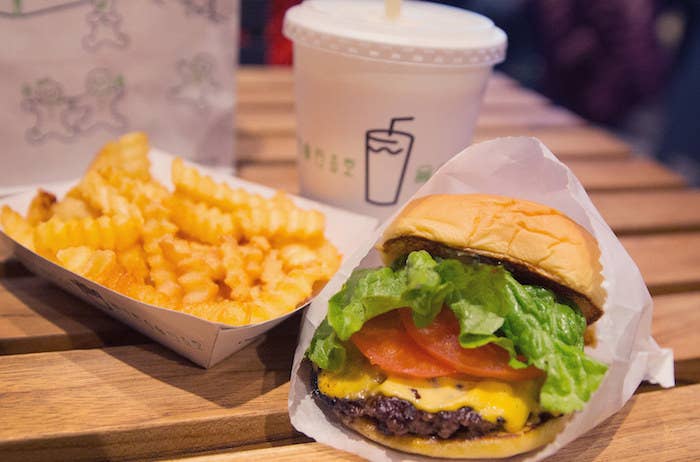 Even when the burgers go up in price, people can't seem to get enough of Shake Shack: Revenue in the first three months of 2015 was up 56.3%, and sales at its 13 restaurants open at least 24 months increased by 11.7%.
The restaurants drew in more customers, but what really boosted revenue at existing stores were price increases, implemented in late 2014 and early 2015. The chain attributed 9.6% of the 11.7% comparable sales jump to the price hike and changes in the average customer order. Only 2.1% resulted from increased traffic into the stores. A basic Shake Shack burger now costs roughly $5.
Items such as the $6.19 ShackMeister Burger — an Angus beef patty on a buttery potato bun topped with crispy shallots — and the return of crinkle cut fries also helped increase sales, and executives hinted at other new menu items underway during an earnings call on Wednesday.
CEO Randy Garutti said recent restaurant openings in Baltimore, Boston, Las Vegas, and Chicago have been strong, and bode well for the chain's entry to California next year.
Yet the momentum from the first quarter is likely to slow as no further price hikes are planned. The company expects a comparable sales increase in 2015 in the low single digits, after growing 4.1% last year.
As growth at existing restaurants slows, new restaurants will be a key component to Shake Shack's expansion. The chain estimates the average restaurant brings in $2.8 million to $3.2 million a year, which is already at the high end for burger chains. McDonald's is at about $2.5 million, and even Chipotle, one of the restaurant industry's biggest successes in recent years, averages $2.5 million per store. It's questionable how much more each Shake Shack can ring up.
Yet the chain — now 39 restaurants in the U.S. and 27 overseas — is taking a particularly cautious approach to expanding. It opened just three new U.S. restaurants in the first three months of the year, and will likely open only about seven more by the end of 2015. The company declined to comment.
Fortunately, Shake Shack openings still draw large crowds, including its recent debut in Austin. Future stores — especially in markets like Southern California that already have local chains with loyal followings like In-N-Out Burger — will see how much America truly craves a new upscale burger restaurant.