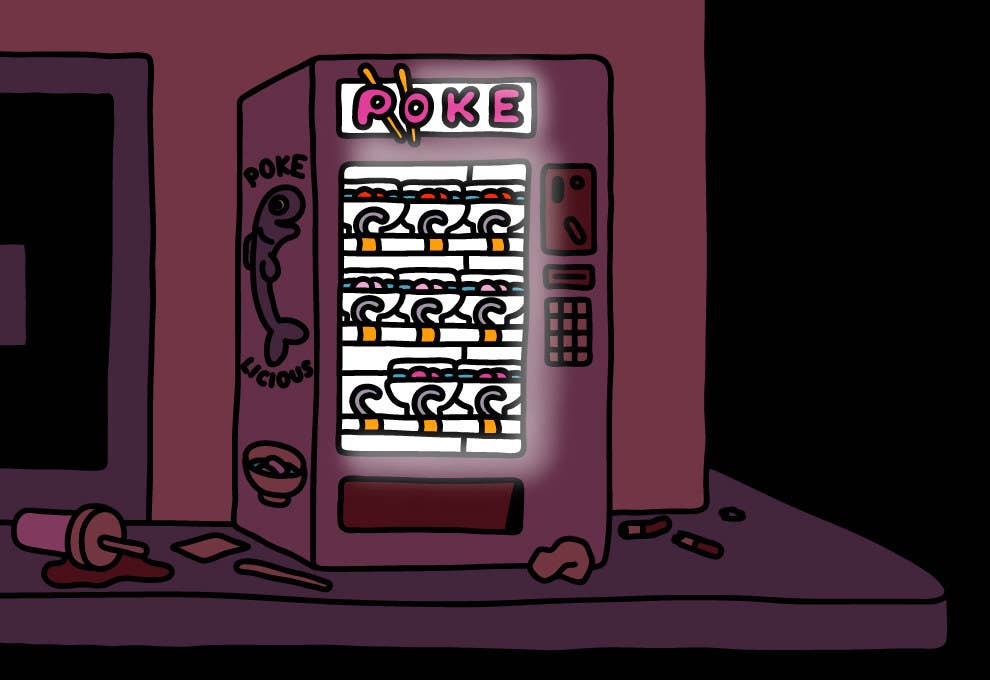 Inside a staff pantry at the University of California, San Francisco, in a refrigerated vending machine set at 38 degrees, is the logical conclusion of the great Hawaiian fish salad renaissance. There, among the Diet Cokes, Doritos, and stacks of M&Ms, sits a most unlikely grab-and-go item: a bag of cubed tuna. Even more surprising is that this vending machine's $10.99 box of smoked, durable fish with rice, special sauce, and seasonings isn't shunned but embraced as of the object of America's more recent culinary obsession: poke bowls.
"Had the poke for lunch," a reviewer wrote of the vending machine bowl. "Was a bit worried about the smoked fish aspect but it was super yummy."
These ready-to-eat poke bowls are the latest step in the Hawaiian dish's quick march on the mainland from fine dining appetizer to mass-market convenience food. It's a journey that's been expedited by Acme Smoked Fish, a Brooklyn-based specialty food company that dreamed up a twist that gave poke a 30-day shelf-life recipe — swapping out raw fish for smoked fish.
Acme, whose smoked fish products already can be found in supermarkets around the country, launched its nouveau poke bowls in supermarkets like Costco and Kroger about a year ago. Last fall it took them to Byte Foods vending machines — refrigerators stocked with sandwiches, meat and cheese plates, and brands like Blue Bottle coffee and Odwalla shakes that you wouldn't normally associate with vending machines.
Acme's innovation (which involves a fish cubing machine we'll get to later) follows a recent poke boom in parts of the US mainland that's seen restaurants serving up raw tuna or salmon over a bed of rice in the build-your-own, fast-casual model popularized by Chipotle. It's a twist on the original Hawaiian dish and involves way less salmon, kale, and avocado than you'll see on the assembly line in many chic new outlets.
After the mainstreaming of sushi in the US, fine dining chefs started introducing poke, which sparked the current wave of fast-casual poke joints and roaming food trucks. Now, supermarket delis are preparing it. There are even poke bowl franchises: Pokéworks, which was founded in 2015 and now has nearly 20 locations, plans to have more than 100 locations in two years and Sweetcatch Poke is franchising. And why not? Grubhub told BuzzFeed News it saw a 643% increase in poke orders across the US last year. The online ordering company expects poke orders to grow by 91% this year.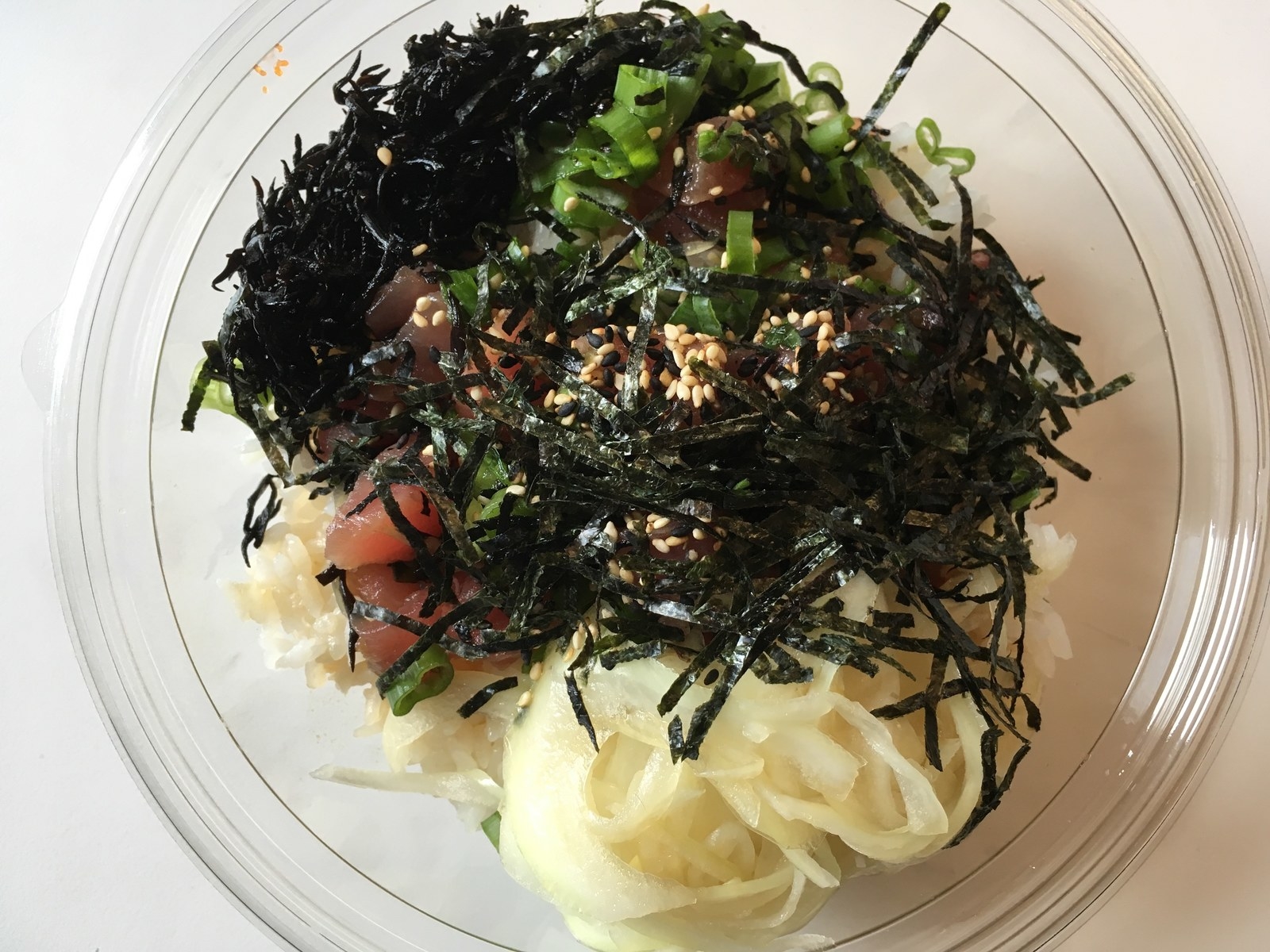 Grubhub's metrics may not be the definitive gauge of public appetite for poke, but they certainly suggest an appetite large enough to make Acme's push into vending machine poke fortuitously timed and smart. Call it third-wave poke.
Acme's poke bowl is simple. It comes with a bag of rice, a bag of smoked fish, a bag of "poke sauce," and a bag of seasoning. You microwave the rice bag for 45 to 60 seconds, then add in the rest of packets. Voilà — instant poke bowl. And on virtually every practical level, it's hard to beat. It's like the Lunchables of poke. You can imagine that it might bring the dish to parts of the US where poke fever hasn't yet caught on. "People love them," enthused Byte founder Lee Mokri.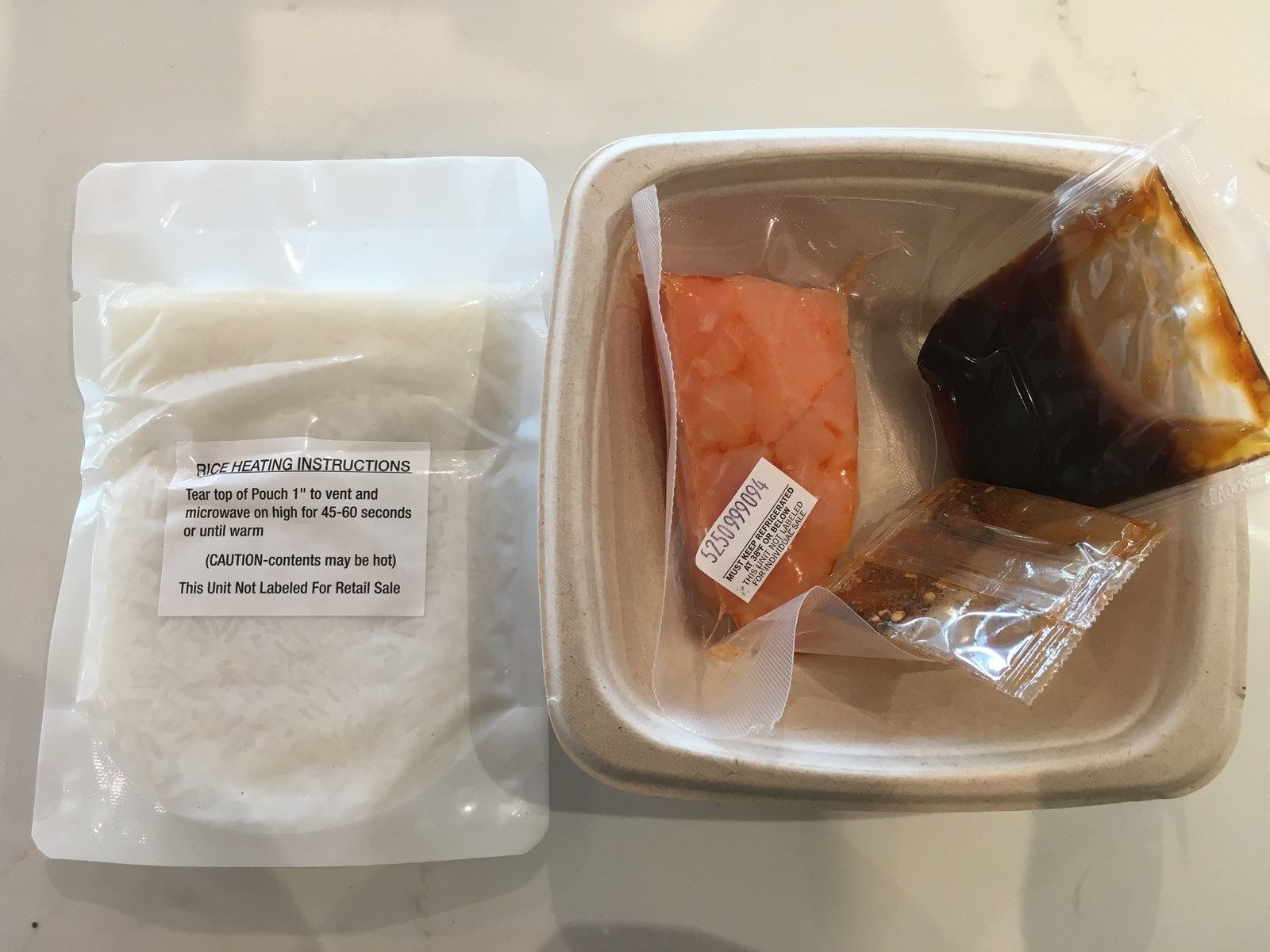 Indeed. In just nine months, Acme has produced 158,000 pounds of cubed smoked tuna and smoked salmon (for both the prepackaged bowls and for food-service companies). That's enough for roughly 1 million poke bowls. Byte Foods told BuzzFeed News it is selling thousands per month.
So how do you make 79 tons of poke? Schiff does it with a $50,000 piece of equipment he calls "the Cuber." He adapted the machine, which is roughly the size of a Smart car and normally cubes meat and cheese, to cube smoked fish.
The cuber pushes the filets through a grid that slices the fish on one axis and then chops it along the other axis with a spinning blade, spitting out cubes. The cubes then get packaged, by hand, into bowls at Acme's plant.
Schiff conceded that Acme's product is a spin on raw, Hawaiian poke, not authentic. But he said the 30-day shelf life that he gets from using smoked fish allows Acme to sell poke via outlets that would never carry it otherwise. "I had a meeting with some R&D people [for a grocery store chain] and they said, 'This is fucking brilliant.'"
Yet some poke restaurateurs are a bit dubious of the avant-garde bowl. Jason McVearry, co-founder of LA's Poké-Poké said, "I wouldn't call smoked fish and rice from a vending machine poke...at all." Steve Dizon, who opened his San Francisco poke food truck Bonito Poke last year, raised an eyebrow at the mention of smoked fish. "Seems interesting and innovative. I would like to try it sometime," he said, adding, "I know for a fact it will never be better than fresh poke." Reza Morvari, cofounder of the Bowl'D Acai food trucks in San Francisco, agreed. "I think it's good that it will introduce the product to people," Morvari said. "I just also think it may not be good. Like, there's fresh-made pasta versus Olive Garden, and then there's prepackaged Olive Garden."
"I was like, I could fill my basement freezer with poke."
As it turns out, some people are extremely down for the "Olive Garden" of things.

Lisa Skolnick, an LA native who now lives in Kansas City, said she found Acme's Blue Hill Bay poke bowls in Costco, where they sold in a pack of two for about $15. "I got my kids hooked on them," she said. "It's an amazing after-school snack instead of fast food or sugar-filled smoothies or pizza." Or, at least, it used to be. Skolnick says she hasn't been able to find the bowls for about three months.
"I was desperate. [Acme] told me I could freeze it for a year. I was like, I could fill my basement freezer with poke." She's contacted Acme to try to chase down shipments to grocery stores near her; but no luck. Skolnick also made her case to Costco to bring them back. "I tracked someone down in Chicago, sent an email, explained who I was, and why I like the product…. It's the first time I've ever written a company to say, 'Please bring back this food product.'"
Unfazed by apparent poke shortages in Kansas City, Acme's Schiff has been actively pitching the company's poke bowl to gas stations and convenience stores. He even met with Popeye's to discuss supplying the fried chicken chain with poke to serve in its restaurants in Asia, which serve more seafood than their counterparts in America.
"A lot of people are surprised with how popular it's been," Schiff said. "I'm not. Poke isn't just a food fad."
As for its new, prepackaged form, McVearry told BuzzFeed News, "I think it sounds interesting, convenient, and more healthy than a bag of Cheetos. Of course, there are now 'poke' places putting Cheetos on their poke... That's kind of gross, but to each their own." ●