Olive Garden Will Now Deliver Giant Platters Of Pasta For Catering
The largest delivery so far was $10,000.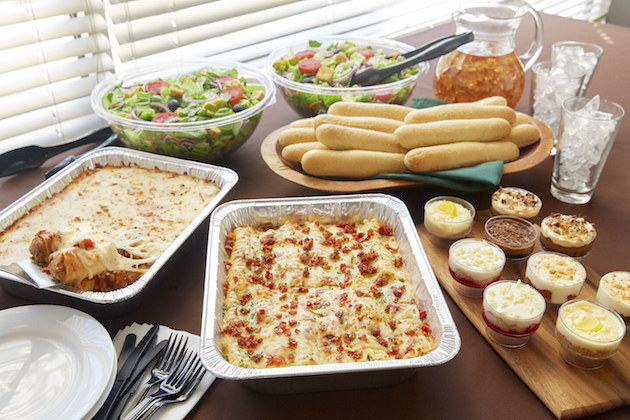 Have you ever left a big dinner — say, a corporate function, or a wedding — and wished the food was just a giant Olive Garden buffet instead of whatever the caterers put on offer? If so, suffer no more. On Monday, the Italian restaurant chain is launching a nationwide catering delivery service.
This is for your big-spending, high-rolling Oliver Garden eaters: Orders will need to be $125 or more, and there's a 15% delivery charge on top of that — until, that is, your titanic pasta order exceeds $500, at which point the delivery fee for the balance above $500 drops to 5%. You should still tip your delivery person, too.
The chain started testing catering delivery in a few locations last June, and has already catered a wedding in Florida with about 300 guests and filled a $10,000 order for an office event with about 1,000 employees, according to Dan Kiernan, its executive vice president of operations.

Olive Garden has been working its way out of a sales slump that began when middle-income consumers cut back on dining out during the recession. The ones who kept eating have been lured by lower-priced fast casual chains liked Chipotle. That wasn't all that went wrong: Investor Starboard Value even criticized Olive Garden's cooking methods (like not salting the water to boil pasta) in an epic 294-page presentation in 2014.
Catering has been part of Olive Garden's strategy since 2013 to boost its take-out and delivery sales. Olive Garden restaurants, which each make about $4.4 million on average per year, already make more than 10% of sales from to-go orders, and the goal is to boost that ratio to 20% with pickup, catering, and — perhaps eventually — delivery of small orders, too. "Twenty percent of over $4 million is a heck of a business inside an Olive Garden," Darden CEO Gene Lee told investors in December.

Olive Garden has long had a catering option, but customers previously had to pick up the orders from the restaurant. "It's a lot of work to have three, four, five bags full of these pans of food and fit it into the car, carry it to the event, and get ready," said Kiernan. The restaurants will reorganize existing staff to deliver the catering orders.
In case you've never catered an event with Olive Garden, imagine this. Your platters of Chicken Alfredo, Five Cheese Ziti al Forno, and Lasagna arrive in disposable aluminum trays. All deliveries come with "grated cheese, serving and eating utensils, table covers, plates, napkins and Olive Garden's signature mints," according to the company, and the delivery person sets up the table for you. Olive Garden also will sell you chafing dishes, racks, and fuel if you want them. Catered breadsticks, of course, are not unlimited.