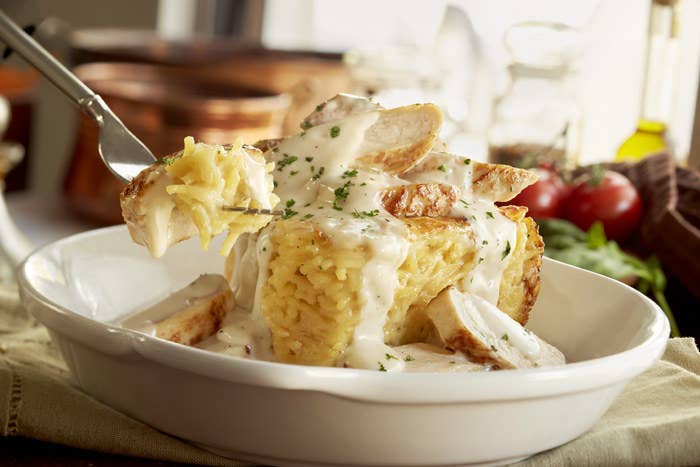 When Olive Garden sales were slumping in 2014, activist investor Starboard Value delivered some harsh criticisms in a presentation: "Olive Garden currently uses inauthentic Italian ingredients, serves dishes that would be unacceptable in Italy, and does not promote wine with meals."
The menu had veered "astonishingly far from authentic Italian culture" with "burgers & fries, Spanish tapas, heavy cream sauces, more fried foods, stuffed cheeses, soggy pasta, and bland tomato sauce." To get out of this rut, Starboard said, "Olive Garden must embrace its Italian roots."
Investors agreed. Starboard took over the board of Olive Garden's parent company, and thus began a transformation of sorts for the Italian chain.
But the revamp didn't exactly come in the form of a hyper-traditional Italian restaurant. Instead, Olive Garden has focused on dishes that "capitalize on our iconic brand equity" and offer "craveable Italian comfort food" with a twist, Executive Chef Jim Nuetzi told BuzzFeed News.
In 2015, that meant going all in on breadsticks — and not just any breadsticks. The chain launched two breadstick bun sandwiches last year — meatball and chicken — which became the chain's most successful menu introduction since it first offered a soup, salad, and breadsticks combo over 25 years ago, according to Nuetzi.
Now it's doubling down on those kinds of dishes, launching two more breadstick sandwiches and two varieties of spaghetti pie. Yes, spaghetti pie.
The pies will come in Meatball Deep Dish and Chicken Alfredo versions, and both use spaghetti, plastered into pie form by seven cheeses and baked with bacon.
The dense pies — which are two parts spaghetti to one part cheese — are available through July. As strange as it may seem, Nuetzi said spaghetti pie is actually a traditional Italian dish, typically made of "the components of two or three leftover meals mixed together, tossed with spaghetti, and baked in a flaky pie crust."
Guests appear to appreciate Olive Garden's specific kind of reinvention. Same restaurant sales last quarter were up 6.8%, and traffic was up 3%.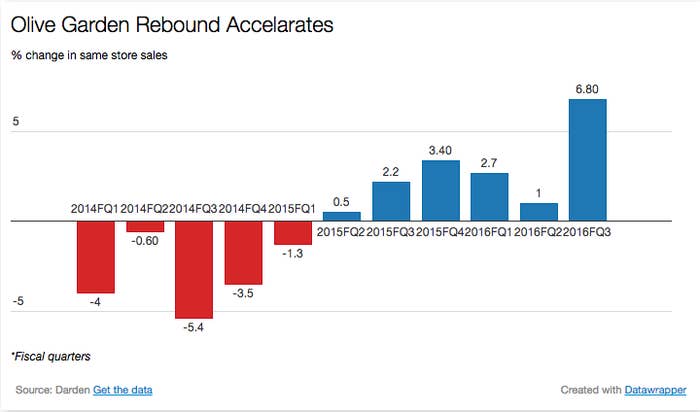 BuzzFeed News got a look at the new breadstick sandwiches today. And a taste of them. Many tastes.
It's Olive Garden's same garlicy-salty-oily breadstick bun, but with new, breaded and fried fillings. The chicken sandwich uses calabrian chili sauce, and is medium spicy. The eggplant parm option makes breadstick sandwiches accessible to vegetarians.
Both recipes were developed last year when Olive Garden first debuted breadstick sandwiches, and the chain of more than 800 restaurants is so confident that consumers will like them that it didn't even test — an unusual move for a company of its size.
And now as consumer interest in pasta rebounds, spaghetti pies are entering the picture.
Spaghetti, Nuetzi said, is by far the chain's most popular pasta. The chain sold more than 29 million servings of the stringy pasta in 2015. "We said, 'Look at how much spaghetti we sell.' That's a core equity."

Here are the pies in real life (right), compared with Olive Garden's promotional photo (left):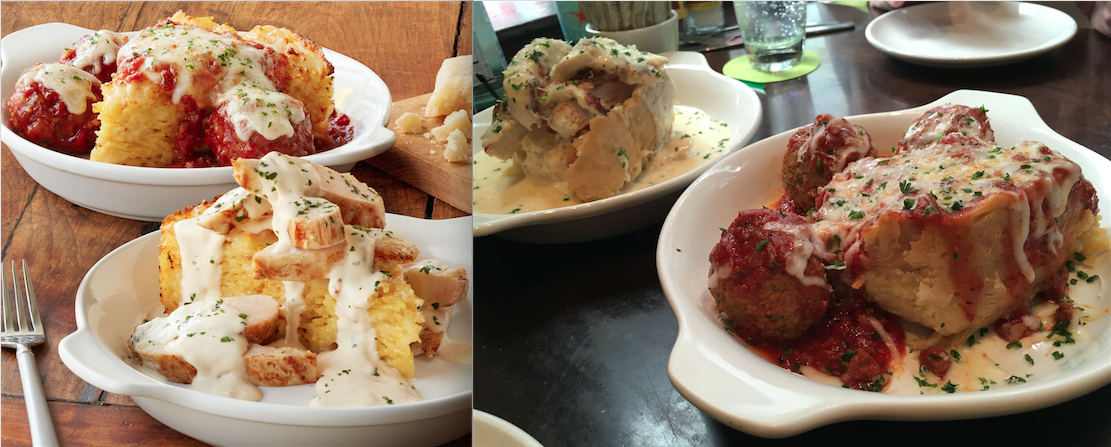 This is what the Meatball Deep Dish pie looks like up close.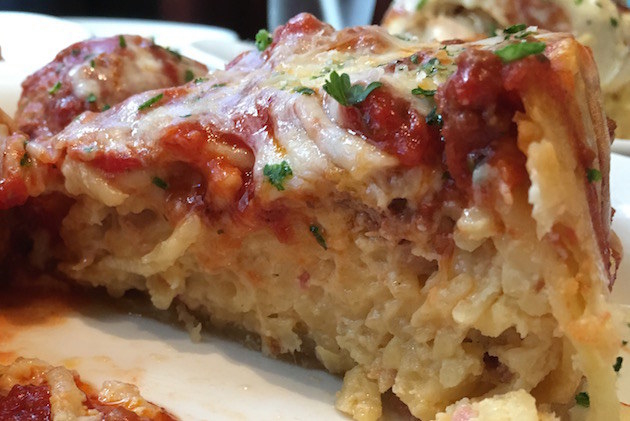 Nuetzi said the culinary team is always asking "how are we going to rethink pasta and how our guests eat it."
So what's next? Nuetzi said a lobster ravioli launch last year went very well, and the team now is looking at different ravioli shapes and sizes. He said he hopes to deliver something "that's not what they imagined."