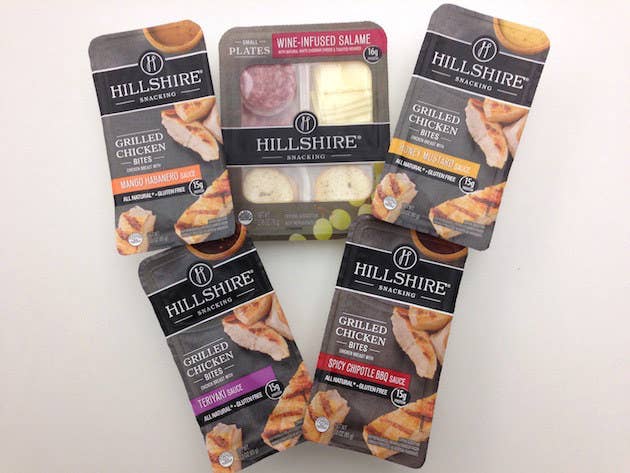 There's a new player in the high-protein snacking game long ruled by yogurt, jerky, and nuts: Meat processor Tyson is currently rolling out a new brand called Hillshire Snacking that involves single-serve packs of grilled chicken bites and "salame"-and-cheese plates.
Some will likely find the idea of tossing a box of pre-grilled chicken into your purse off-putting, but Tyson — which acquired Hillshire Brands in 2014 in a move to add more profitable consumer brands — thinks we are just at the start of a meat-snacking revolution.
There are a number of reasons why the company is launching a line of refrigerated, meat-based snacks. First, young consumers are leaning towards "fresh" foods over shelf-stable ones. According to market researcher NPD, "From 2003 to 2013, consumption of fresh foods — fruits, vegetables, meat, poultry, fish, and eggs — grew by 20 percent to over 100 billion eatings." Second, people are really into protein, a trend that fueled the Greek yogurt boom. Third, as always, they value convenience — meat and cheese aren't new, but now you don't even have to bother putting it in a ziplock bag.
"From the beginning, we knew this was a big idea," said Jeff Caswell, vice president and general manager of Hillshire Snacking. "Strategically we knew that introducing a protein snack that had unique flavors, targeting that upbeat food explorer was going to be successful."
It's a category that is growing in grocery stores. Sales of "refrigerated meat, cheese, cracker, dessert" products rose by nearly 13.5% in 2015 to $1.8 billion, according to data from Chicago-based market researcher IRI. The largest producers now are Kraft, which makes Lunchables and Oscar Mayer P3 (launched in 2014), Armour, and Hormel.
Caswell, for his part, rebuffs the description of Hillshire Snacking as an adult Lunchable: "This is really designed for and being consumed by people that were not in the combos category before."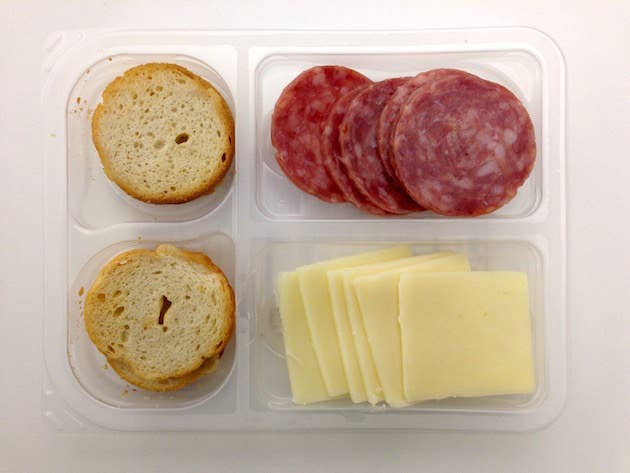 Hillshire Snacking has been long in the making. Tyson started testing the brand in 2014 in 500 stores, primarily in Denver, Cincinnati, and 250 Target stores. The meat and cheese plates cost $2.99 and the chicken bites $2.49. In 2015, the young brand's annual sales reached about $7.3 million, according to IRI.
What did Hillshire learn from this long test? Mainly, they decided to arrange the meats and cheeses like shingles instead of in a single stack. "People were more interested in seeing the product and the slices in the pack," Caswell said, so Hillshire refined the "salame" display.
Hillshire Snacking began rolling out nationwide in grocery stores this month.