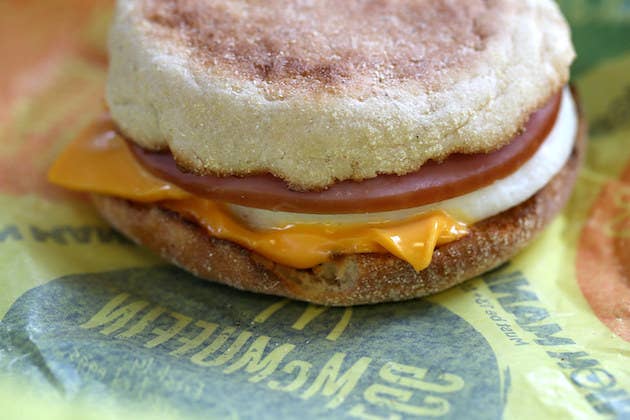 Despite what some McDonald's owners characterized as a chaotic start to all-day breakfast last October the launch has ended up being a raging success for the Golden Arches.
Domestic same store sales rose by 5.7% during the last three months of 2015, the company reported on Monday — its best performance in nearly four years.
"All day breakfast was clearly the primary driver of the quarter," McDonald's CEO Steve Easterbrook said on an earnings call. Not only did it exceeded expectations, but also the sales bump from all-day breakfast "lasted longer through the quarter than a typical launch period does."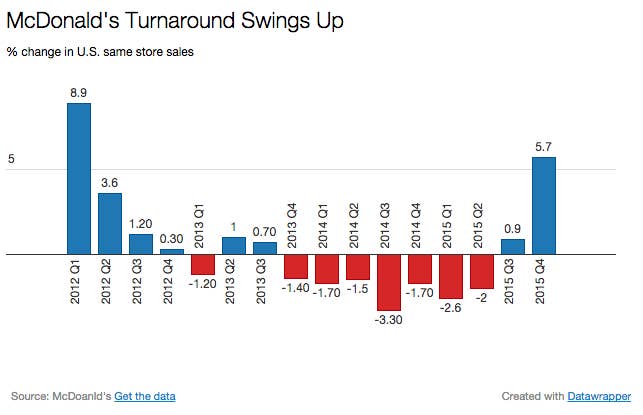 Globally, McDonald's maintained upward sales momentum as well, as global comparable sales rose 5% during the quarter. However, "macro-economic concerns, particularly in France, negatively impacted quarterly sales performance," the company stated in a press release.
Comparable sales last quarter rose 4.2% in "lead markets" (Australia, Canada, France, Germany, and the United Kingdom), 3% in "high-growth markets" (China, Italy, Poland, Russia, South Korea, Spain, Switzerland and the Netherlands), and 5.9% in the remaining markets.
The bump from all-day breakfast, however, is expected to slow.
"We don't want to be a single initiative turn around plan," Easterbrook said. "So we continued investment in food quality. The development of this value platform. And as we continue to reinvest in the fabric of our restaurants, we're confident the in-store experience will continue to improve."
In stores, the company is remodeling restaurants based on updated style guides that abandon its long-running "cafeteria look." At the drive-thru, where McDonald's makes most of its money, the chain is trying to improve order accuracy and speed.

McDonald's will also continue to learn about demand for customized burgers, which is being offered at some locations where customers can build their own burgers via a new kiosk ordering system. "Customization is important," said Easterbrook. "We don't know quite how much customization customers truly wish. [They want] a little bit of flexibility but don't want to overcomplicate it."
Another important initiative for McDonald's in 2016 is its mobile app, which has already been downloaded 7 million times. The company told BuzzFeed News in the fall that it would start testing mobile ordering this year.