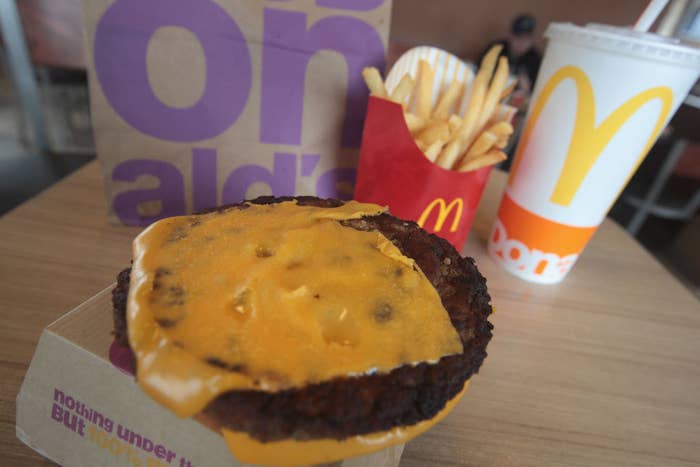 McDonald's will roll out a value menu with $1, $2, and $3 items next year after low-cost promotions such as $1 beverages and McPick 2 deals — which let people choose two menu items for a low price — managed to bring in more customers and boost sales this summer.
The fast-food chain told investors Tuesday morning that sales in domestic stores open at least 13 months increased by 4.1% in the three months ending in September, marking the third consecutive quarter of growth. CEO Steve Easterbrook said McDonald's offered "compelling value across the breadth of the menu."
Other changes — including its delivery partnership with UberEats, targeted digital deals, and new espresso beverages in its McCafé chain — also attracted customers, he said.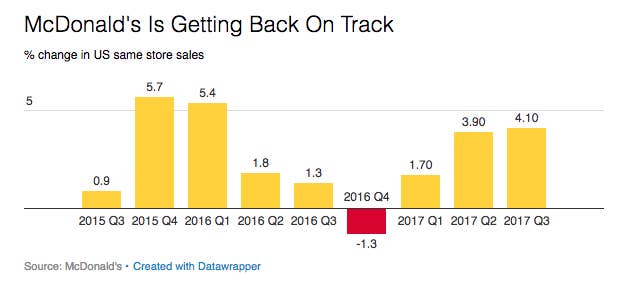 The Golden Arches has been pulling itself out of a US sales slump, with the launch of all-day breakfast in 2015 kicking off a turnaround. After some high-end experiments such as customized burgers and McWraps failed, McDonald's seems to have hit its stride with a mix of value offerings, small recipe tweaks (such as hotter buns and swapping margarine for butter), and twists on classics (such as the Mac Jr. and Grand Mac versions of the Big Mac). Renovated stores with touchscreen kiosks for ordering have also given the chain a more modern aesthetic.
McDonald's executives say they've learned the chain must remain competitive when it comes to value. "Certainly one of the big things in the US where we had lost transactions primarily was in the value-side, the value customer," McDonald's Chief Financial Officer Kevin Ozan said in June.
Wendy's has continued its four-items-for-$4 promotion, and Burger King is offering two cheeseburgers, fries, and a drink for $3.49.

"What you're going to see from us next year is us being really fully competitive with our nearing competitors with the value program there," McDonald's US President Chris Kempczinski said Tuesday. While many of the chain's promotions have been local, executives said that moving forward there will be more national deals, which will help make the company's marketing efforts more efficient.
Early reactions on Twitter to the company's news are positive.