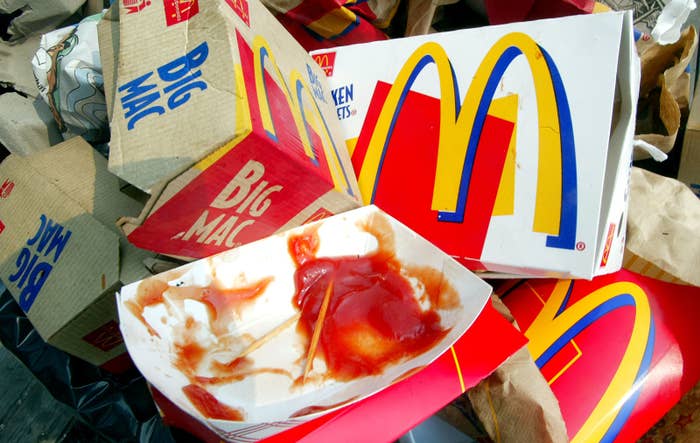 McDonald's announced today that it wants to mitigate its impact on the environment with a new global goal to have all of its packaging — the wrappers, cups, bags, and straws — come from "renewable, recycled, or certified sources" by 2025. The certification refers to approved forest management for its paper products. The company also plans to set up recycling collection in all stores by that time; some locations will ask customers to sort their trash and others will have workers sort it.
The fast food giant's 37,000 restaurants around the world create vast piles of garbage. Just 10% of McDonald's restaurants around the world recycle their trash as of now.
"We serve 60 million customers every day," McDonald's CEO Steve Easterbrook said in 2017. And virtually every single transaction involves the sale of food individually wrapped in packaging that's designed to be used just once before it's tossed into the garbage and forgotten. It's the foundation of the convenience promised by fast food — no cooking, no dishes, food on the go. It's also an environmental nightmare.
The takeout food business contributes significantly to trash in the United States, which leads the world when it comes to waste production. For instance, each year Americans throw away 25 billion cups alone, according to a 2015 post by the Environmental Protection Agency.
While fast food chains have made varying commitments to use more sustainable packaging — Starbucks cups are made with 10% recycled material, and Subway's sandwich wrapping paper contains 40% post-consumer fiber — the problem is that even when these materials are made from recycled material or are recyclable, the likelihood is high that it'll just end up in the landfill anyhow, as many cities do not have recycling programs.
As BuzzFeed News reported, about 6 billion pounds of plastic bottles gets thrown away annually, but only about 30% of it gets recycled, according to IBISWorld.

Greenpeace said in a statement Tuesday that even with McDonald's new goals, the chain is contributing to a "plastics epidemic" with single-use packaging. "Responsible companies know that we can't recycle our way out of this problem, but instead of showing real leadership by taking steps to eliminate single-use plastics, it has once again turned to our broken recycling system to avoid taking responsibility for its plastic waste."
While a report by environmental groups said food companies were not doing enough, it considered McDonald's better than others in the industry for its past efforts to use recycled materials and reduce packaging waste.
"McDonald's understands that recycling infrastructure, regulations, and consumer behaviors vary city to city and country to country around the world, but it plans to be part of the solution and help influence powerful change," the company said in a release.
The US's trash is only becoming more problematic as China, which receives a lot of our recyclable material and turns it into new stuff, this year started banning imports of certain types of plastic and mixed paper in an effort to back away from its position as the world's trash dump. Already, recycling has started to pile up in the US, reported USA Today.
McDonald's said that at the moment its cups and wrappers are often not recyclable because they are coated in wax, so it is possible that it may have to develop new packaging materials that can be processed. The company told BuzzFeed News it has not estimated how much trash it believes this new program will divert from landfills.
"We know our customers care about it. Packaging is a top environmental issue they think we should address," said Francesca DeBiase, McDonald's chief supply chain and sustainability officer. "This is part of our evolution to become a better McDonald's."
The Environmental Defense Fund, which partnered with McDonald's decades ago to reduce its packaging waste, said in a statement, "These goals can be transformational because no other restaurant has the scope and global supply chain reach like McDonald's to drive change. When McDonald's asks for a change, their suppliers deliver. The company's actions have a ripple effect across the entire supply chain."

The company is already partway toward its 2025 goal. Currently, about half of McDonald's packaging comes from renewable, recycled, or certified sources, and 64% of its paper packaging comes from certified or recycled sources.