KFC Is Making Plans To Get Back On Top In The U.S.
The fried chicken chain's U.S. business has been sliding for 10 years, even as it grew rapidly in Asia. But it has plans for a turnaround, including restaurant renovations and a new ad campaign.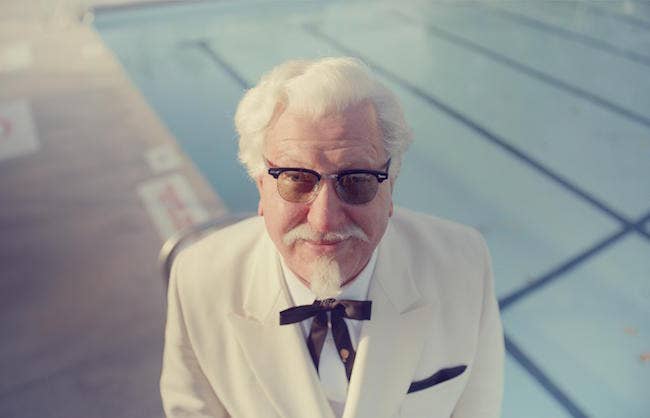 KFC has had a pretty miserable decade in America. The chain, once the definitive leader in the fast food chicken business, has muddled through 10 years of decline at home, even as it rapidly expanded internationally. The food got worse, customers are complaining, the service is shabby, and many restaurants desperately need updating.
But now, KFC is on a mission to reclaim its fried chicken empire with a U.S. turnaround plan that will include store renovations, staff training, and a summer advertising campaign featuring SNL announcer and former cast member Darrell Hammond as Colonel Sanders, white suit, black tie, and all.
Parent company Yum Brands — which also owns Pizza Hut and Taco Bell — will invest $185 million over the next three years to help restore the fried chicken chain. CFO Pat Grismer admitted during an earnings call in April that this was "a relatively modest investment" but "it is obviously quite significant to KFC U.S. and we're confident it will unlock significant value in the years to come."
In an exclusive interview with BuzzFeed News, KFC's Chief Marketing Officer for the U.S. Kevin Hochman discussed the need to reinvigorate the brand. "We've had quite a while where we have not grown," said Hochman. He reiterated what struggling restaurant chains often focus on when they need to get back on track: The need to remind consumers about the quality of their food, make sure the service is friendly, and differentiate the brand from competitors.
"Competition has grown and increased," said Darren Tristano, executive vice president of food service research and consulting firm Technomic. "KFC hasn't contemporized to be a better chicken brand." The downward spiral has led to reviews like these.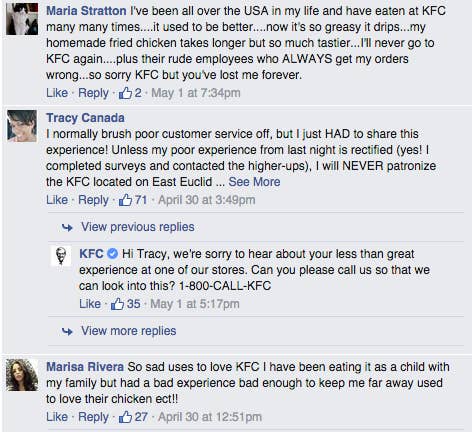 KFC was recently overtaken by Atlanta-based Chick-fil-A as the largest chicken chain in the U.S. by sales. And it has been steadily closing stores since 2005: By the end of 2014, there were 4,370 remaining locations in the U.S., down from 5,525 in 2004.
As KFC grew rapidly overseas, particularly in China, it lost customers back home to competitors that flaunted nicer restaurants, tastier chicken, and more persuasive marketing. Not to mention that ubiquitous fast food overlord McDonald's, and other burger chains, also sell a lot of crispy chicken sandwiches and nuggets. The average KFC store now makes just under $1 million in annual sales, roughly one-third what the average Chick-fil-A makes, according to QSR Magazine. Even as consumers demand healthier food, "there are a ton of fried chicken competitors, and they're all growing," said Hochman.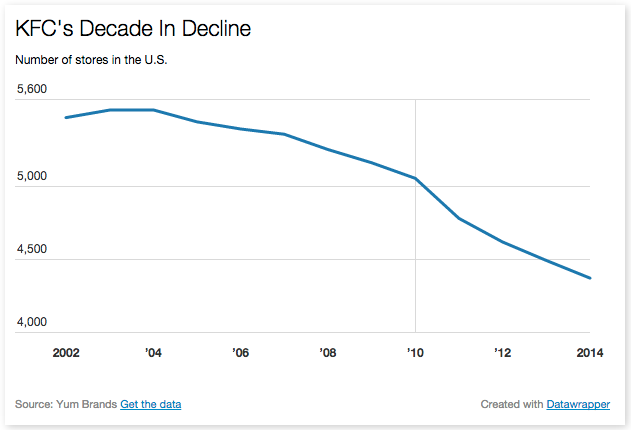 One of its solutions is to revamp the marketing. With its new ad agency Wieden + Kennedy, KFC on Tuesday is launching a series of videos online, as well as a KFC video game. Television ads will begin on May 25. "The main goal was to give them a voice," said Karl Lieberman, creative director at Wieden + Kennedy. "I couldn't quite figure out what they stood for, who they were, or what they wanted to be."
So they went back to the future and decided that voice would be KFC founder and icon Colonel Harland Sanders — "the ultimate chicken salesman," as Lieberman described him — portrayed with loony enthusiasm by Hammond. The Colonel, who hasn't appeared in a national TV ad for KFC for about two decades, will be the centerpiece of the new ads and the video game.
"We thought it was odd they had this figure on every restaurant but no one had any idea who he was," Lieberman said. So who is he? Before starting KFC, Harland Sanders was "a sixth-grade dropout, a farmhand, an army mule-tender, a locomotive fireman, a railroad worker, an aspiring lawyer, an insurance salesman, a ferryboat entrepreneur, a tire salesman, an amateur obstetrician, an (unsuccessful) political candidate, a gas station operator, a motel operator," according to colonelsanders.com.
That may leave one wondering, among other things, what an amateur obstetrician is.
The real Colonel Sanders, who died in 1980, was once a staple of KFC advertising. W + K researchers spent about two days in KFC's underground archives, "a crazy cave" near the company's Louisville, Kentucky, headquarters, according to Lieberman, opening box after box of the Colonel's old belongings in search of inspiration. They uncovered things like old mandolin albums and oversize drumstick paraphernalia. "We wanted [the ads] to be true to the colonel," said Lieberman. "We're hoping it reminds people who remember who he is, and introduces him to people who don't," he said.
Sanford C. Bernstein analyst Sara Senatore said the investment in national advertising and other parts of the restaurants' operations has the potential to turn things around.
In addition to the ads, Yum's $185 million investment will also go into incentives to encourage franchisees to renovate stores and buy new equipment. The goal is to get store owners to get their restaurants in shape faster and have 70% of the restaurants renovated by 2017.
The new design, which KFC dubbed "American Showman," will feature lighting fixtures that look like chicken buckets and chalkboards telling customers where the chicken comes from and who is cooking it, for a personal touch. Signage will declare Colonel Sanders the original celebrity chef. The exterior will feature bold red and white stripes, capturing a carnival style. KFC's packaging and uniforms will also be redesigned.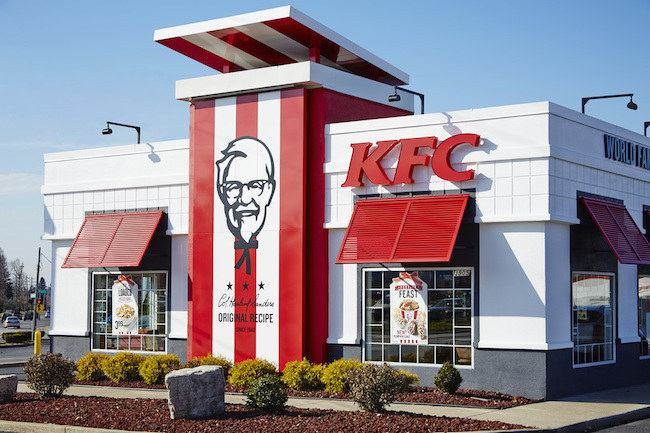 Hochman, who joined KFC in 2014, says the effort underway is a "big deal." The turnaround push comes months after former Taco Bell head Gred Creed, credited for improving that chain's business, became CEO of Yum Brands. "He's been a big champion of us," Hochman said.
Yet KFC's response to problems in its U.S. business is overdue, to say the least. McDonald's kicked off its current turnaround plan after domestic same store sales fell for just over a year. KFC, meanwhile, has been closing down U.S. stores for 10 years.
The lack of urgency was in part due to KFC's explosion overseas. As the number of U.S. stores dwindled by more than 1,100 from 2004 to 2014, the number of restaurants overseas increased by about 7,300. "When you have another part of your business growing so fast — Taco Bell, global KFC — when you have positive numbers overall, it's not going to be as urgent as McDonald's," Hochman said.
But the need to bring the domestic business in line is becoming apparent, especially as its China restaurants try to recover from damaging food safety concerns. Its 4,300 U.S. stores are "very impactful on our global business," he said.
KFC's domestic business is already showing signs of improvement. In the first three months of the year, comparable store sales increased 7%, the best U.S. quarter in a decade, according to an analyst note by Jefferies. "We're definitely on the upswing in terms of momentum," said Hochman.
Menu changes are underway too, including more boneless chicken items and sandwiches, which appeal to drive-thru users who are roughly 55% of KFC's customers, and dipping sauces, such as the new "Finger Lickin' Good" sauce. During this transition, Hochman said, KFC will need to "innovate, while staying true to our core." But the chain needs to overcome its lost decade before it can recreate its international success back home.