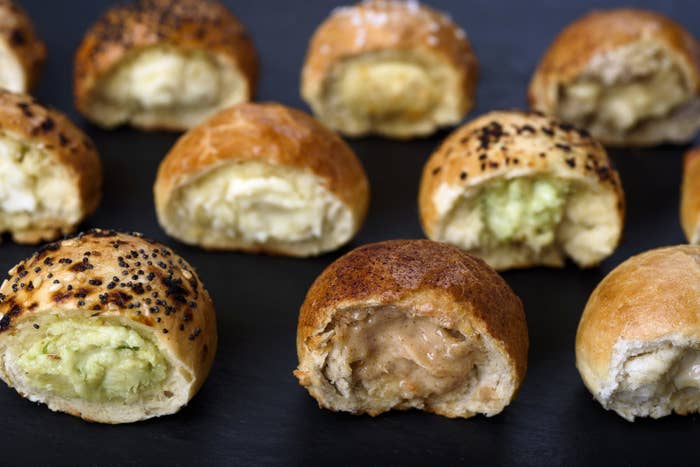 From the very beginning, Elyse Oleksak and her husband Nick believed in the bagel ball.
"It all starts with an idea that you believe in, totally blindly," said Elyse, who speaks with the kind of wild enthusiasm of a pitchman on her tenth cup of coffee. "Something tells you: This idea is so good; the world needs it."
For Oleksaks, who founded Bantam Bagels in New York, that earth-shattering idea came in the form of a bagel ball. In case you haven't had one — and you probably haven't — they're comparable to a doughnut hole, but bagel. Like donut holes, they're a miniaturized version of an iconic treat, ostensibly made of what's cut out and sacrificed to form the parent product's halo-shape (though in reality, a bagel ball, like a donut hole, was born that way).
The "mini stuffed bagels," as the Oleksaks prefer to call them, are little round globes of bagel dough, filled with cream cheese that is often flavored with things like cinnamon and syrup. Heated, the dough becomes warm and chewy, the crust crisps, and the cream cheese softens. Each is about 100 calories.
"We want to change the way people interact with the bagel," Nick said. "We want people not to look at bagels as this stigmatized, huge carb bomb that they can only have once a month, and not tell anyone that they had one."

Starting this week, Bantam's stuffed bread bites are going from a quirky niche treat to a giant industrial-scale production, being rolled out at roughly 7,700 Starbucks locations nationwide. Elyse described this week's Starbucks launch as "a game changer for a business like ours. It's the equivalent to being in every single national grocery chain at once."
Bantam's ascent to a national brand has been swift. When the Oleksaks first opened a storefront in Manhattan's West Village in September 2013, it seemed more or less like any other local business, a bakery that drew a mix of loyal regulars and curious passersby who bought about 1,000 bagel balls daily. But "retail is a tough business is New York City," Nick said.

One fateful day in early 2014, a representative from QVC who had seen an article about Bantam Bagels in Specialty Food magazine called. "They said, we need 30,000 bagels in two weeks — if you're up for it," Elyse recalled. "As an entrepreneur, you always say yes, and then you figure it out."
Elyse, then six months pregnant, spent the following days baking around the clock with her crews. "We'd have, like, motivational posters: We can do this! One big order!," she recalled. "It was so crazy,"
They also made big, chaos-inducing mistakes. "We had dropped off the 30,000 bagels and then we looked at each other and go, 'Oh my god! Nutrition facts! Nutrition facts! We need nutrition facts!' We realized nothing was labeled. We had to consult everyone in our network, hiring outside companies, and then Nick and I go inside that freezer warehouse and relabeled each and every pack."

The couple went on QVC in March, made their pitch, and held their breath: in five minutes, the 30,000 bagel balls they painstakingly baked sold out.
Then QVC wanted another 80,000, which meant the Oleksaks' mom-and-pop operation needed a serious manufacturing partner. They cold called other bakeries for leads on who could make the bagel balls in large volume, eventually finding a consultant who put them in touch with a facility in the Bronx that could make 25,000 to 50,000 bagel balls per week. The process took three months.
Meanwhile, the marketing savvy Bantam team was sending out samples to Oprah, who listed the product as one of her "favorite things" in 2014. "When we first opened, we just started sending her team bagels every single week," Nick said. "They became customers." His wife added, "Nick and I hand baked them. We wouldn't let anybody else touch them. It's Oprah!"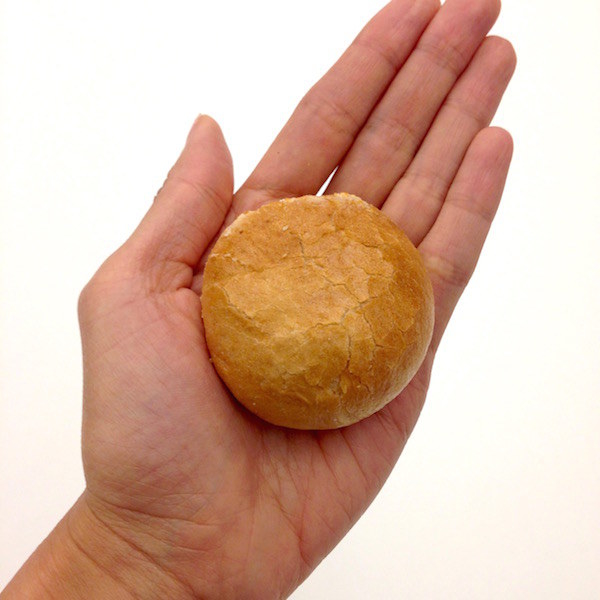 Just a year after launching, in January 2015, the entrepreneurs took their ambitions to Shark Tank, where they struck a deal with investor and QVC host Lori Greiner, who reportedly has developed more than 350 products. "We went in asking for $275,000 for 11% and ended up getting a deal for $275,000 for 25% with Lori," Nick recalled. "We said we would use the capital to hell grow our production."

The challenge with bagels is that many people have rigidly-held opinions about what a good one tastes like — especially in bagel-eating capitals like New York. But luckily for Bantam, bagels are horrendous in most of America — bad enough that Bantam could develop a growing national customer base willing to have their bagels shipped in packages from New York.
Bantam's sales jumped from $200,000 before its Shark Tank appearance to $2.1 million in the eight months following the show. Customer suggestions poured in for everything from coconut cream cheese fillings to green curry bagel balls, although asked whether these flavors would make the cut, Elyse replied, "No, I don't think so."
Then came Starbucks.

Despite being one of the world's largest fast food chains, Starbucks works hard to maintain the trappings of a friendly local coffee shop, meaning quirky new offerings like bagel balls are right up its alley. In 2015, the company created a retail branded partnerships division that "seeks out small local companies with innovative products and brings them to Starbucks stores," it explained in a press release.
Those foods, which also include Rip van Wafels and Pop-Tart-esque Megpies, may be offered across the US or regionally.
A field leader from the coffee chain found Bantam's bagel balls in New York City, and the company started testing the product in three New York City stores in 2015, then 400 in New York, Philadelphia, and Indianapolis, and eventually 1,600 locations along the East and West Coasts. Sales have more than doubled in the last year.

"We love working with passionate entrepreneurs like Nick and Elyse," Deb Hannah, Starbucks' director of retail branded partnerships, told BuzzFeed News.

Still, bagel balls are no sure bet for Starbucks. As Bantam expanded, grocery store sales of fresh bagels were down 1.9% in the 12 months ending July 2, according to data from market researcher Nielsen, and frozen bagel sales have plummeted by double digit percentages annually for at least the last four years.
Elyse said the company was outgrowing its baking partner. "We needed to find another one that was bigger," she said, and they found one in Brooklyn that could handle its swelling demands — although as a kosher bakery, there are restrictions on what flavors it can produce. The Oleksaks said they did not change Bantam's recipes as they scaled up.
With the bagels rolling out in Starbucks nationwide, Bantam now expects to make about 1 million bagel balls weekly, which includes the QVC and Starbucks accounts.
Bantam is working on building its grocery business. The balls are available in certain Kroger and Safeway stores, the Oleksaks still visit about three states a week trying to find new retail partners. Now all of them know what a bagel ball is. Nick said some people still make jokes when they hear the word "balls."