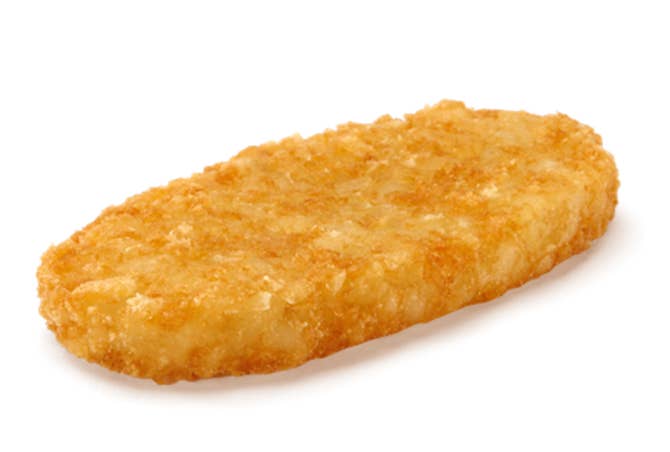 When McDonald's announced that its long-awaited all-day breakfast menu would launch on Tuesday, we knew we'd have to settle for a trimmed-down version of the regular breakfast menu after 10:30 a.m. It was a sacrifice made in the name of keeping the kitchen crew from going absolutely nuts and slowing down service at the fast-food chain.
But there is one victim on some McDonald's all-day breakfast menus that many customers are sure to take issue with: the hash brown. Depending on the setup of their kitchens, about 10% of restaurants will not be offering the golden, crispy delight, meaning customers may end up pairing their Egg McMuffin with fries. Fries!
The lack of Hash Brown was noticed by BuzzFeed News reporter Hayes Brown (no relation) at his local McDonald's in New York.
According to Richard Adams, a former McDonald's franchisee and now founder of Franchise Equity Group, a franchisee consultancy, hash browns are cooked in the same fry vats as french fries, so some stores will need to remain fry-only once breakfast hours are over.
"If a location isn't able to offer hash browns at this point, that doesn't mean they never may offer them as more learning continues to happen," said McDonald's spokesperson Lisa McComb, calling the problem a "restaurant configuration issue." "There may be another solution in the future," she said.
Here's the all-day breakfast menu on McDonald's site.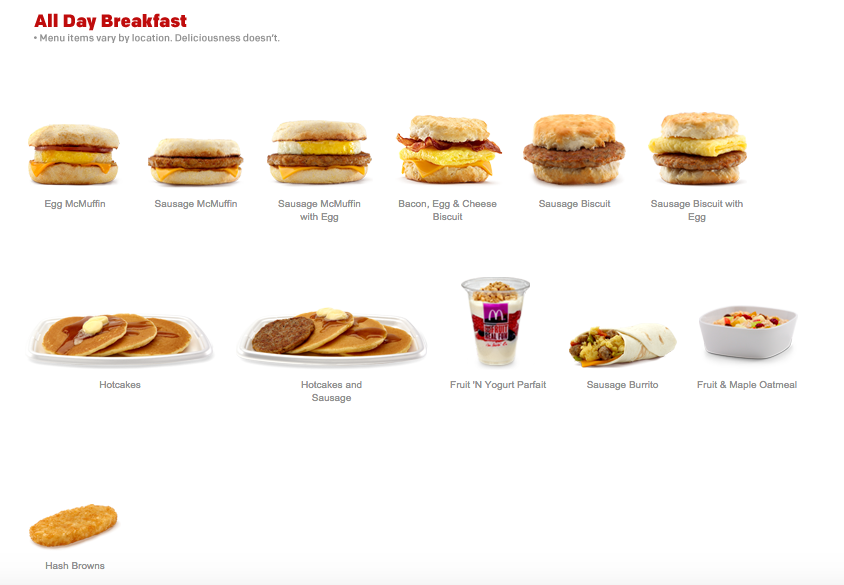 The hash brown is the very last thing listed, even behind the lowly oatmeal and yogurt parfaits. And there's not a McGriddle in sight.
A closer inspection shows that McDonald's restaurants will only be offering a selection of these items, not all of them, depending on region.
Some regions will offer the so-called "McMuffin Menu," while others are offering the "Biscuit Menu," which features different sandwiches.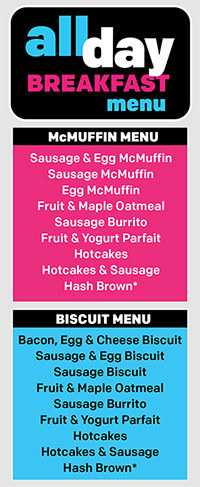 Both the McMuffin Menu (which covers most of the country) and the Biscuit Menu carry a disclaimer that breakfast items will vary by location, according to a map on Nation's Restaurant News.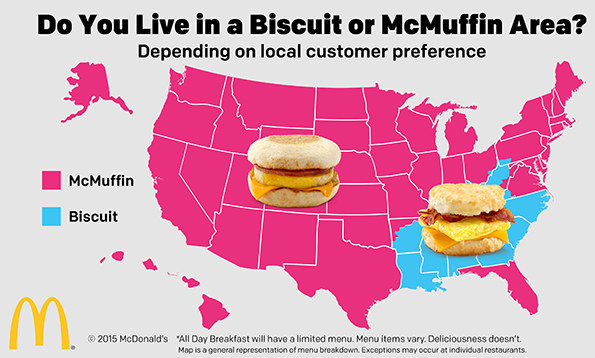 It says "exceptions may occur at individual restaurants."
"I'm sure that many restaurants that need that extra vat will eventually install one, but [all-day breakfast] has moved pretty fast, too fast just to slap another fry vat in the kitchen," Adams told BuzzFeed News. In these locations, fries will have to do for customers seeking a potato fix.
So even when ordering all-day breakfast, some customers will have to answer the eternal fast-food question: Would you like fries with that?
UPDATE
According to McDonald's, about 10% of restaurants won't have hash browns on the all-day breakfast menu.