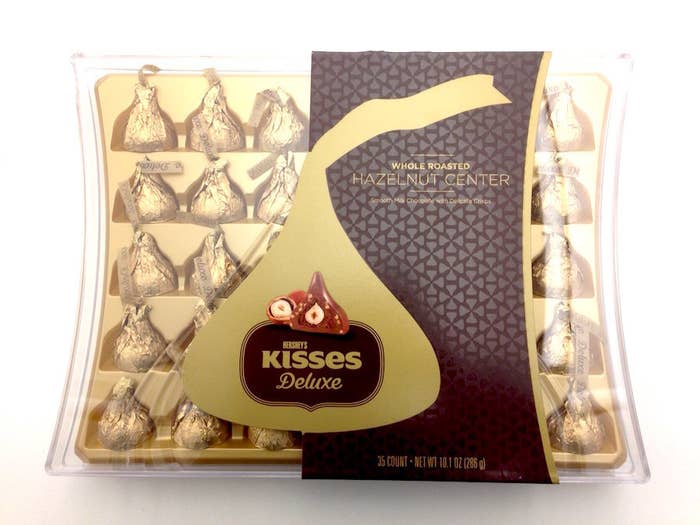 Hershey is launching a new spin on its classic Kisses starting November. Called Kisses Deluxe, the oversized, teardrop-shaped chocolates are filled with hazelnuts and come wrapped in gold foil. Hershey is calling it "the largest innovation in 25 years from America's most iconic chocolate brand." Yet, to those familiar with grocery store chocolates, they probably look a lot like Ferrero Rocher.
Ferrero Rocher —the Italian chocolate that describes itself as "a tempting combination of smooth chocolaty cream surrounding a whole hazelnut; within a delicate, crisp wafer...all enveloped in milk chocolate and finely chopped hazelnuts" — occupies a very special place in many people's chocolate memories.
The candy, launched by Ferrero — the same company that makes the Nutella as well as Tic Tacs — in 1982, lives at the highest end of low-brow chocolates. You could find the gold-wrapped treats in gas stations, supermarkets and drug stores alongside cheaper, more everyday confectionaries, yet its glittering foil and creamy hazelnut filling put Ferrero Rocher in its own league. It was, after all, European. And it came in packaging that made it nice enough to bring to a dinner party.
It's just so fancy.
In the U.S., retail sales of Ferrero Rocher grew to roughly $244 million in 2014, and the candy jumped from being the 31st most popular chocolate brand in America in 2006 to 20th last year. Hershey's Kisses, meanwhile, came in 16th, show 2014 data from market researcher Euromonitor International.

The picture looks very different globally, however. Euomonitor ranks Ferrero Rocher 7th among chocolate brands, with retail sales of about $2.2 billion. Hershey's Kisses, meanwhile, has slid over the years to rank 21st globally.
Rocher's global popularity suggests fancy golden-foiled chocolates are a growth opportunity for Hershey both in the U.S. and abroad. The company only recently launched Hershey's Spreads in 2014, in chocolate, chocolate-almond, and chocolate- hazelnut flavors — presumably, as a Nutella alternative.
Ferrero declined to comment.

You are not seeing double.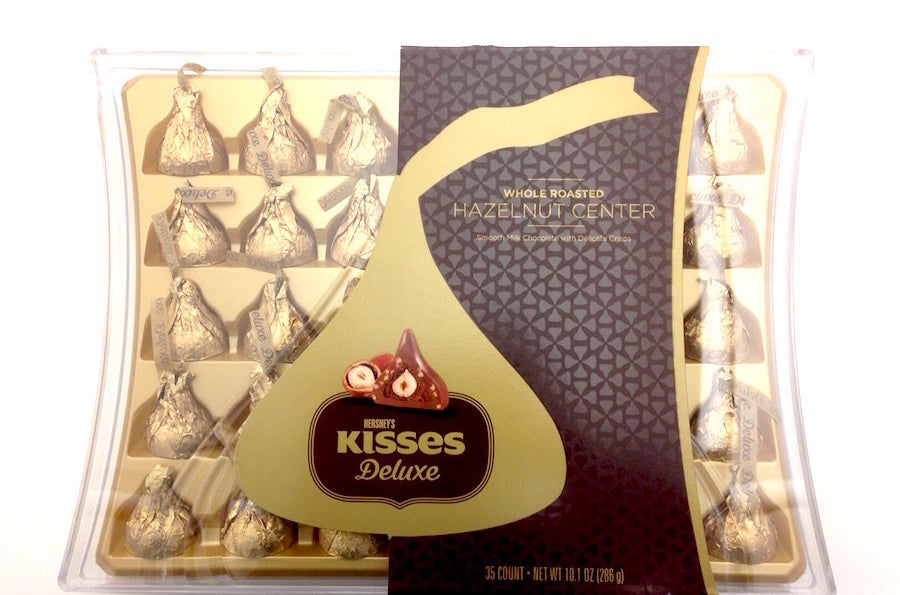 Hershey first introduced Kisses Deluxe in China in 2013, making it the company's first international chocolate launch, and tested them further with U.S. consumers. The limited-time Kisses Deluxe will be sold at U.S. retailers including Walmart, Sam's Club, Kroger, Walgreens and CVS from Nov. 1 through Valentine's Day.

Hershey said in a statement to BuzzFeed News that Kisses are already the No. 1 chocolate brand sold during the holidays, and it "was inspired by our own fans who were looking for a unique, premium gifting option."