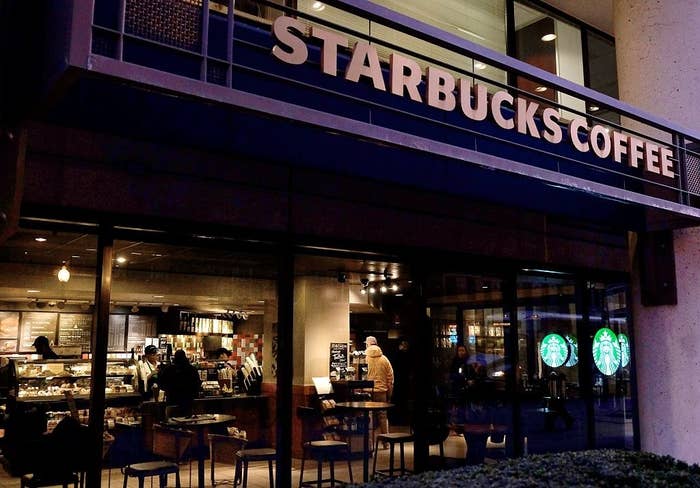 Have you experienced crazy-long lines at Starbucks lately? If so, some of the company's staff say there's a reason for the longer waits: the coffee chain has been cutting back on worker hours, leading to declining service in stores.
As a money-making business, Starbucks has been on a roll lately — the coffee chain reported another quarter of record sales and profit last week. So it baffled many of the company's hourly employees in the U.S. when, as business boomed this spring, they noticed a dramatic change: they weren't getting enough hours of work.
Eight Starbucks employees from several cities around the country told BuzzFeed News that since May, the number of work hours assigned to stores by the chain's Global Labor Scheduling (GLS) system has fallen far below both what they need and what they normally receive. The change came with no warning or explanation from executives; some staff say their schedules were cut in advance, while others have been sent home during their shifts. Many have taken to social media to complain, with some threatening to quit.
If you have information or tips, you can contact this reporter via email at venessa.wong@buzzfeed.com
It's an unexpected turn for the Seattle coffee chain, which has long considered itself an employer of choice in a fast food industry infamous for bare-minimum pay and benefits, and demoralized workers. An internal communication portal used by the company has received numerous complaints from staff — "partners," in Starbucks lingo — about reduced hours and declining morale, according to screenshots provided to BuzzFeed News.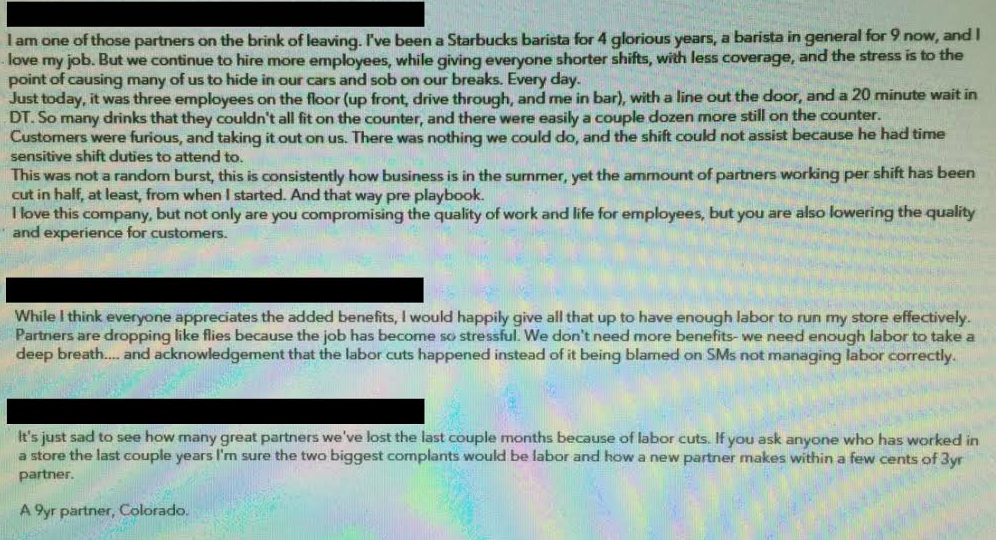 Starbucks told BuzzFeed News there has been no change in labor strategy and managers are being asked to handle staffing as needed on a store-by-store basis. "We are not trying to reduce labor. We want our stores staffed in accordance with what they each need," said spokesperson Jaime Riley.
Yet an internal company email reviewed by BuzzFeed News, which was sent to field leaders in May, suggests the company is closely watching labor expenses across the chain as growth slows. It said the weeks in May and June following Starbucks' Frappuccino Happy Hour promotion are "historically challenging weeks to forecast and schedule as the business experiences a significant decrease in transactions, resulting in an overspend in labor." The email asks field leaders to help control this overspending using a new "forecasting tool" that would "adjust forecasts and compensate for downward trend in business."
"'Reducing overspending' seems like good business sense," Riley, the Starbucks spokesperson, said in response to the email.

Starbucks staff told BuzzFeed News that store managers use the company's GLS software to determine how many worker hours they can allocate. The managers input how many transactions they think their location will ring up for a given week, and the system generates an allocation of total labor hours, using an algorithm that also takes into account historical sales.
The store manager then assigns those hours to individual workers. But in recent months, staff say that managers noticed their estimates were returning fewer hours. Just by way of illustration, if an estimated 800 transactions usually earned a store 70 hours of labor, the store might now receive only 65 hours for the same estimate.
"Someone seemingly flipped a switch on the labor model," one manager who has worked for Starbucks for nearly a decade told BuzzFeed News. "The whole month of July has been the tightest in scheduling I've ever experienced," said another longtime manager.
Starbucks sales, despite reaching new highs, have fallen short of expectations for the last nine months. The chain experienced a slowdown in U.S. sales growth from April to June — sales at cafes open at least 13 months increased by 4% compared to 8% during the same period last year. The company has called its recent performance an anomaly and expects its domestic business to pick up again.
"With costs of raw coffee going up and minimum wage rising, they will be looking for cost efficiencies anyplace they can find them," said Jack Russo, an analyst at Edward Jones.
I noticed a change in service myself back in June, as did other Starbucks customers.

Starbucks' recent labor situation was the subject of an online worker petition started in June. Cutting back on hours "creates an atmosphere where baristas are worn to the bone without being able to take a breath. Cleanliness suffers, speed of service suffers, partners suffer.....the labor climate keeps most baristas regularly underemployed, enough to qualify for benefits, but not enough to afford to pay for them," it read. The petition has attracted 13,500 signatures so far.

Despite the attention garnered by the petition, Starbucks says it has been tracking complaints from its employees and only 3% have been related to staffing and scheduling in recent weeks. Riley, the company spokesperson, said the chain has received "overwhelmingly positive" feedback about a U.S. pay raise announced this month, which moves a scheduled pay bump forward from next January to this October.
On Monday, Starbucks confirmed to BuzzFeed News that it will also pay a $500 bonus to employees who have been with the company for at least two years. When it comes to the perceived cutback in hours, "we encourage partners to work with managers on staffing scheduling needs," Riley said.
A number of Starbucks workers — many who said they used to love their jobs — have shared their stories online about the effect of reductions in hours. Here are some condensed excerpts.

"Cutting labor is all-consuming."
"Because our store manager is contacted constantly about hours, we are asked to send labor updates at 12p, 4p, and 8p every day. But even if we end up 100+ transactions over forecast and have already cut hours, we're told we should have cut more. My store continually meets and exceeds the confusing, sometimes nearly impossible goals set forth by a computer system and people who are 1,000 miles away." - Leslie
"Labor cuts are definitely taking a toll on us."
"Although my schedules say 20 hours, since labor is being cut I can never hit the 20 hour mark. That means I don't qualify for benefits. My husband's 40 hours a week [at Starbucks] have turned into 29 hours a week. It's hard. It's hard to think about the next schedules being put up, and dreading looking at he number of hours we are getting. Trying to calculate how much money we need to make just to get the kids fed, keep the lights on, and gas in the car. No one wants to give up hours, which means picking up shifts is getting harder and harder because everyone is scrounging for hours..I've never seen such an aggression about labor before. Over five years, and I've never had to truly worry about my hours, they stayed consistent..with the occasional 'You wanna go home early today?' But now it's 'You have to go home, we are way over on labor.' ... In the past six months, I have heard more about numbers and labor than I have in the five years I've been with Starbucks." - Caylee
"It didn't feel like work at all at first. All of that changed a few months ago."
"I noticed we seemed to be short staffed more often and it always felt like we were all flustered or moving at a dizzying pace. I also became a shift supervisor about a month ago. Advancing in my position is a huge change as it is. Add in even less people to work with but having the same volume of customers, and I am so physically and emotionally exhausted that my job is not even fun for me anymore. Want to know the last time I had a lunch break during one of my eight hour shifts? I couldn't even tell you since it has been so long ago. In fact, today I worked a nine hour shift on the floor with just one five-minute break, long enough to take a few sips of my iced vanilla chai and eat a doughnut." - Stephannie
"My hours have gone from 26 to 29 hours a week to 20 to18 hours a week."
"With only two people on the floor at a cafe, we can barely keep up, as the lobby is neglected and bathrooms and customers are complaining. I plan to hang in there but a lot of partners have no choice but look for other employment." - Vickie
"I recently had a baby, and was on an extended maternity leave due to complications. When I returned to work, hours were getting cut too much."
"Short night shifts, cut down to two hours because of being sent home early, were too much. We were closing the highest volume store in the city with only three employees in the tourist area of town. It was a constant battle of being sent home early, or scrambling all night, unable to get everything done. Driving 30 minutes to work wasn't worth it, especially for the poor pay as a barista with a newborn at home." - Bailey
"I like working hard. I like being busy."
"However, the reality is that if I spend my morning on the floor with six or seven people who are killing themselves to fill customer orders that really call for eight or nine baristas (mostly because [Global Labor Scheduling] doesn't adequately account for things like multi-part orders or food [orders]), I'm exhausted by the time I get home. Beyond that, being overworked and understaffed hurts partner morale. It makes it so that stores not as clean and pleasant as they should be, and customers are not taken care of in the way that they deserve to be." - Noel
"Every transaction is rushed through as the line continues to grow!"
"Orders are put on the bar where our solo barista makes every single beverage as fast as possible while trying to focus on what they are doing whilst grabbing all those stickers from cafe, drive-thru, and [mobile order and pay]. The drive thru times are suffering horribly; our average ticket is six to eight drinks each car! It looks bad on the company from a guests perspective to have three or four partners on the floor when the place is absolute chaos." - Samantha
"I came into this company in January and I loved my first few months."
"But you can see it in our faces and demeanors how much it's taking its toll. And now I received a paycheck for not even $200 that is nowhere near enough to pay my rent and bills. This so for two weeks work!!! Our store has failed two [Quality Assurance Standards Assessment] audits in the month because it never stays clean enough because we never have enough people to maintain the store. We never have schedules ready until a few days before the next week starts. Deliveries are made and stay there for days because on two man sets who's going to put it away. We're just exhausted, disappointed and now angry that all of our hard work is being taken for granted. I can't survive on this dismal pay and only 15 to 20 weekly tips. I'm going to have to cut off my medical insurance and stop 401k just so I can make ends meet! I love my job but I can't survive in this atmosphere!" - Andre
If you have information or tips, you can contact this reporter via email at venessa.wong@buzzfeed.com