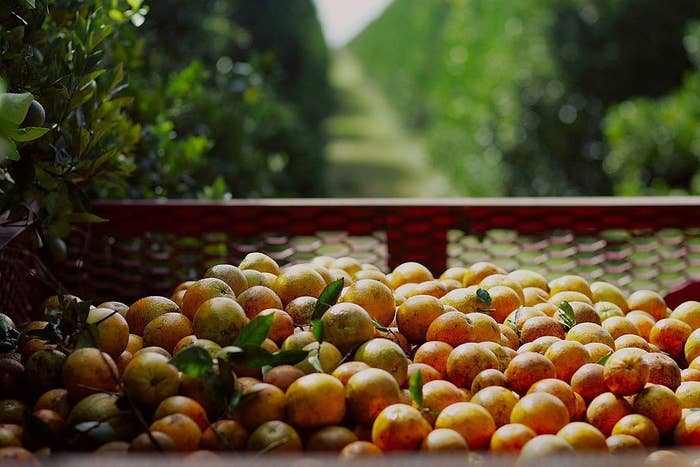 Farmers in Florida, the United States' main orange juice growing region, are bracing for a potentially catastrophic storm as Hurricane Irma rips through the Caribbean. Florida is about a month and a half away from harvesting its early orange varieties, which account for nearly half of the state's annual production.
The storm threatens to blow the fruit off the trees or, even worse, uproot entire plants. If farmers need to replant, it takes about three to four years for a tree to become productive.
"We're keeping our fingers crossed that it keeps going east and ends up in the Atlantic somewhere," said Andrew Meadows, a spokesperson for Florida Citrus Mutual, a grower trade organization. "Farmers can secure their equipment, and get their crop insurance papers in order. But with a storm of this magnitude, there's not a whole lot you can do."
Already, Florida's orange industry has struggled for more than a decade with a disease called citrus greening that has devastated crops, causing trees to die or to be less productive, bearing fruit that are small and bitter tasting. The state is producing about half the volume of oranges it was a decade ago, although this season was expected to show signs of improvement as new root stocks and production techniques and the use of antibiotics to fight citrus greening were showing signs of success.
Irma now threatens to create more problems for the state's citrus industry, which supports about 46,000 jobs. As the storm approaches, leading to concerns about supply, futures prices for orange juice shot up by more than 6% early on Wednesday.
Yet the futures market "may not accurately portray the Florida citrus industry, as it is based on the frozen concentrate market, while the majority of Florida oranges are sold as not-from-concentrate orange juice," Marisa Zansler, director of economic and market research at the Florida Department of Citrus, a government agency, told BuzzFeed News. Only about 20% of the state's oranges are used for frozen concentrated orange juice, she said.
Still, the storm is a real risk for farmers. Florida orange growers typically harvest their early varieties in mid- to late-October, and the citrus crop is predominantly located in the southern two-thirds of the state, starting north of Miami and stretching from coast to coast, according to Zansler.
"Are we anxious? Absolutely. Not only would the earlies be affected, but the entire crop will be affected, including grapefruit and tangerines," said Meadows.
The last time orange growers were devastated by storms was the 2004-05 season, when three hurricanes hit Florida's citrus-producing regions. Zansler said the reduced production did lead to an increase in orange juice prices, but said it was temporary.
Hurricane Irma has caused widespread damage in Saint-Martin and St. Barts, and President Donald Trump has declared states of emergency for Puerto Rico, Florida, and the US Virgin Islands. The storm comes on the heels of Hurricane Harvey, which is blamed for at least 60 deaths and cost $150 billion to $180 billion in damages.