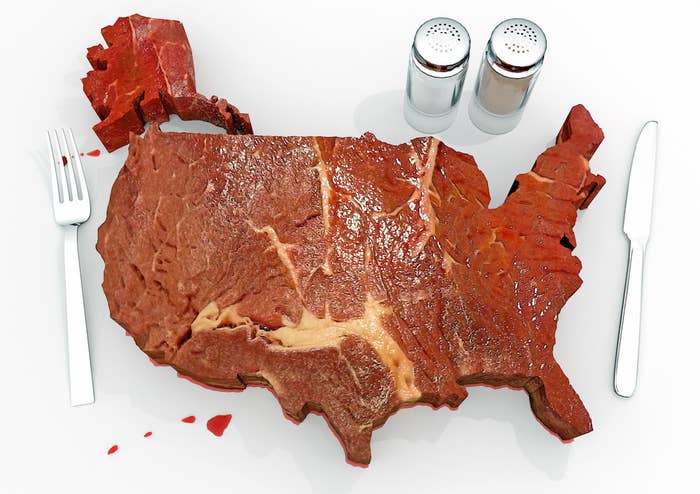 Shortly after Donald Trump's election victory, a beef industry representative said it was "a new day in Washington and the country as a whole."
In November, rural America voted for Trump with hopes that he would roll back environmental regulations and support the ethanol market, which is fueled by corn growers. Many rural towns flipped from Democrat to Republican. "Farming and agricultural processing are the predominant industries in a majority of the counties that changed from blue in 2012 to red in 2016," The Hill reported.
Yet as the president follows through on America-first campaign promises — withdrawing from the Trans-Pacific Partnership during his first week in office and preparing to renegotiate the NAFTA deal with Canada and Mexico — farmers have become unsettled.
"Trade is more important to agriculture than any other sector of the economy," Dan Glickman, a Clinton-era US agriculture secretary and executive director of the Aspen Institute Congressional Program, told BuzzFeed News.
Major members of the US farm lobby say their members have been big beneficiaries of the trade deals that send American beef, corn, and grain across the world.
"TPP and NAFTA have long been convenient political punching bags, but the reality is that foreign trade has been one of the greatest success stories in the long history of the U.S. beef industry," said the National Cattlemen's Beef Association, the beef industry's lobbying group, in a statement.
Trump is now reevaluating NAFTA, a deal that opened up trade between the US, Mexico, and Canada 23 years ago — and which beef producers are big fans of. Kent Bacus, director of international trade and market access at the National Cattlemen's Beef Association, told BuzzFeed News that NAFTA is "a near perfect deal" and said it "was one of the greatest trade agreements we could have asked for."
Others in the farming business are concerned about Trump's wall-building, deportation-minded positions on immigration. Of all American industries, farmers have the most to lose from a tighter policy on immigration, The Economist reported, and undocumented immigrants make up more than half of the workforce on farms, according to the U.S. Department of Labor.
Idaho dairy farmers, who rely on immigrant labor, have started a petition to highlight their need for immigration reform.
Kristi Boswell, congressional relations director for the American Farm Bureau Federation, said in a podcast, "We want to make sure our workforce is legal and valid to work in the United States. However, the reality is over half of our workforce is undocumented, and so we want to make sure there is thoughtfulness by the administration in their approach recognizing the nature of our workforce."
The US has a surplus in agricultural trade.

Meat producers have been quick to point out that their competitors overseas — particularly in Australia — will likely capitalize on the collapse of the proposed TPP trade deal with Asian countries. In a joint letter last week, beef and pork producers called on the Trump administration to "initiate free trade agreement negotiations in the Asia-Pacific region beginning with Japan.
"While we may not agree with the decision to withdraw from the TPP, we respect that this is the position of the U.S. government, and we request that you prioritize securing strong market access to Asia-Pacific markets for U.S. beef and pork exports," the letter stated.