Despite Big Discounts, Keurig Sales Kept Crashing Over The Holidays
Sales of the single-serve brewers have fallen for a year and a half now.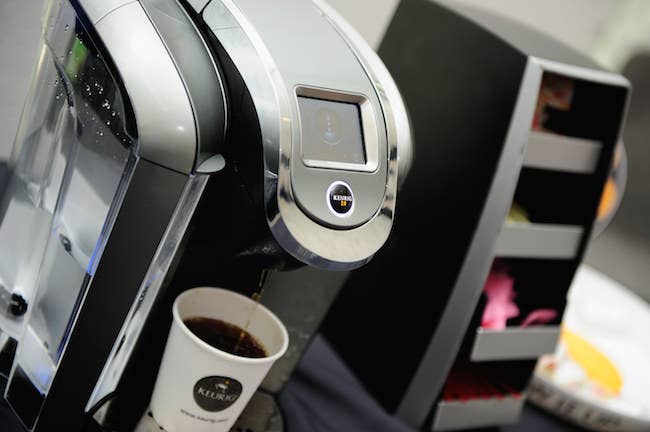 Demand for Keurig's single-serve coffee brewers continues to cool. Despite deep discounts during the holiday season, unit sales of the appliances dropped 7% last quarter, Keurig Green Mountain reported on Monday morning.

This is the sixth consecutive quarter of negative Keurig brewer sales by volume. The combination of lower unit sales and discounts resulted in a $60.3 million decrease in brewer and accessory net sales during the period compared to a year ago.
Sales from K-Cup pods during the quarter also declined by 6% year-on-year — a $62.2 million drop — as consumers traded down to lower-cost and private label pods. "We believe this negative mix trend may continue as long as pod sales of our owned and licensed brands experience lower unit share. In addition, increasing competition among pod manufacturers may result in price compression and the loss of licensing or manufacturing rights to brands," the company wrote in its most recent corporate filing.
There was also a tiny decline in unit sales of K-Cups during the quarter. Keurig's revenue from K-Cups fell for the first time in mid-2015, signaling trouble as these pods account for roughly 80% of the company's sales.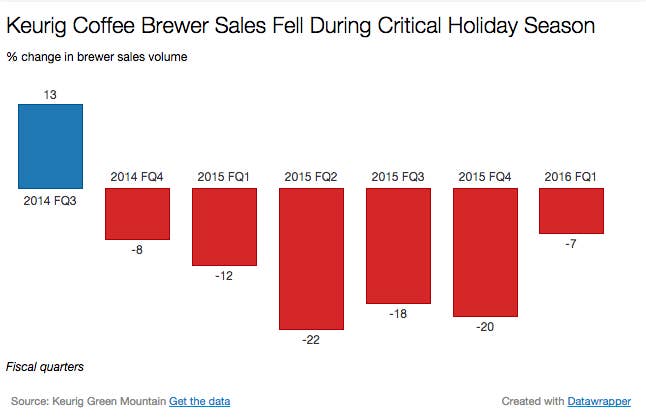 The holiday season is the most critical business period for Keurig, when sales of coffee makers are highest. Keurig sold 4.1 million brewers in the three months ending Dec. 26, down from 4.5 million in the same period the previous year. The year before that, it reported a record 5.1 million brewers sold.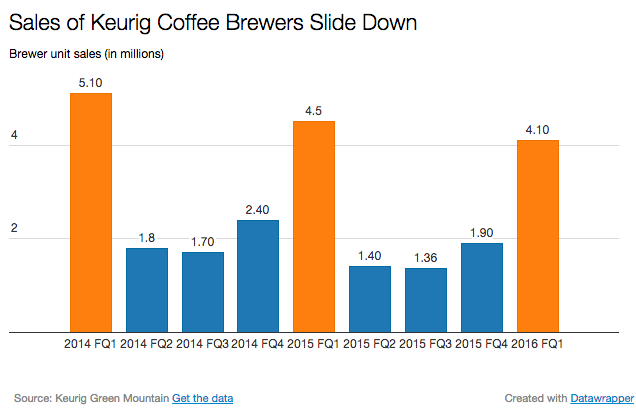 In December, Keurig announced that it would be acquired by JAB Holding, a company based in the Netherlands that has controlling stakes in Peet's Coffee & Tea, Caribou Coffee Company, and Einstein Noah Restaurant Group (owners of the Einstein Bros bagel chain). In Europe, JAB also has controlling stakes in Espresso House, the largest coffee shop chain in Scandinavia with about 200 locations, and Baresso Coffee, Denmark's largest coffee shop chain with about 50 locations. The deal is expected to close this winter.

Coca-Cola, which has a 17.4% stake in Keurig and partnered with the company to launch the Keurig Kold soda maker last year, expects to sell its shares for a profit (at $92 per share) when the merger closes. It will no longer have an equity interest in Keurig after the sale, according to a Coca-Cola filing, but the companies will remain partners with on the Kold system.
Keurig estimates there are 22.9 million active brewers in the U.S.