A week after passing the Senate, a bill requiring a national standard for labeling genetically modified organisms in food was approved by the House on Thursday. The bill must now be approved by President Obama.
If signed (the White House has said it plans to support the legislation), the law would give the U.S. Department of Agriculture two years to create standards for labeling GMOs in food nationwide, and would preempt Vermont's new GMO labeling law, the country's first, which went into effect July 1.
Some companies, including Mars, already are using Vermont's labeling standards on products nationwide. Dannon is currently using stickers declaring the presence of GMO ingredients in Vermont, and recently committed to labeling its products nationwide by the end of the year and reducing use of GMO ingredients. Yet other companies say disclosures required by the Vermont law — such as "partially produced with genetic engineering," or "may be produced with genetic engineering" or "produced with genetic engineering" — create unnecessary fear of a safe technology for producing food.
The Vermont standard.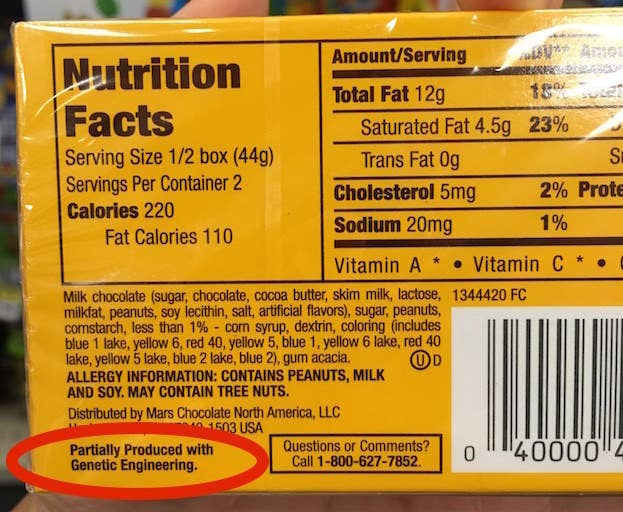 While the federal bill would make GMO labeling mandatory, it has been criticized by many labeling advocates for not requiring the kind of direct and transparent disclosure required in Vermont.
Instead, it was widely supported by food and beverage makers who feared patchwork state-by-state legislation, which would be expensive to deal with. Agribusiness giants like Monsanto and Dow Agrosciences, which develop herbcides and the genetically engineered seeds that can withstand them, also supported the federal bill.

But some advocates are disappointed that the federal bill permits the use of "a text, symbol, or electronic or digital link" to find out if a product contains GMOs.
The link or QR code could include such language as, "Scan here for more food information," and small manufacturers could list a phone number. This means the packaging wouldn't necessarily mention GMOs or genetic engineering at all.
The other problem with using digital links, according to Gary Hirshberg, Chairman of the pro-labeling group Just Label It, is consumers simply will not take the time to scan every product they buy with their smartphones.
One of the solutions being considered is the Grocery Manufacturers Association's trademarked SmartLabel, a system of websites, digital QR codes, apps, and phone numbers on packages that direct consumers elsewhere for more information about the product.
Hershey, one of the first companies to launch SmartLabel, already uses SmartLabel on its candies — although when we tried to use one of its QR codes today, it didn't quite work. Hershey said the error message was a result of scanning the QR code with a demo app, and while there are no SmartLabel-certified apps at this time, generic QR readers are compatible.

Scanning the regular bar code on the bag of Hershey's Kisses using the app opened this page.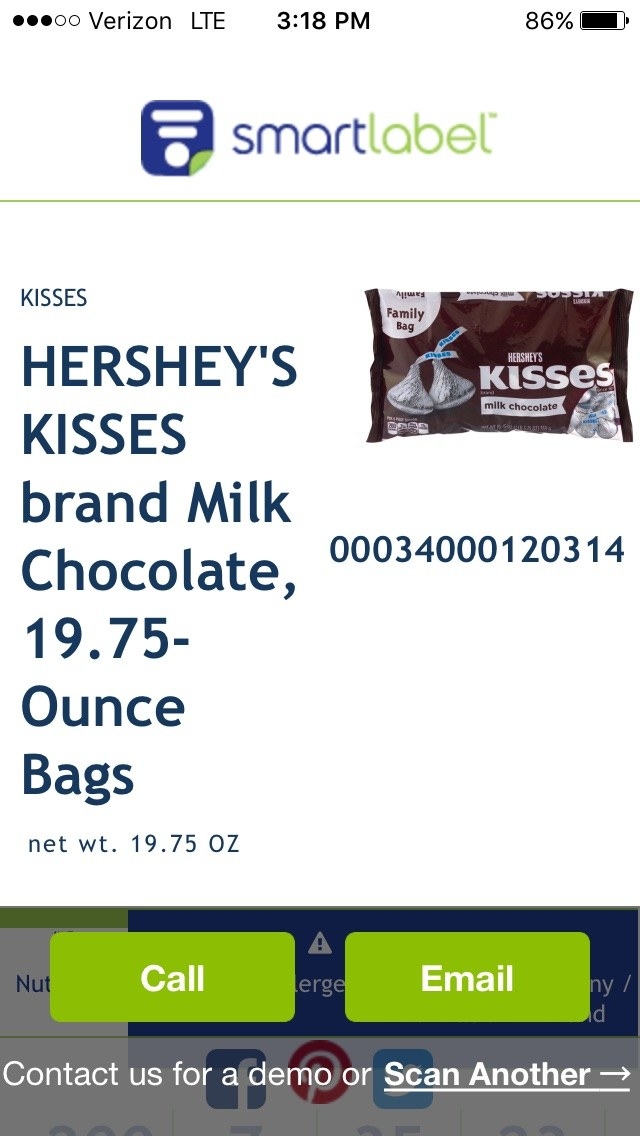 A tab in SmartLabel's profile of the Hershey's Kisses product called "Other Information" contained a link to the GMO disclosure, which looks like this (below). Altogether, that's three steps — scan, open tab, click on link — to get to the GMO disclosure itself.