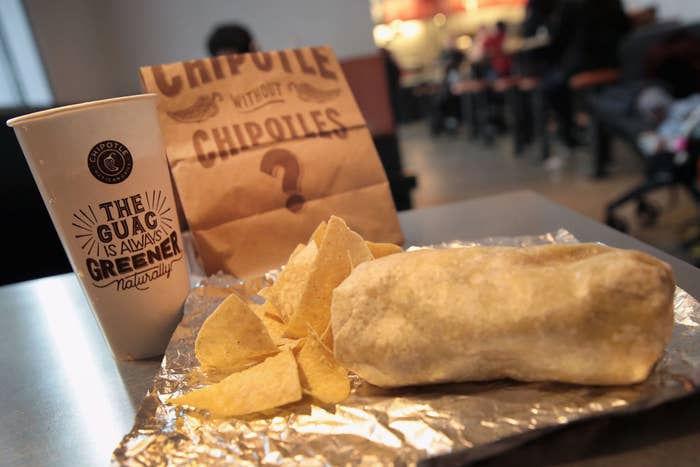 Chipotle, having stabilized sales following a disastrous turn in 2016, is gearing up for its next chapter under the leadership of new CEO Brian Niccol, previously chief executive at Taco Bell. His immediate mission: to "remind people why they love Chipotle."
Sales at existing Chipotle stores rose 2.2% in the first three months of the year, due mainly to a hefty 5% price hike, the company reported Wednesday. The results suggest additional overhauls will be necessary to bring customers back to the chain after a series of food safety scares drove many away, and caused some of them to switch to competitors like Chick-fil-A. Sales at the average location were still below pre-crisis levels for the same quarter in 2015. As Chief Financial Officer Jack Hartung said to investors today, there's "much more work ahead."
What exactly the burrito chain has planned will not be revealed for several months, when the company will hold a special call with investors ahead of its next earnings report, Niccol said. But executives at the company offered investors some hints.
Chipotle — which has historically kept its menu and operations extremely simple — will "embrace innovation" with menu items, digital ordering, and delivery, according to Hartung.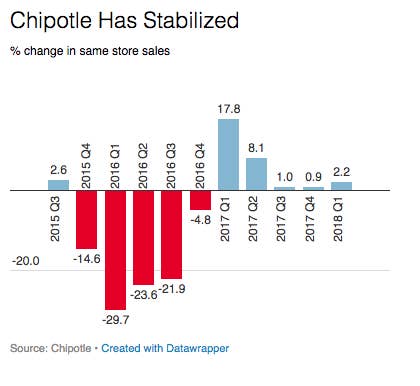 Notably, Niccol discussed the possibility of extending Chipotle's opening hours (the chain currently operates from 10:30 a.m. to 10 p.m.), though he said there were no immediate plans to offer Chipotle breakfast. Rather, he said, "product innovations" may be coming to attract guests during times when the stores are not busy.
Taco Bell, for example, offers low-cost specials for its afternoon "Happier Hour," and the chain is a popular late-night destination.
Niccol, who was also once Taco Bell's chief marketer, also intends to drum up Chipotle's "food with integrity" branding and its message of "cultivating a better world through food" to "remind people why they feel good about eating Chipotle," he said. "The brand has been invisible" recently, Niccol added.