After Rampant Growth In 2014, Chipotle Is Slowing Down
The same food philosophy that catapulted the burrito chain into the big leagues has held the company back this year. And it expects 2016 to be even tougher.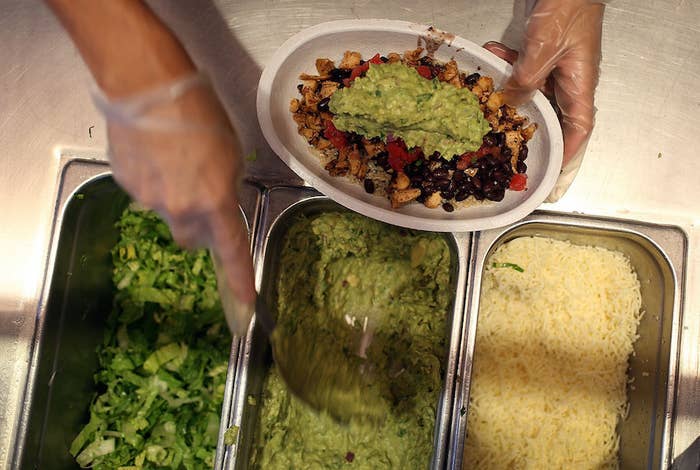 Chipotle has a more cautious outlook now after it gleefully tore through 2014.
The Denver-based chain, started 22 years ago, grew sales at restaurants open at least 13 months by 16.8% in 2014, an impressive feat for any restaurant company. But it now appears that this period of supernatural growth has passed.
Chipotle said Tuesday it expects same restaurant sales to increase by "low-to-mid single digit" percentages this year, and expects just a "low-single digit" percent increase in 2016. Company executives told investors on Tuesday that October sales so far have been "choppy" and that it needs to continue to increase awareness of the brand and its branding message about food quality.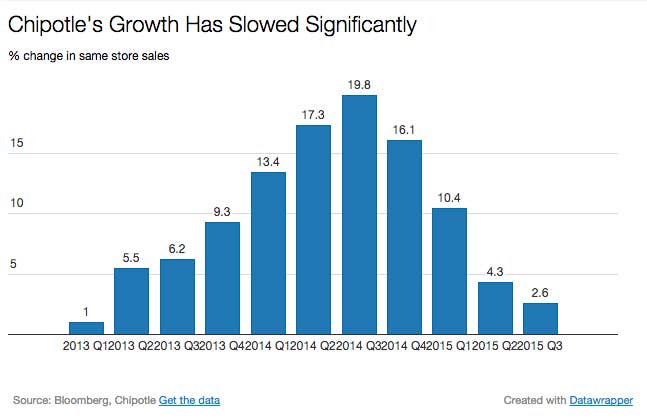 One of the chain's challenges now is the very thing that helped it soar — its strict food standards that include, among other things, raising animals without antibiotics.
Specifically in 2015, Chipotle's sales were hurt by a carnitas shortage. The chain pulled pork off menus in a large share of restaurants in January when a supplier failed to comply with its animal welfare policies. The search for a replacement took months: in late September, the company announced carnitas had returned to about 90% of restaurants thanks to a new U.K. based pork supplier. The absence of the meat, however, had already dented growth.

As Chipotle worked through supplier issues this year, competing fast food chains also made announcements that they would gradually adopt some of Chipotle's popular food policies, which have won favor with consumers. McDonalds, for instance, will stop using chicken raised with antibiotics that are important to human medicine in the U.S. by March of 2017. Subway announced Tuesday that it will eliminate antibiotics use in all meats in the U.S., starting with chicken in 2016, followed by turkey, and then pork and beef by 2025.
Still, the changing landscape doesn't mean Chipotle is past its growth stage. The chain will open a total of 215 to 225 new restaurants in 2015, and about the same number again in 2016.

As for the two smaller chains Chipotle owns, the company says it not yet ready to ramp up expansion. Both ShopHouse and Pizzeria Locale are still in what the company called an "early brand building" stage, though they both do provide another avenue for Chipotle to grow.