It's a good time to be a fast food consumer.

Satisfaction with fast food chains is on the rise, according to a report released Tuesday by the American Customer Satisfaction Index, a research firm spun off from the University of Michigan. Satisfaction scores at fast food restaurants climbed to 79 in the most recent survey, in March, up from 77 a year ago.
That's close to its all-time high, and well up from the score of just 66 recorded back 1996, when the U.S. economy was humming but our burgers and fries left people underwhelmed.

But how things have changed. Chicken sandwich chain Chick-fil-A now ranks number one, surpassing other fast food restaurants "by a wide margin," according to the report, followed by the pizza chains Papa John's and Little Caesars.
The restaurants were evaluated based on a number of factors, including product quality, customer service, and perceived value. Major fast food chains have been competing on low-cost value deals this year (taking advantage of cheap commodities), unveiled redesigned restaurants, and have made menu commitments such as simplifying their ingredients lists and improving animal welfare standards (for example, by switching to cage-free eggs and reducing antibiotics use in livestock).

Satisfaction scores were up at almost every fast food chain except Chipotle and Pizza Hut.
Chipotle, which has suffered a series of foodborne illnesses since last summer, saw its overall score drop from 83 to 78. Pizza Hut's ticked down slightly to 77 from 78.

While nearly every chain saw their satisfaction scores go up, some rose faster than others.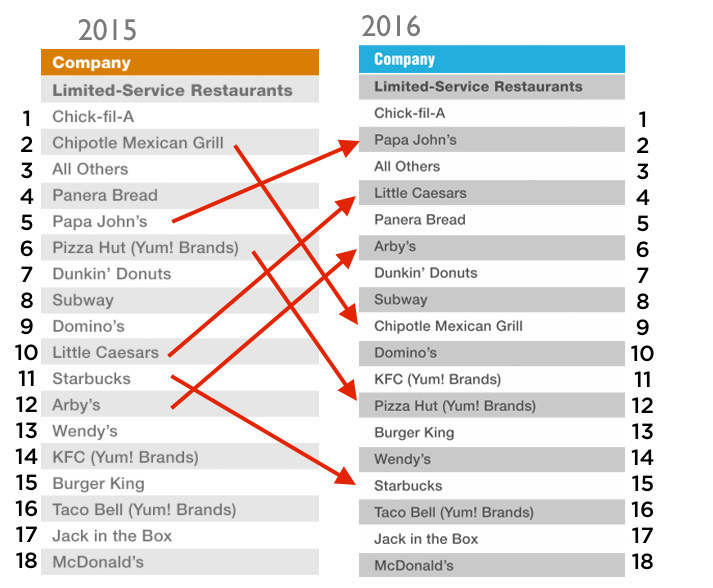 Little Caesars saw the biggest improvement, which boosted its ranking to from tenth in 2015 to fourth this year. Arby's also showed significant improvement "following a major overhaul of its menu and store layout," according to ACSI. In fact, the roast beef sandwich chain has been growing for 21 straight quarters.
While Starbucks' overall satisfaction score rose from 74 to 75, it fell in this year's ranking as other chains saw more marked improvements. Despite its stunning financial results, the coffee chain has scored below the industry
average in the ACSI survey since 2014. Many customers complained about changes to the Starbucks' loyalty program this year, which reward higher spending over frequent visits.
Overall, customers noted improvements in service, speed, store layout, and food quality.