Just down the street from the Freedom Tower in New York City, the fried chicken sandwich chain Chick-fil-A's newest restaurant, and its largest to date, opened on Thursday morning. The eatery spirals up five stories, rising from a basement-level kitchen to cashiers on the ground level, and up through two levels of indoor seating that are capped by a rooftop deck. There's seating for 140 people.
The opening of the behemoth store reflects the franchise's quickly changing position in the fast-food matrix. With about $9 billion in sales in 2017, the Atlanta-based restaurant — as well known for its sandwiches as for its strong Christian values — today ranks seventh nationwide among fast-food chains in terms of sales, but it's on track to become the third-largest in the next two years, behind McDonald's and Starbucks, according to restaurant consultancy Technomic.
"The trajectory we're on would support that," said a Chick-fil-A spokesperson when asked about the possibility of rising to the top three by 2020.
Helping to fuel this growth is technology such as mobile ordering and on-site ordering by tablet, which have sped up Chick-fil-A's service, brought in new customers, and encouraged old customers to come more often. Yet digital progress presents a challenge to Chick-fil-A: how to translate its trademark cheery service and abundant free food in stores — which helped create its loyal customers in the first place — when its primary point of contact with some customers becomes a touchscreen.
These small details in service are "part of the context in which we operate Chick-fil-A," said the company's vice president of restaurant experience, David Farmer, who describes his mission as creating "[NASCAR] pit crew efficiency, but where you feel like you just got hugged in the process ... We'd better not lose our edge relative to service and hospitality."
Thus far, this edge has paid off. The company scores well above fast-food chains overall when it comes to satisfaction, positive buzz, and likelihood of purchase, according to YouGov BrandIndex.

"The pathway is in Chick-fil-A's favor in terms of continuing to leapfrog iconic chains that are still doing fine," said Technomic senior principal David Henkes. Old-school fast-food companies are doing well again after years of losing ground to higher-end chains like Chipotle, he said, "but Chick-fil-A is doing phenomenally."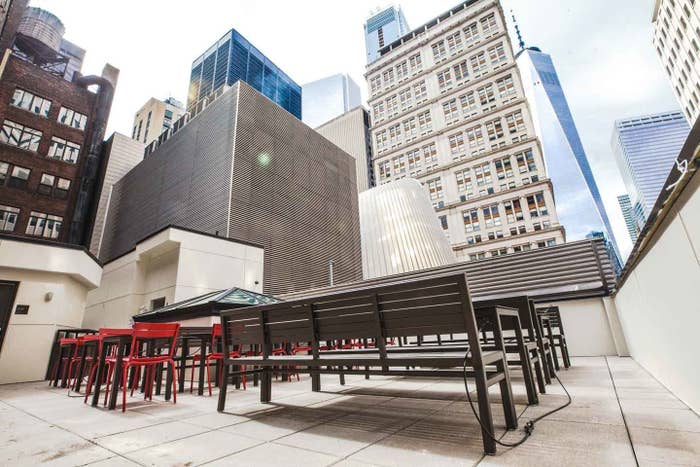 Since its first location opened in 1967 in Atlanta, Chick-fil-A has steadily expanded, recently branching further away from its Southeast home base. It opens about 100 new stores each year, amounting to 2,300 total locations today, and they manage to stay remarkably busy.
The average Chick-fil-A restaurant rings up more than $4 million in annual sales, according to QSR magazine, millions more than virtually any other restaurant chain's locations, including giants like McDonald's, Burger King, and Wendy's — despite Chick-fil-A being open just six days a week. (All restaurants close on Sundays.) The average McDonald's, for instance, makes about $2.5 million per year.

"We're constantly keeping our eyes on the horizon, and what major tech shifts could be happening," said Michael Lage, Chick-fil-A's senior manager of customer digital experience. "We want to be even faster, more personal, more convenient."
Farmer describes his mission as creating "[NASCAR] pit crew efficiency, but where you feel like you just got hugged in the process."
In just the last few years, digital upgrades like the Chick-fil-A One app, which spent a week at the top of Apple's App Store when it launched in 2016, and ordering on-site by tablet, which began in 2014, have helped to move an unthinkable number of customers through its stores. One drive-thru in Oklahoma City recently served 216 cars in one hour, according to a company spokesperson. Chick-fil-A's first New York store rings up between 2,500 and 2,600 transactions on busy days, owner Oscar Fittipaldi told BuzzFeed News, and he said some locations are even busier.

"We have become a big company," said Bryan Bullington, a Chick-fil-A owner in Houston who runs one of its most-visited locations. The chain has come a long way since he joined in 2001, he said, when it did not accept credit cards, a subject that sparked a big battle internally at the time. Today, Bullington said, some owners are even advocating for cash-free stores.
"Technology, competition, healthy food trends, and on-demand delivery are all pressing in on us. The cost pressures with food and insurance and a better work environment have all changed dramatically since I came to Chick-fil-A. But fundamentally we're the same… We're still chicken," Bullington said.

As more people drift from shopping at brick-and-mortar stores to the internet, Chick-fil-A's innovation efforts are focused not on new menu items, but on improving wait times and keeping customers flowing through. Chick-fil-A's Farmer said, "The closest Chick-fil-A to my home is in the parking lot of a Target. And I just don't go to Target because of online shopping."

The shift of shoppers away from physical stores may not appear to be an obvious threat to restaurants, but it's one that former Starbucks CEO Howard Schultz has been warning about for years, calling it a "seismic change" in consumer behavior. Starbucks, which has led the restaurant industry in leveraging consumer-facing technology, launched a mobile order and pay app nationwide in 2015 that now represents 11% of US transactions for the company.
"Convenience is the big thing," said Lage. Chick-fil-A's app has been downloaded by 10 million users so far. And the chain, like so many others, is now testing options for meal delivery.

Yet even as massive sales volumes pressure Chick-fil-A to shorten some interactions with customers and bypass others, Farmer said he remains committed to old-fashioned hospitality. "I don't think that's everybody's angle, but it's our angle. You have a transaction and it's functional and it works. But where do you go where the transaction is uplifting?"

Chick-fil-A's ascent was no sure bet even five years ago. In 2013, the company was the ninth-largest fast-food chain in the US, and it was still reeling from a public relations fiasco set off a year earlier when then-chief operating officer Dan Cathy (now CEO), made public comments against same-sex marriage, saying he supported "the biblical definition of the family unit."
Consumer threats to boycott the chain didn't meaningfully impact business — in the five years since the controversy erupted, Chick-fil-A's overall sales roughly doubled and hundreds of successful new restaurants have opened. But Cathy's comments cast a long shadow, even as Chick-fil-A withdrew from political commentary as a matter of corporate strategy.
In 2015, the Denver City Council delayed approval of a new Chick-fil-A in Denver International Airport over concerns of discrimination. (It was approved after the company reassured the council of its employment policies.) A spokesperson told BuzzFeed News, "Do we have gay team members? Yes. Do we have straight team members? Yes. Do we distinguish when we tell their stories of service? No."
In 2016, several months after Chick-fil-A's high-profile opening of its first store in New York City, Mayor Bill de Blasio discouraged people from supporting the business. "What the ownership of Chick-fil-A has said is wrong," the mayor said at a press conference at the time.
Years later, questions still linger about Chick-fil-A's politics, despite the company's silence. Asked about a 2017 ThinkProgress post that said the chain continues to donate to anti-LGBT organizations — it named the Fellowship of Christian Athletes and the Salvation Army — a spokesperson replied, "The Chick-fil-A Foundation is focused on supporting youth in the areas of education, entrepreneurship, and development of emerging leaders — including more than $46 million in scholarships to Team Members."
And while the 2012 incident cemented the company's image as a Christian restaurant for some consumers, Farmer said its founder, who died in 2014, "never saw Chick-fil-A as a Christian business. That label made him uncomfortable."
Today Chick-fil-A's stated corporate purpose remains unchanged: "To glorify God by being a faithful steward of all that is entrusted to us and to have a positive influence on all who come into contact with Chick-fil-A."


"It got controversial a few years ago with the Christian focus of the owners, but it doesn't seem to have slowed Chick-fil-A at all. If anything, their growth has accelerated," said Henkes. "I still see traces of that [controversy] at times. But it's probably more a thing on the internet and on Twitter than in real life."
Chick-fil-A is trying to move as far away from that controversy as possible, saying simply that the company treats everyone with "honor, dignity and respect," and it's leveraging technology to provide a great customer experience.

"The focus at corporate, the leading measure, is to focus on doing the right thing, the right work. If we get better, growth will follow closely behind," said Bullington. ●