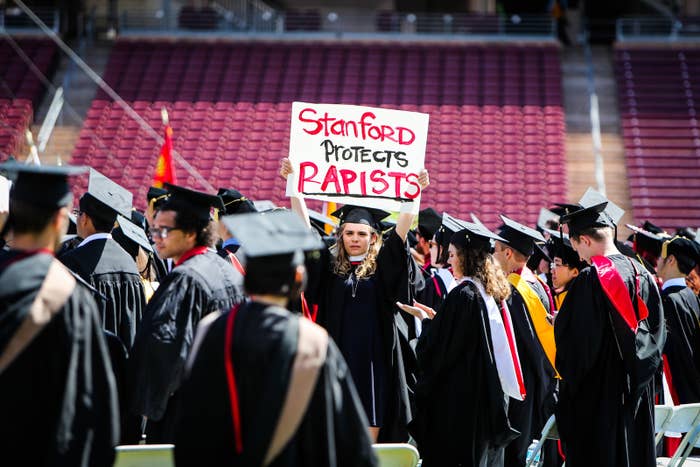 Stanford University has offered settlements to at least two women in attempts to close ongoing federal investigations of how the elite school handles sexual assault cases, BuzzFeed News has learned.
Stanford made the offers in recent months on the condition that the women withdraw the Title IX complaints they filed with the U.S. Department of Education's Office for Civil Rights (OCR), which prompted the federal investigations, both women told BuzzFeed News.
The women said the settlement offers, and the stipulation that the complaints would be withdrawn, were made during communications between their lawyers, though the attorneys involved declined to discuss them. One of the women, Leah Francis, said Stanford offered her a $60,000 check in October to cover therapy expenses, while the other woman, who requested anonymity as a victim of sexual violence, declined to state how much the school offered her.
Both women said they refused the settlement offers because they felt it was important that federal investigators continue their work to force reforms in how Stanford responds to sexual assault cases. Francis is now organizing a GoFundMe page to solicit money to help pay for therapy, counseling, medical, and student debt bills, which she said she incurred after being assaulted at Stanford.
"I think they should cooperate with the Office for Civil Rights," Francis said. "Stanford should stop trying to isolate and bully survivors of sexual assault into dropping their complaints by dangling much-needed money for health care in front of them."
Stanford spokeswoman Lisa Lapin did not deny that the university had offered to settle the cases, but she said it would be "unethical" for the university to comment on settlement discussions because they "are conducted under assurances of confidentiality."
"Anyone involved in such discussions would be acting unethically to make statements, true or not, about what took place," Lapin said. "Stanford has been cooperating with the Office of Civil Rights in its investigation, and Stanford would not make presumptions about what OCR will investigate. We are confident that OCR will determine for itself the matters it will pursue."
Stanford is one of more than 200 colleges and universities under federal investigation for how they handle sexual assault. An international firestorm swirled around Stanford in June after one of its students, Brock Turner, was given a much-criticized six-month jail sentence for sexually assaulting an unconscious woman on the Palo Alto campus. Michele Dauber, a Stanford law professor who launched an effort to recall the judge in the Turner case, criticized the school at the time for not apologizing to Turner's victim or offering to pay for her counseling. Since then, Dauber told BuzzFeed News, she has been asked by university officials to not speak about any sexual assault case reported to have taken place at Stanford without the consent of the accused and the accuser.
"This is a very cold and calculating decision on the part of the university."
"Obviously if I was to comply with this request, it would mean that I could no longer teach, write, or engage in any advocacy on this subject," Dauber said. "I think these kinds of actions by any university are just terribly shortsighted, unfortunate and ultimately are a threat to the mission of the university, which is to encourage open discussion and debate on a variety of topics, even quite controversial issues like campus assault."
Lapin said the university "would never tell a faculty member that they cannot talk about instances of sexual assault or harassment at Stanford," but she added: "Stanford may ask a faculty member to use good judgment, and not discuss confidential information they may have obtained about a sexual assault survivor's actual case in public or with other students without the survivor's permission."
Stanford has faced protests from students and faculty critical of how the university handles sexual assault cases. The protests started in earnest in 2014 when Francis went public about her case. She said she considered taking the settlement to pay off her debt but that withdrawing the complaint, as the university demanded, was out of the question.
"I knew it was too good to be true that they would do something half-decent," Francis told BuzzFeed News.
Another woman who filed a Title IX complaint over the university's handling of her sexual assault case said she too was offered a settlement on the condition she withdraw her grievance, which she turned down.
"The only reason I filed in the first place was so that this would never happen to another girl at Stanford," she told BuzzFeed News. "All I care about Stanford doing is policy reform to better serve victims of gender-based violence. I do not have faith they are going to do that themselves."
Lawyers representing the women, including John Clune, a well-known attorney for campus rape victims, and Equal Rights Advocates, a nonprofit legal firm in California, declined to comment on whether two other clients who also filed Title IX complaints against Stanford received similar settlement offers.
However, professors who study sex discrimination law, like Elizabeth M. Schneider of Brooklyn Law School, said it's likely that if two women received these offers, then the other complainants would have as well, though it depends on each case. It's also "very common to have a 'confidentiality' provision in the settlement, and that that would be a condition of the settlement," she said.
"This is a very cold and calculating decision on the part of the university," said Schneider, who teaches about sex discrimination statutes at Brooklyn Law School. The settlement offers "might be for a whole bench of different reasons, but basically what it's trying to do is completely clear the record for any information about these claims. … It's pretty horrible because the Office for Civil Rights is ultimately the place where there would be authority to document the natures of the claims that have been filed, so this university is acting in a very aggressive way."
Gillian Chadwick, a Washburn University law professor who studies legal options for sexual violence victims, said it's tough to say how often schools make similar offers since they are typically confidential. But she agreed that it's likely Stanford's offers are "an endeavor to minimize a public perception that there is problem with sexual assault on the campus."
Francis said Stanford, which has an endowment worth $22.4 billion, offered to settle with her in October for just over $60,000, though she said they offered $95,000 in March 2015. Stanford wouldn't agree to institutional changes as part of the settlement, Francis said, which she said made the federal investigation the "last hope" for reforms she and the other women are seeking.

"This really underscores what is such an inequality of power between the students and the university," Schneider said.
In Francis's case, a male student who she said abused her during winter break was found responsible in April 2014 for sexual misconduct and sexual assault using force. The university punished him with a five-quarter suspension and community service, but it was scheduled to begin after he graduated in June.
Two of the other Stanford women who filed complaints, sparking two investigations that opened in July 2015, reported being sexually and physically assaulted. Both accused the same male student of attacking them. He was disciplined by Stanford with a 15-year campus ban after he received his diploma. However, a federal lawsuit filed by one of those women on Monday says he dined on campus in February in violation of the ban. When the woman, named as Jane Doe in the suit, reported to Stanford's Department of Public Safety that the man was on campus in violation of his punishment, an officer told her they could not enforce the ban, according to the court filing.
"Stanford should stop trying to isolate and bully survivors of sexual assault into dropping their complaints."
Stanford is currently under four federal inquiries into how it handles sexual assault cases. A fifth Title IX investigation focuses on its handling of sexual harassment, apart from assault. At the time of the Brock Turner controversy, Stanford had the most ongoing Title IX investigations of any school in the nation.
The Department of Education can close an investigation if a complainant withdraws their filing. However, its Office of Civil Rights reserves the right to continue the inquiry if the complaint or the start of the investigation has suggested systemic issues. The agency has changed in recent years to review all of a school's sexual assault cases during Title IX investigations, rather than just the specific incident included in a victim's complaint, OCR insiders told BuzzFeed News.
If Stanford is going to make a settlement offer, it should include provisions to make policy changes, said Neena Chaudhry, counsel at the National Women's Law Center. This would ensure the settlement terms "are beneficial and satisfactory not only for the complainants, but also beneficial to the student body as a whole," she said.
Federal investigations of whether schools violated the gender equity law Title IX in how they respond to student rape reports do not result in fines or monetary damages, like a civil lawsuit might. On some occasions, the education department has ordered universities to refund a student complainants' tuition or pay for counseling, but it is by no means an expected outcome of the investigations.
Francis said she's starting the GoFundMe page to "show Stanford that they can't always get what they want by just offering a sum of money." Any excess money she raises will go to the YWCA.