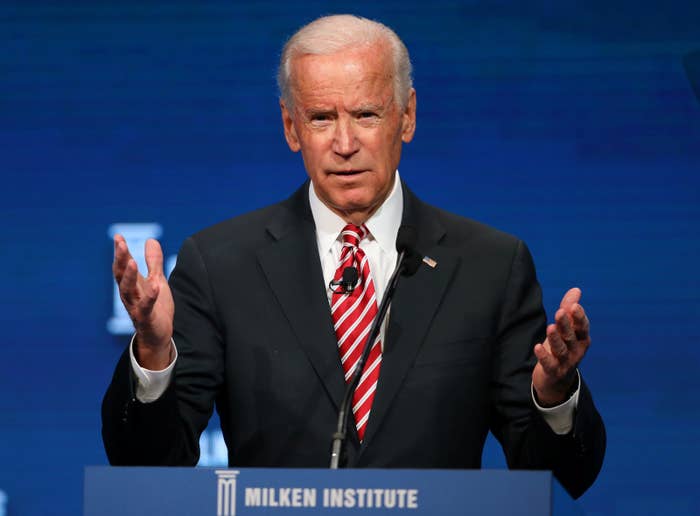 Former vice president Joe Biden condemned media mogul Harvey Weinstein during a speech Wednesday, calling the film producer's alleged sexual misconduct "disgusting" and "immoral."
Biden told a crowd gathered in Manhattan at a fundraiser for the Anti-Violence Project, a New York City nonprofit that serves LGBTQ victims of violence, that the women who spoke out against Weinstein risked their careers "to save other women from similar abuse."
"This disgusting behavior, at least on the part of Harvey Weinstein, has been brought to an abrupt and justifiable end," Biden said. "But it's long past time for the powerful men in Hollywood to speak up, to be strong enough to say something, because silence is complicity."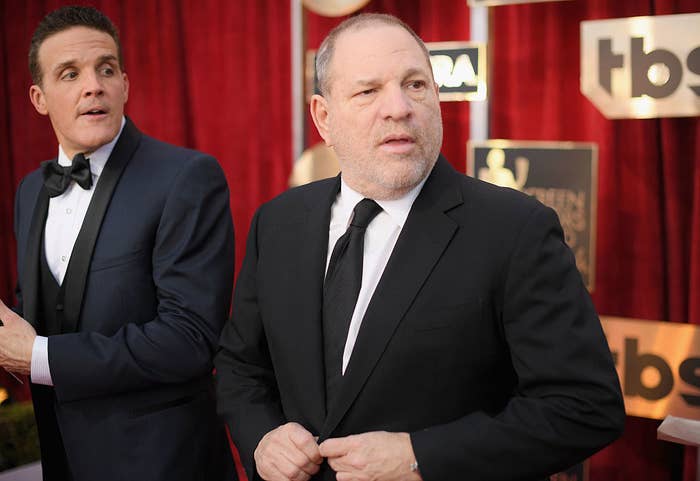 It's the first time Biden has spoken about Weinstein since reports first surfaced last week that included allegations from multiple women that the Hollywood mogul had sexually assaulted and harassed them. More than two dozen women have now publicly accused Weinstein of sexual harassment, assault, and rape. In the ensuing fallout, Weinstein was fired from the company he helped found, and the University of Southern California said it will no longer accept $5 million from him to fund scholarships for rising women directors.
"A man who had power over scores of women and their careers — the ultimate abuse of power in a disgusting, immoral, and inexcusable way," Biden said, his voice roaring more than at any other point in his 30-minute speech. "My father taught me the greatest sin that could be committed was the abuse of power, whether it was mental, physical, or economic. And the ultimate — the cardinal sin — was for a man to use his power, physical or economic, to abuse a woman or a child. It's disgusting."
Weinstein was also a major donor to Democratic candidates, prompting more than a dozen lawmakers who accepted his cash to announce plans to donate the money to charities.
Sen. Richard Blumenthal, a Connecticut Democrat, said this week that politicians should donate money they got from Weinstein to groups that fight sexual assault, harassment, and domestic violence.
Weinstein was a big bundler for Hillary Clinton, helping raise $1.4 million for her election efforts, according to the Center for Responsive Politics. Weinstein had donated personally to a number of congressional Democrats, including Blumenthal, Patrick Leahy, Chuck Schumer, Al Franken, Cory Booker, and Elizabeth Warren.
The only federal politician he donated to this year was Martin Heinrich, a first-term Democratic senator from New Mexico. All of them, as well as former President Obama, have said they will donate the money to various nonprofits that help women and abuse victims. Clinton has only said that she will donate Weinstein's money as part of her annual charitable giving.
Biden's remarks on Weinstein were more forceful than when another major public figure, Fox News' Bill O'Reilly, was hit with multiple sexual harassment allegations. When advertisers began to flee O'Reilly — who is no longer at the network — Biden cited the reaction as progress in how society tolerates abuse, but stopped short of even saying the pundit's name.
After audio surfaced last year of Donald Trump saying he could grab women "by the pussy," Biden, while on the stump for Clinton, called the remarks the "textbook definition of sexual assault." By the time Trump was elected, a dozen women had accused the president-elect of some form of sexual misconduct.
Biden was being honored with a Courage Award by AVP on Wednesday for his work on gender-based violence, along with the team behind the documentary on trans activist Marsha P. Johnson. Biden appointed the first and so far only White House advisers on violence against women, and plans to speak on combating sexual assault Thursday at Rutgers University as part of the "It's On Us" campaign he started.
He recently told a group of student activists that "your government has let you down" after the Trump administration rescinded guidance on how colleges must deal with sexual assault.