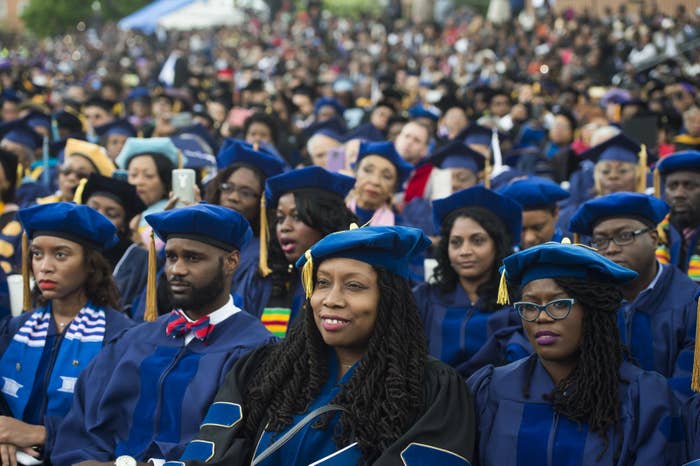 Plenty of people have been talking about a lawsuit filed by women who say Howard University mishandled their rape cases, but one group is staying silent: Howard's board of trustees, who represent the elite school's governing body.
Only one responded directly when asked by BuzzFeed News for comment on the federal lawsuit. The trustee, Bill "Damani" Keene, replying by email Friday, chastised this reporter for referring to him by his first name and then said, "I have no comment on the story."
None of the other trustees contacted had anything to say about the case, which BuzzFeed first reported on shortly after five women filed suit Wednesday. Since then, several other news outlets have reported on allegations that the school mistreated rape victims, dragged its feet turning over documents to police, and failed to swiftly investigate campus sexual assault reports. Two of the five plaintiffs say they were raped by the same man, who they allege was allowed to remain on campus for months after the first reported attack.
BuzzFeed News contacted each of the 31 trustees Thursday and followed up Friday. Press relations officials responded on behalf of two members — James Murren, CEO of MGM Resorts International, and Ronald A. Rosenfeld, a member of the Board of Directors of New York Community Bancorp, Inc. — and said they had passed along BuzzFeed News' request to the trustees. Neither Murren nor Rosenfeld followed up with comment.
The lawsuit has generated attention from Howard students, alumni, and the general public.
One of the women, referred to in the complaint as Jane Doe 2, says in the suit that the male student she accused of rape was allowed to remain the RA in her dorm and hence had access to a key to her room. The school charged her to be moved to another dorm, the lawsuit alleges. "It was a slap in the face, it really was," Doe 2 told BuzzFeed News in an interview.
Another woman, Jane Doe 1, said in the suit that after she reported her assault, she was fired as an RA. A third said in the complaint she's now on academic probation after the school failed to provide academic assistance while she dealt with the aftermath of her assault.
Howard's administration declined to comment "as a matter of policy" on the pending litigation. In a statement, Howard said it "takes very seriously all allegations" of sexual violence and that this "is evidenced by our rigorous enforcement of the University's Title IX Policy."
Publicity about the case comes at an awkward time: the university's commencement will take place on Saturday. Kamala Harris, a Democratic Senator from California, is scheduled to deliver the keynote address, and trustees are expected to attend. Harris earned her bachelor's degree from Howard.
Harris, in response to a BuzzFeed request for comment, said that while she does not know the details of the litigation, "Howard and all universities must take all the steps necessary to keep all of their students safe."
"Every survivor of sexual assault has the right to be heard and the right to be believed," said Harris, who as California's attorney general last year blasted the lenient sentence handed to Stanford University student Brock Turner after his sexual assault conviction.
Howard is considered one of the most elite historically black universities. Its board of trustees includes prominent alumni, former federal officials appointed by presidents of both parties, attorneys, executives from Goldman Sachs, and the mayor of Atlanta, who went to undergrad and law school at Howard.