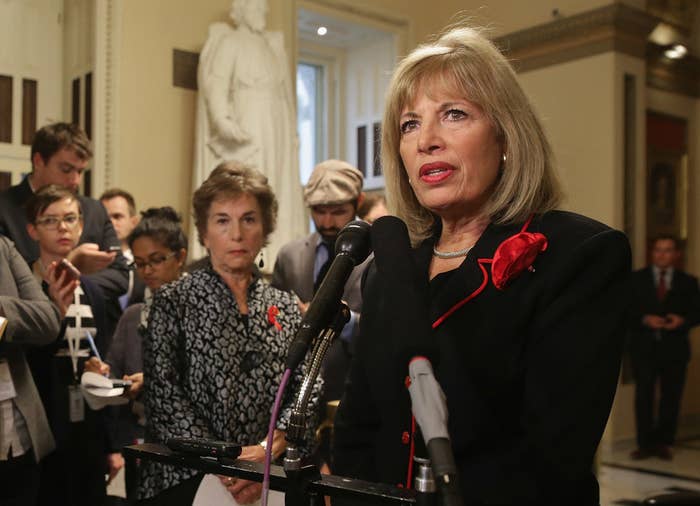 College students punished for sexual assault would have their transcripts reflect their disciplinary history under a new bill proposed Thursday by Rep. Jackie Speier, a Democrat from California.
The Safe Transfer Act would require information about sexual assault charges to stay on a student's transcript for five years after their disciplinary case settles. Colleges would also be required to disclose case results to officials at any other postsecondary institution that the accused student tried to attend. If a student was cleared, the case would be not added to their transcript.
Accused students would not be able to escape this transcript notation by leaving before the final results come in, either. Under Speier's proposal, if a student were to transfer schools while a disciplinary process was still pending, the case would be included on their transcript for one year.
"Universities and colleges are perfectly willing to include academic infractions like plagiarism on students' records, yet students who have committed sexual assault can walk away from campus with a clean academic bill of health," Speier said in a statement. "This is appalling and, whether intentional or not, shows that acts of sexual violence on campus are less serious than cheating. My bill will ensure that students who try to transfer schools to avoid the consequences of their violent acts will, at a minimum, face the same consequences as students who transfer because they've cheated on an exam."
Just two states, Virginia and New York, currently require universities to mark a student's sex offenses on their transcript.
Speier's bill has the endorsement of survivor advocacy organization End Rape on Campus and the National Organization for Women. The bill is also backed by the Association of Title IX Administrators, a professional group for officials who handle campus rape cases, which since 2015 has called on colleges to note on transcripts when a student is expelled for acts of intimate partner violence, stalking, or sexual violence.
"It is sickening to think that a student found responsible for sexual assault could go on to commit the same crime at another school," said NOW President Terry O'Neill. "Representative Speier's Safe Transfer Act would take an important step toward preventing such violence by ensuring that colleges are informed when a transfer student has committed sexual assault."
Colleges marking sexual assault punishments on transcripts became the subject of national debate following revelations in the Jesse Matthew Jr. case. It turned out that Matthew, who was convicted of murdering two Virginia college students in 2016, had been accused of sexual assault at Liberty University in 2002, and soon thereafter transferred to another Virginia college, Christopher Newport University. Information about the accusation was not provided to his new school, which he left nine months later after being accused of sexually assaulting a student.
Similar controversies have involved college athletes, like Baylor football player Sam Ukwuachu, who transferred to the Waco, Texas, school after being accused of choking his girlfriend at Boise State University in 2013. Ukwuachu was then convicted of raping a Baylor soccer player. In 2014, the University of Oregon came under fire for accepting Brandon Austin's transfer from Providence College despite being accused of sexual assault there. Austin was then kicked out of the University of Oregon after again being accused of gang rape.
Under Speier's bill, accused students would be notified of a mark being added to their transcript and get the opportunity to add a note to accompany it. But Andrew Miltenberg, an attorney who frequently represents students accused of sexual assault on campuses, said a note would do little to help, and called Speier's bill "offensive."
"This sounds like a total horror — it's the worst of all possible outcomes," Miltenberg told BuzzFeed News. Given his involvement in cases that he insists go through incredibly flawed disciplinary processes where alleged perpetrators don't have a fair shot defending themselves, Miltenberg said the transcript notation "really leaves very little in the way of protections for the accused."
The American Association of Collegiate Registrars and Admissions Officers, a professional trade group, has long recommended against including disciplinary matters on transcripts. But earlier this year, in response to growing concern in the higher education community, the organization shifted, and now says it should be "optional" for schools to include notations about disciplinary actions for major student conduct violations.