A right-wing event in Boston that billed itself a "Free Speech Rally" attracted only a few dozen supporters on Saturday, while an estimated 40,000 counter-protesters turned up to demonstrate against racism.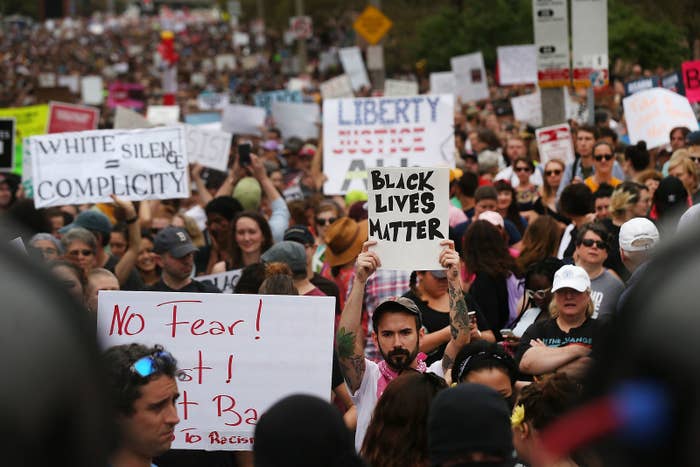 Aerial footage showed huge masses of counter-demonstrators marching in the street from Roxbury to Boston Common.
The protest was held one week after a violent white supremacist rally in Charlottesville, Virginia, in which an anti-racist demonstrator was killed.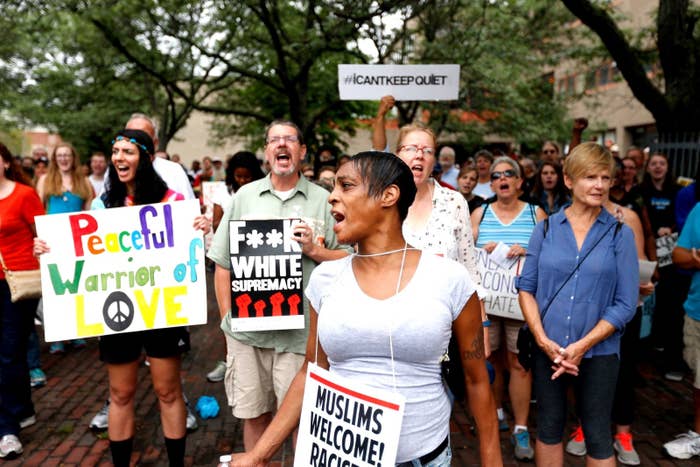 Evan George, a 30-year-old Dorchester resident, carried a sign that read "Heather Heyer is Boston Strong." Many people carried signs that read "Boston Strong" or that paid tribute to Heyer, who was killed when a car plowed through liberal demonstrators last Saturday in Charlottesville.
"Because she really fought and died in that same struggle resisting terrorism," George told BuzzFeed News. "Regardless of whether it's a perverted understanding of Islam or, in that case, white supremacy."
"This is a large reaction to Charlottesville," George said.
Concerns were high that white supremacists and neo-Nazi groups would show up at the Boston event on Saturday. Organizers urged people to remain nonviolent, but several expected speakers at the "Free Speech" rally backed out, publicly citing in interviews and on social media that they feared violence or faced harassment and threats.
Attendees of the "Free Speech" event insisted they were not holding a white supremacist rally, and that it was solely about First Amendment rights. "I don't support Nazis in any way," said an 18-year-old who gave his name as Luke St. Onge, "but I am saying everything or nothing in terms of free speech – either you restrict it and everything is gone, or you allow everything to be said."
Guy Martell, a 62-year-old who identified as a gay man and a supporter of President Donald Trump, said he felt young people were less tolerant of conflicting ideas. "It seems like we were more open in the [19]60s," Martell said.
Unlike Charlottesville, no one in Boston on Saturday appeared to display Nazi or Ku Klux Klan symbols.
Still, counter-demonstrators from the region flocked to Boston to take part in a march and protest against white supremacists and racism. The counter-demonstrations were organized by Black Lives Matter activists and a coalition of progressive and liberal groups.
They chanted "go home" to the right-wing demonstrators, and many waved signs showing support for LGBT community, opposing fascism, and linking Trump to Nazis.
Counter-protesters also burned a Confederate flag.
Media was not allowed into the area of Boston Common where around 30 people turned up for the Free Speech protest. The rally started at 12 p.m. ET and ended early after the huge counter-protest turnout.
Police placed metal barricades dozens of yards away from the rotunda where the right-wing rally gathered to keep out the counter-protesters. Not long after 1 p.m., officers escorted the demonstrators out of the gated area, even though their permit allowed them to use the park until 2 p.m. As law enforcement walked with them, the counter-protesters chanted "shame on you" at the "Free Speech" ralliers.
Antifa—anti-fascist activists in black bloc uniform, which generally includes dressing in black, wearing sunglasses and sometimes a hat, and a handkerchief over one's mouth — were scattered throughout the crowd. It was difficult to count how many people present identified as antifa, but they seemed to be a small minority of the overall crowd.
The anti-fascist protesters frequently flocked to where right-wing demonstrators were gathered, including when the "Free Speech" ralliers entered and exited the metal barricades, yelling chants like "No Trump, No KKK, No Fascist USA!" But many people attending the anti-racism protest told BuzzFeed News that they were not familiar with antifa.
When the right-wing demonstrators arrived, one man who had to turn over his protective vest and gas mask to police, encouraged others going to the "Free Speech" rally to remain peaceful, noting that the national spotlight was on them. There were few altercations between the counter-demonstrators and the right-wing ralliers, but a couple skirmishes did occur. At one point, someone stole a flag from a right-wing demonstrator.
The woman later stood next to her flag along a chain-link fence as counter-demonstrators argued with her and her companions.
Just before 2 p.m., a brawl broke out on the hill near the Massachusetts statehouse. At the center of it was a middle-aged white guy in a camouflage baseball cap and a young man that people assumed was his son. According to witnesses, the young man had said something racist to a black counter-demonstrator earlier in the day, and when they spotted each other again, an argument erupted into a fist fight.
A single Boston police officer broke it up and escorted the middle aged man and his companion out of the park. It is unclear if any arrests were made in connection to the incident
Aerial footage also showed some clashes with police and counter-protesters, as officers tried to disperse the crowd.
Boston Police Commissioner William Evans said at a press conference that "99.9% of the people" there came "for the right reason, and that's to fight bigotry and hate." Projectiles, including at least one urine-filled bottle, were thrown at police during one confrontation with counter-protesters.
Thirty-three arrests were made as of late afternoon, most of them for disorderly conduct. Most of the counter-demonstrators left after the right-wing "Free Speech" rally ended.
Thirty-three arrests were made as of late afternoon, most of them for disorderly conduct.
The police commissioner described the crowd as broken into three groups: those attending the "free speech" rally, those protesting against that rally, and "unfortunately we did have people who came here to cause problems."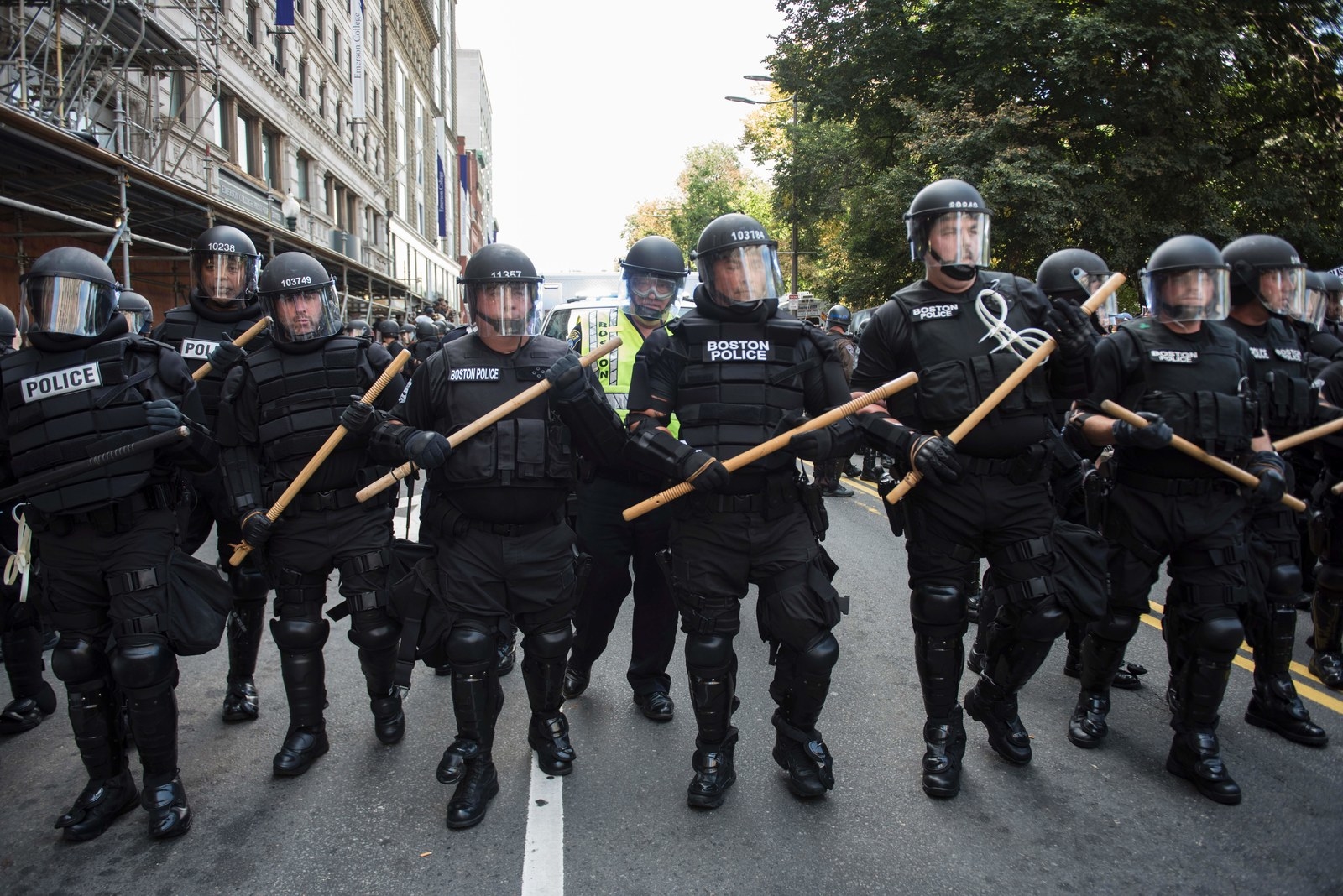 But Evans applauded the crowd overall. "We probably had 40,000 people out here standing tall against hatred and bigotry in the city and that's a good feeling," he said.
The crowd of counter-protesters varied in ages, but were all linked by a motivation to demonstrate against racism and white supremacy.
"It needs to be said that there is no room for this hate speech and white supremacists, and whatever these call themselves, the alt-right or whatever they try to couch it as," said Kailash Prasad, a 31-year-old grad student. Prasad was not there to protest free speech, he said, but wanted to demonstrate against the ideas that he believed the ralliers were using free speech to promote.
Many demonstrators came because they felt the events at Charlottesville showed white nationalists' activism had gotten over the top, like Sandy Eaton, 60, who held a sign reading "Unity."
Boston Mayor Marty Walsh also praised the crowd, thanking counter-protesters for coming out "to fight back on racism, to fight back on anti-Semitism, and to fight back on white supremacists ...[and] Nazis that were coming to our city."
Trump, who has been criticized for his slow and mixed reaction to the events in Charlottesville, also tweeted his thanks to protesters "who are speaking out against bigotry and hate."
Earlier on Saturday, he noted that it "looks like many anti-police agitators in Boston."
After the rally in Boston Common, many counter-protesters left their signs behind, displaying slogans like, "Reject Hate," "Black Lives Matter," and "Boston Doesn't Want You Here."
Though Boston saw the largest crowds Saturday, similar clashes between right-wing protesters and liberal counter-demonstrators played out in several cities across the country, as tensions continued to boil over in the wake of the violence in Charlottesville.
In Dallas, demonstrations over a Confederate monument devolved into shouting matches Saturday night, as police tried to separate supporters of the monument from anti-racist protesters who had splintered off from a larger rally in front of City Hall. Police on horseback and in tactical gear surrounded the plaza, where about 100 demonstrators had gathered, and begun screaming at each other, as well as at the responding officers.
Protesters on both sides were reportedly armed, including a a squad of militia members from a group called Texas Elite III%, who claimed to be providing security for both liberal and right-wing protesters.
Earlier in the day, 2,300 people had turned out for the city's rally against racism, according to the Dallas Police Department. Smaller demonstrations also took place in Atlanta, New Orleans, Detroit, Portland, Oregon, and Hot Springs, Arkansas, Saturday.
Blake Montgomery and Andrew Kimmel contributed reporting from Boston. Amber Jamieson and Grace Wyler also contributed reporting.