Street Monkey Performances Banned In Indonesia Capital
The mayor of Jakarta, Indonesia's capital city, has outlawed street performances by macaques, which have widely been seen as animal abuse.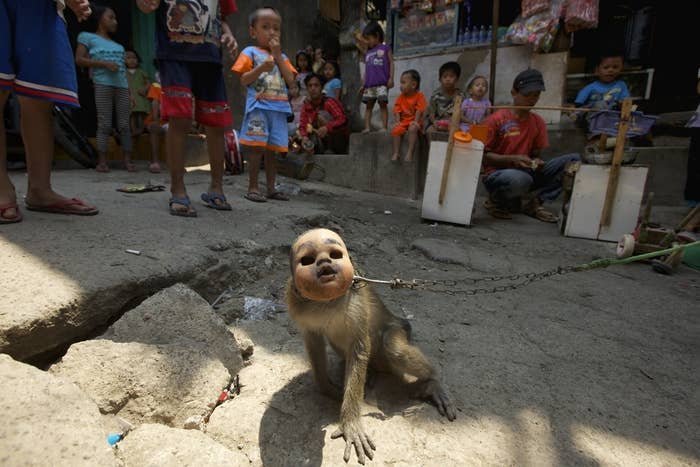 Indonesian authorities are combing through the country's capital city in an effort to rescue monkeys used as masked performers on the city's crowded streets, according to the Associated Press.
Jakarta Gov. Joko Widodo has ordered local security forces to shut down the performances, known as topeng monyet, to improve public order -- ending animal abuse and preventing the further spread of disease carried by the monkeys. All of the so-called monkey business must end by next year, Wildodo demanded.
The Jakarta Animal Aid Network, an animal rights group, has lobbied for restrictions on the performances, saying the monkeys -- macaques -- are chained in an upright position so they learn to walk on their hind legs like humans. In addition, the monkeys are beaten to remain obedient and their teeth are removed to prevent biting. It is common for the monkeys to wear baby doll masks, carry parasol umbrellas, and even ride small bicycles during the performances, the AP reports.
"After lobbying and working tireless since 2009, there are finally fantastic results!!" JAAN posted on its Facebook. "This is a real VICTORY and JAAN is very thankful that [Gov.] Jokowi has taken this issue serious and has finally taken action!!"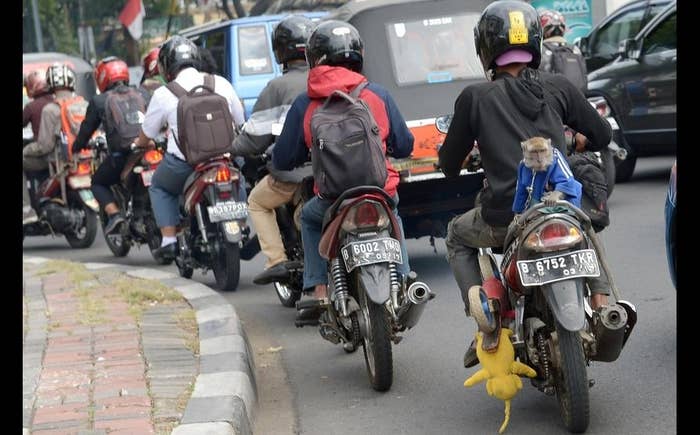 Under the plan, city government officials will buy the macaques from street buskers and take them to a 2.5-acre preserve at a nearby zoo. The city will also provide vocational training to the monkeys' handlers. So far, at least 22 monkeys have been seized since the raid began last week.
JAAN representative Femke den Haas told the AP she estimates about 350 monkeys remain on the street.
In a previous raid by the organization, rescued monkeys suffered from tuberculosis and hepatitis. Prior to performing on the streets, the macaques are purchased in a slum area on the city's East Side, commonly referred to as "monkey village." A trained monkey will sell for about $135.
Other leaders in the region are considering similar bans.
More photos of Jakarta's street monkeys here.