8 Confirmed Dead, Dozens Injured In Tornadoes, Storms Across Midwest
Updated: Illinois Gov. Pat Quinn declared seven counties disaster areas Monday after six were killed in the state. Two others were killed in Michigan.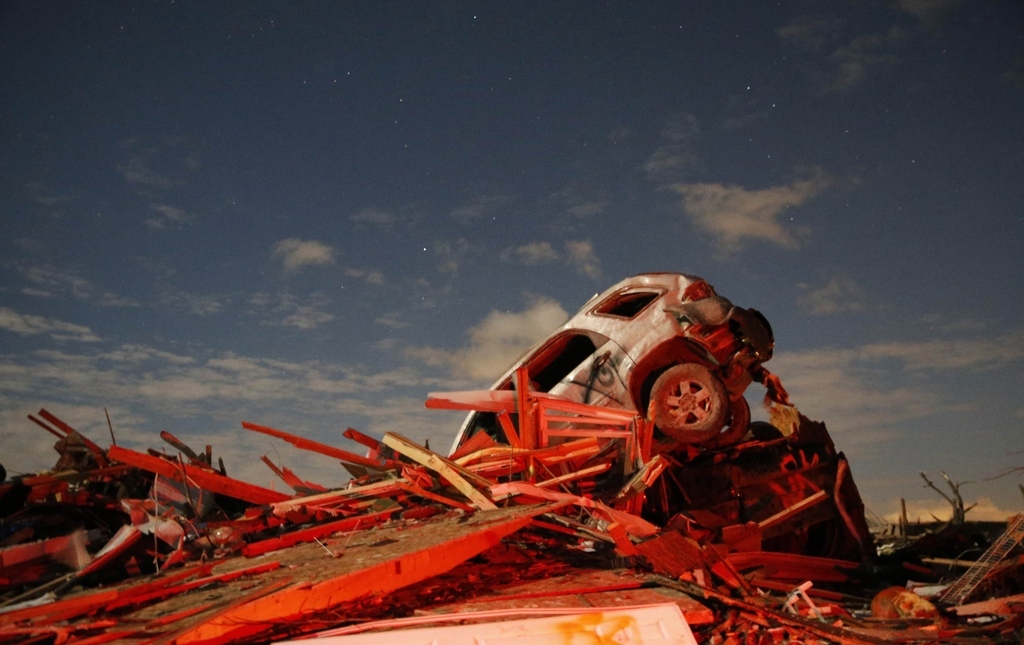 Updated - 7:30 p.m. ET
Eight people have been confirmed dead and many others injured as officials assess the damage from a rash of tornadoes that hit the Midwest Sunday, leading Illinois Gov. Pat Quinn to declare seven counties disaster areas Monday.
Illinois appeared to be hit hardest by the storms; hundreds of homes were flattened and other damage was reported from the far northern counties in the state to its far southern reaches near the Kentucky border.
"Yesterday Illinois was hit extremely hard by deadly tornadoes that left many in a great deal of pain and loss," Quinn said. "Although we are still receiving reports of massive damage to communities across our state, we want to make sure people are getting the assistance and resources they need as quickly as possible. As we pray for the families of those who have lost their lives and others who are injured, the state of Illinois will do everything necessary to help these communities recover."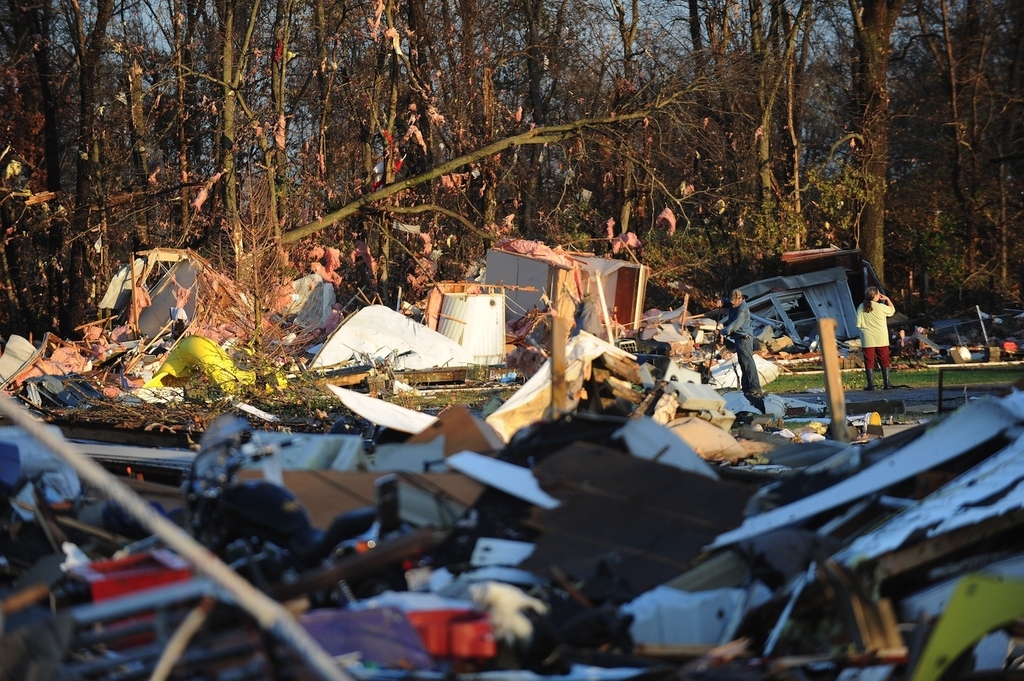 Two people were killed in New Minden, Ill., a small town in the state's Washington County. The victims are Joseph Hoy, 80, and his sister Frances Hoy, 78, according to the county's coroner, Mark Styninger.
Another person was killed in the city of Washington, Ill., in Tazewell County, Patti Thompson of the Illinois Emergency Management Agency told BuzzFeed. The town was on lockdown Monday, with officials turning people away due to the dangerous nature of the debris and crippled infrastructure, according to Reuters.
"I know it's frustrating for people," Washington Mayor Gary Manier said. "I'd be frustrated. I'd want to be looking for pictures."
U.S. Rep. Aaron Schock (R-Ill.), whose district includes Washington and many other areas affected by the storm, arrived at the scene only 30 minutes after the twister touched down, he told BuzzFeed. What he found there was "complete devastation."
"I pulled into a neighborhood that was completely leveled and talked to people who were just completely dazed because their homes were gone," Schock said. "But the good news is that in a town like that with 400 homes demolished and there was only one death. It's a miracle, you could say, but people were looking out for each other in ways other communities could only envy."
Because the county was declared a disaster area, state authorities can now assess the cost of uninsured damage and based on those numbers, Schock could apply for federal disaster relief through FEMA, he said. Even with federal support, rebuilding Washington could be delayed for months as colder weather sets in, Schock said. He hopes support will continue to pour into the community in the coming weeks.
Three more were confirmed dead in Massac County at the far southern tip of the state, where Brookport, Ill., was hit hard by the storms, according to the IEMA. Names of the victims were not yet available, Emily Loftus, secretary to the county's coroner, told BuzzFeed.
Two additional people were killed when the storms moved east into portions of Michigan Sunday night and due to damage Monday morning.
In Detroit, police say a 14-year-old boy was killed when he picked up a power line that fell in the storm on his way home from school on Monday.
Authorities found Ryan Allen Rickman, 21, of Leslie, Mich. dead in his car at 7:43 p.m. Sunday after "a very large portion of a tree fell down on the vehicle or the vehicle struck it," according to the Jackson County Sheriff. Another motorist suffered only minor injuries when their vehicle collided with another downed tree.
Gov. Quinn plans to inspect damage on the ground in some of Illinois' hardest hit communities Monday, including Washington, Diamond, Gifford, Brookport, and New Minden. He declared Champaign, Grundy, LaSalle, Massac, Tazewell, Washington, and Woodford counties as disaster areas, making additional state resources available for rescue and recovery efforts.
The Storm Prediction Center received 81 reports of tornadoes, 358 reports of damaging winds, and 40 reports of large hail throughout the Midwest.
In Grundy County — closer to Chicago — an EF-2 tornado touched down near Coal City, Ill., with wind speeds of 111 to 135mph, the National Weather Service told the Chicago Tribune.
Although Chicago did not see significant damage, officials evacuated seating areas at Soldier Field, delaying the Bears–Ravens game by several hours. Small debris was carried by high winds through the stadium.
Officials in Indiana are also assessing storm damage. Kokomo, Ind., Mayor Greg Goodnight, U.S. Sen. Joe Donnelly, and Indiana Gov. Mark Pence surveyed the destruction in the city — about 60 miles north of Indianapolis.
Over 300,000 customers were without power throughout the Midwest, according to utilities such as Consumers Energy in Michigan and Indiana Michigan Power. As of Monday morning, 18,000 Illinois residents remained without power, according to Commonwealth Edison (ComEd).