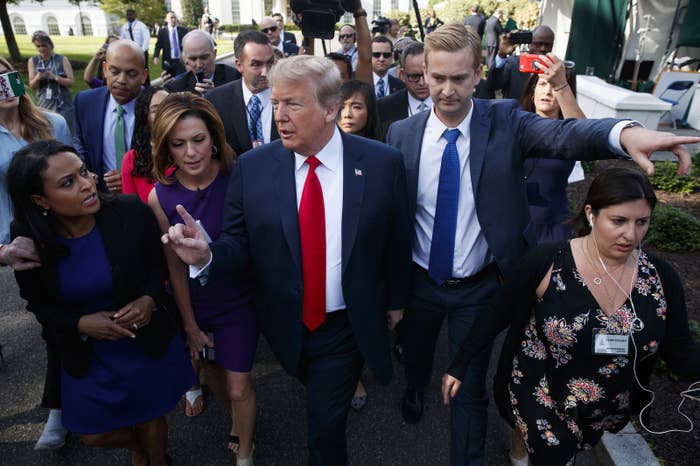 President Donald Trump called a woman reporter "obnoxious" for asking questions at a news conference he initiated on Friday.
At 7:50 a.m. Friday, Trump tweeted: "Wow, the highest rated (by far) morning show, @foxandfriends, is on the Front Lawn of the White House. Maybe I'll have to take an unannounced trip down to see them?"
And he did just that.
After, Trump turned to the rest of the news media on the White House lawn waiting for him to finish with Fox News.

Since it was unexpected — not like a formal press conference in which the president would be at a podium and pick reporters to ask questions — the scene was a bit chaotic.
Coming off a question about his summit with North Korean leader Kim Jong Un, Trump said, "They thought Trump was going to get in and start throwing bombs all over the place. It's actually the opposite. We're building a military so strong, $716 billion... We're building a military so strong nobody is going to mess with us. But I don't want to have to use it."
Reporters began yelling questions for him to answer.
"Quiet," Trump said pointing to someone to his left offscreen.
The questions kept coming.
Trump turned to a reporter to his right and, referring to the person he pointed at offscreen, said, "She's so, she's so obnoxious."
He then dodged a question about how he'd verify that North Korea actually got rid of its nuclear weapons. He instead talked about an agreement to gather American soldiers' remains on the Korean Peninsula.
Watch it here: