President Trump went after MSNBC host Mika Brzezinski on Thursday, calling her "crazy" and claiming she was once "bleeding badly from a face-lift" at his Mar-a-Lago club.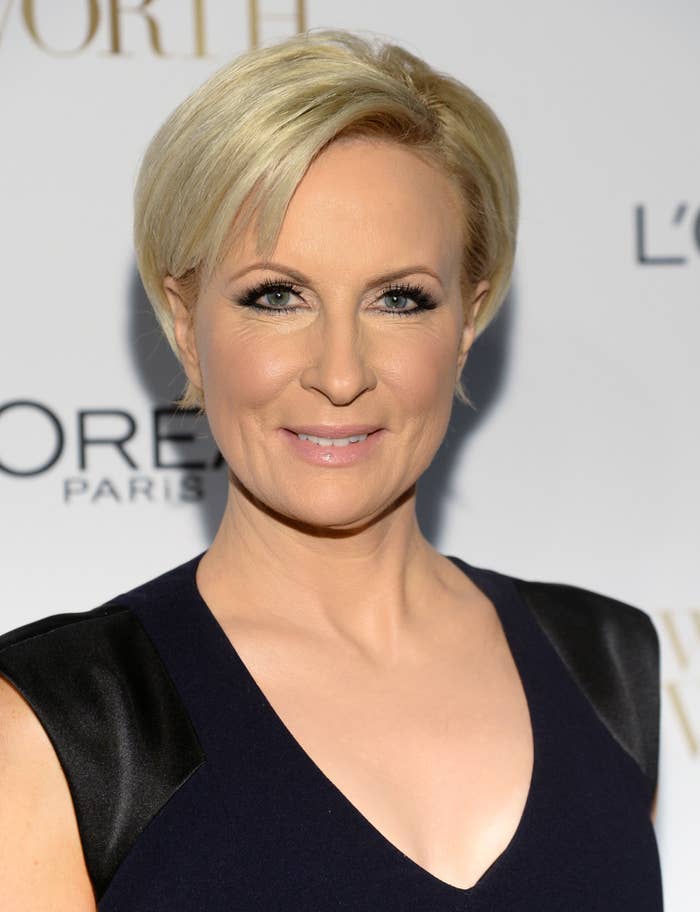 In two tweets, the president attacked the hosts of Morning Joe, calling Joe Scarborough "Psycho Joe" and labeling Brzezinski "low I.Q. Crazy Mika."
The president also said Brzezinski was "bleeding badly from a face-lift" when he met her at Mar-a-Lago around New Year's Eve.
Photos of Brzezinski from the event Trump was referring to show that he likely wasn't being truthful about her "bleeding" from a "face-lift."
Brzezinski has not officially responded to Trump's comments, but she did tweet a photo of a Cheerios cereal box with the words "made for little hands" — appearing to allude to the longstanding joke over the size of the president's hands.
Willie Geist, who also co-hosts Morning Joe, confirmed that Brzezinski and Scarborough had postponed an upcoming vacation to appear on the show Friday morning.
In a statement, a spokesperson for MSNBC told BuzzFeed News, "It's a sad day for America when the president spends his time bullying, lying, and spewing petty personal attacks instead of doing his job."
The president's tweets came after Thursday morning's show, during which Scarborough and Brzezinski discussed Trump's fake Time magazine cover that is hung at several of his golf resorts.
Scarborough poked fun at the fake cover with a spoof GQ cover of himself that the show created.
During this segment, Brzezinski said, "Nothing makes a man feel better than making a fake cover of a magazine about himself, lying every day, and destroying the country."
She went on to say that in the photo, "he's covering his hands because they're teensy."
Trump's tweet came after this one by the White House social media director, who previously managed a golf club for Trump.
Trump's tweets come in the wake of his renewed attacks against media organizations that publish stories he doesn't like, including CNN, NBC, CBS, and ABC.
On Tuesday, the president — who has been criticized over past lewd comments towards women, and at one point said he sexually assaults women — made a female reporter come to his desk so he could comment on her looks.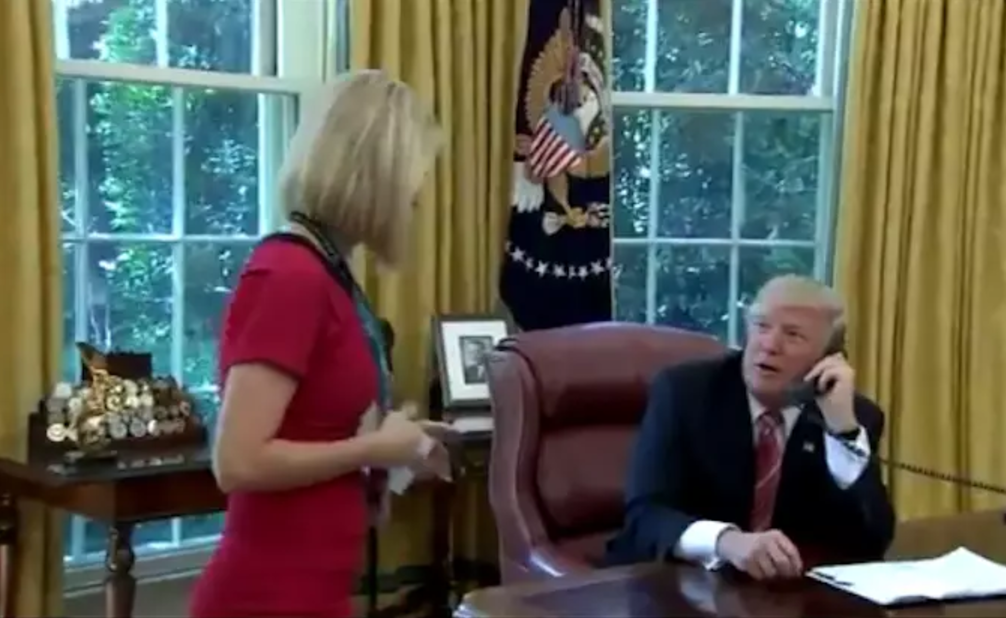 In a moment that went viral, Trump beckoned reporter Caitriona Perry during the middle of his call with the Irish prime minister, and said, "She has a nice smile on her face, so I bet she treats you well."
Sarah Huckabee Sanders, the White House deputy press secretary, defended Trump's tweets in Thursday's press briefing, saying, the president "fights fire with fire."
video-cdn.buzzfeed.com
Sanders said she did not think the president went too far with his attacks against Brzezinski.
"I think that the president has been attacked mercilessly on personal accounts by members on that program, and I think he's been very clear that when he gets attacked, he's going to hit back," Sanders said. "I think the American people elected somebody who's tough, who's smart, and who's a fighter, and that's Donald Trump. And I don't think that it's a surprise to anybody that he fights fire with fire."
She said the show had called him and other members of his staff things that were "very deeply personal."
"I guess it's kind of like we're living in the twilight zone," she said. "They do this day after day after day, and then the president responds and defends himself and everybody is appalled and blown away."
She said that Trump was "not going to sit back and be attacked by the liberal media, Hollywood elites. "And when they hit him, he's going to hit back."
When asked by a reporter how she felt about the president attacking another woman for her looks, Sanders responded: "Look, everybody wants to make this an attack on a woman. What about the constant attacks that he receives or the rest of us?"
When pressed on whether Trump's tweets were helping to unite the country, Sanders said, "The only person that I see a war on is this president and everybody that works for him."
video-cdn.buzzfeed.com
When asked if the president should be held to a higher standard than cable news anchors, Sanders said that Americans knew they were electing a "fighter" in Trump and that they didn't "elect somebody to sit back and do nothing."
"I don't think you can expect someone to be personally attacked day after day, minute by minute, and sit back," she said.
A spokesperson for Melania Trump — who says she wants to combat cyberbullying — told a CNN reporter, "As the First Lady has stated publicly in the past, when her husband gets attacked, he will punch back 10 times harder."
Many rebuked the president for his tweets, including Republican Senator Lindsey Graham, who said the "tweet was beneath the office."
Speaker Paul Ryan said, "obviously I don't see that as an appropriate comment."
Sen. Susan Collins, a moderate Republican whose help Trump needs to get a lot of his agenda passed, said this:
Sen. Ben Sasse, also a Republican, tweeted, "Please just stop. This isn't normal and it's beneath the dignity of your office."
The Republican senator from Alaska, Lisa Murkowski, tweeted, "Stop it! The Presidential platform should be used for more than bringing people down."
This senator, a Democrat, said the comments warrant an apology.
Several other members of Congress also criticized Trump — mostly through subtweets.
The tweets also drew sharp criticism from many in the media.
CNN put out a statement supporting Scarborough and Brzezinski.
The senior vice president of communications for the NBCUniversal News Group said, "Never imagined a day when I would think to myself, 'it is beneath my dignity to respond to the President of the United States.'"
BuzzFeed News reached out to the White House and to Vice President Mike Pence's office for comment.