An LGBT rights advocate in Ohio was charged Tuesday with making false statements after he posted on social media that he was being abducted, a Greene Township police official told BuzzFeed News.
Adam Hoover, the Co-President of Marriage Equality Ohio, posted on Twitter and Facebook on Monday evening: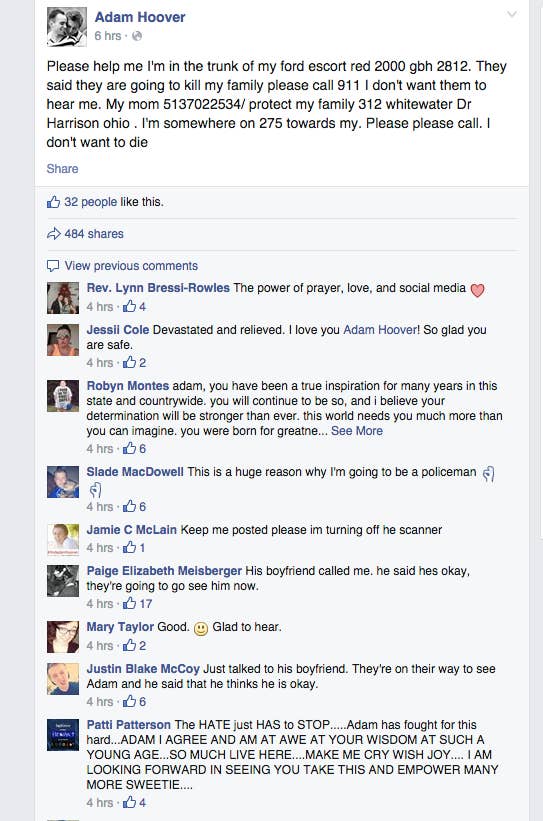 The Facebook post was shared nearly 500 times, and the Twitter post was retweeted more than 1,000 times as of Tuesday.
The Greene Township police department was "inundated with phone calls form friends and family," said Lt. Jim Vetter, and "investigative and patrol" teams were deployed to look for Hoover.
In such situations, Vetter said, "you take it as face value you expend every resource."
But there was no abduction, according Vetter. Hoover was found in neighboring Miami Township, Ohio, after he walked up to a stranger's house and asked for help. The residents there called 911, Vetter said.
"He appeared to be of sound mind when found," Vetter said, adding that Hoover appeared to be dealing with "life's stresses." "It's...personal stuff. It wouldn't be fair to go into too much detail, but he's a young man and as many young kids do, he's dealing with some issues."
Hoover was charged with one count of "making false alarms," a misdemeanor. He'll have a court date in about a week.
He has been taken to a local hospital for evaluation, Vetter said, and wasn't physically harmed. Hoover didn't immediately respond to a request for comment.