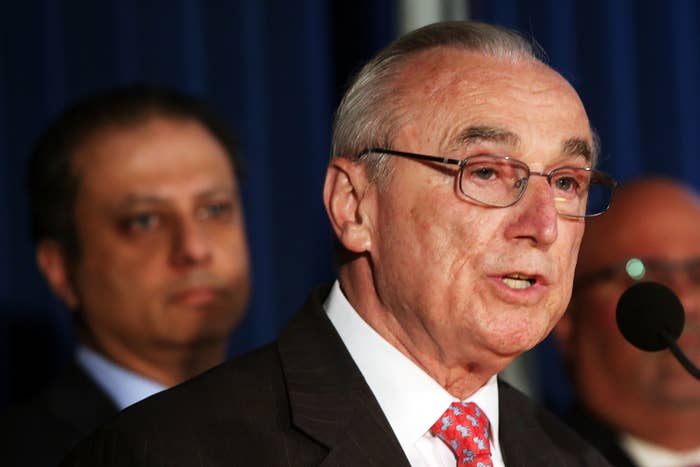 NYPD Commissioner William Bratton called some rap artists "basically thugs" during a radio interview on Thursday morning after one person was fatally shot and three were wounded at a planned T.I. concert in Manhattan.
"The crazy world of these so-called rap artists who are basically thugs that basically celebrate violence they did all their lives, and unfortunately that violence often times manifests itself during their performances, and that's exactly what happened last evening," Bratton said on WCBS 880.
When anchor Wayne Cabot then asked, "it's been a while seen we've seen any problems in the rap world and the thug culture," adding, "did you think you left that behind when you were police commissioner the first time back in the 90s?"
"The background of a lot of these young people, they are significant artists in that world...but unfortunately the lifestyles that they lived...often time follows them into the entertainment world and the success they have in it," Bratton said.
"It's unfortunate. You'd like to think that with all the wealth that comes from the fame, that they'll be able to turn their lives around but they continue hanging out with the same people they hung out with when they came out of that world of desperation, poverty, and crime."
Bratton reiterated his thoughts during a WOR Radio interview Thursday morning with hosts Len Berman and Todd Schnitt.
"You had this shooting, and apparently it's people who were support personnel," Berman said. "The concertgoers were checked for arms, and now you have these other clowns who apparently can walk in with their firearms."

Bratton said that investigators were still trying to sort out who the participants in the shooting were, whether they were, and that he was confident that the would be able to close the case quickly.
"When you talk about clowns, knuckleheads, it's unfortunate that it's still in that gangster rap world," he added. "That's what you're dealing with: That gangster lifestyle."