Jill Stein Files Federal Lawsuit In Pennsylvania For A Statewide Recount
The move came after Stein withdrew her request for a recount in state court on Saturday.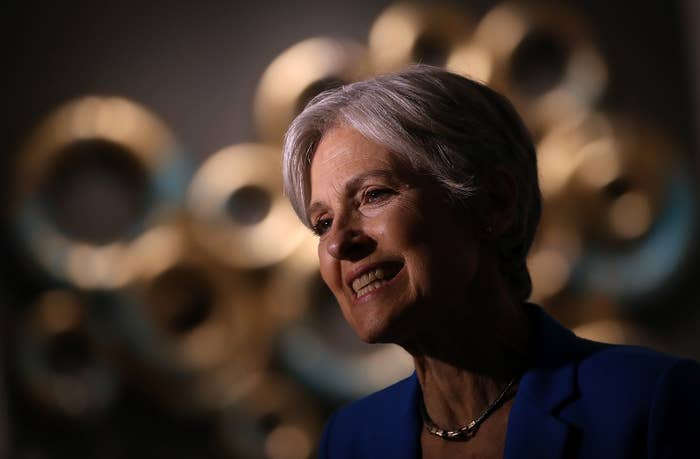 Green Party presidential candidate Jill Stein on Monday morning filed a lawsuit in a Pennsylvania federal court seeking a statewide recount of the presidential race.
The move came after Stein withdrew on Saturday night the party's recount request that was in state court.
"The Pennsylvania election system is a national disgrace. Voters are forced to use vulnerable, hackable, antiquated technology banned in other states, then rely on the kindness of machines. There is no paper trail. Voting machines are electoral black sites: no one permits voters or candidates to examine them," begins the suit filed in the US District Court for the Eastern District of Pennsylvania.

Many — including the Hillary Clinton campaign — expect the Green Party's recount efforts in Michigan, Pennsylvania, and Wisconsin not to change any of the outcomes.

Donald Trump won Michigan by 0.3%, or 10,704 votes, and a recount is expected to begin there on Monday afternoon. He won Wisconsin by 0.7%, and a recount is underway there. He won Pennsylvania by 1.3%. The states represent 46 electoral college votes, and Trump's victory wouldn't change unless all of those those states moved to Clinton after the recount efforts.
"In the 2016 presidential election, rife with foreign interference documented by American intelligence agencies and hacks of voter rolls in multiple states, voters deserve the truth. Were Pennsylvania votes counted accurately?" Monday's lawsuit reads, adding that the types of voting machines used in Pennsylvania "have serious cyber security problems."
There has been no indication from officials that the voting machines were hacked.