Hillary Clinton Will Be The First Woman Chosen As A Major U.S. Party's Presidential Nominee
Enough superdelegates have committed to her ahead of Tuesday's primaries, the Associated Press and others reported on Monday night.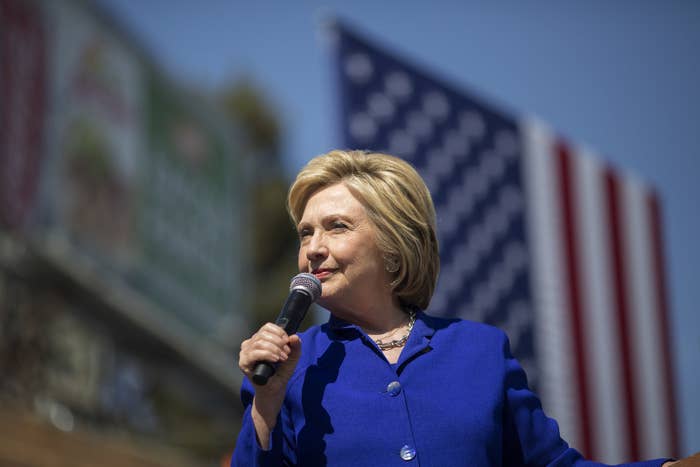 LONG BEACH, Calif. — Hillary Clinton secured enough delegates to become the presumptive Democratic nominee for president, the Associated Press reported late Monday — a call that came a day earlier than expected, turning a routine get-out-the-vote rally here in Long Beach into the first appearance in U.S. history by a woman as a major political party's presumptive nominee for president.
With a wide smile, Clinton took the stage, thanked her supporters, then briefly acknowledged the call from the AP, which had come just a half an hour earlier.
"According to the news, we are on the brink of a historic, unprecedented moment. But we still have work to do, don't we?" she told a crowd of 1,200 inside the gymnasium at Long Beach City College. "We have six elections tomorrow, and we're gonna fight hard for every single vote — especially right here in California."
The early AP call, followed quickly by projections from the three television networks, does not come as ideal timing for the Clinton campaign: The candidate and her advisers have been focused intensely on their performance in Tuesday's California primary against Bernie Sanders.
A win, even if close, would offer Clinton a clean end to the protracted Democratic contest — and likely push Sanders to soften his posture heading into the convention.
Shortly before Clinton spoke, her campaign manager Robby Mook issued a statement that acknowledged the call, but stressed the importance of voting Tuesday.
"This is an important milestone, but there are six states that are voting Tuesday, with millions of people heading to the polls, and Hillary Clinton is working to earn every vote," Mook said. "We look forward to Tuesday night, when Hillary Clinton will clinch not only a win in the popular vote, but also the majority of pledged delegates."
The Democrats have two kinds of delegates. The first, pledged delegates, are apportioned based on the results of primaries and caucuses — Clinton currently leads Sanders by about 300 pledged delegates. Superdelegates, the second kind, are composed of Democratic officials and insiders, and may vote as they please, committing their support at any time.
On Monday, the Associated Press and others reported that Clinton has secured the commitments of enough superdelegates to clinch the nomination. (This is not unusual; in 2008, Barack Obama won the Democratic nomination with a combination.)
It is considered highly unlikely that Sanders will be able to persuade enough superdelegates to overcome the gap in both pledged delegates and superdelegates that separates him and Clinton.
Still, the Sanders campaign disputed the AP's count on Monday, vowing instead to fight on to the Democratic National Convention this summer in Philadelphia and to sway superdelegates to his side.
"It is unfortunate that the media, in a rush to judgment, are ignoring the Democratic National Committee's clear statement that it is wrong to count the votes of superdelegates before they actually vote at the convention this summer," wrote Sanders spokesman Michael Briggs a statement, going on to say that the campaign's job is to "convince those superdelegates that Bernie is by far the strongest candidate against Donald Trump."
The Clinton campaign was not in a rush, however, to accept the title of presumptive nominee.
Clinton's press secretary, Nick Merrill, asked again and again by reporters in Long Beach about the unfolding news, would only say, "We're on the brink. We're on the brink."
Check out a preview of this week's No One Knows Anything, BuzzFeed's politics podcast — which is all about the end of the Democratic primary and recorded in California.
This is a developing story. Check back for updates and follow BuzzFeed News on Twitter.