A Short History Of The Feud Between New York City's Mayor And The NYPD
The tension didn't just begin after two officers were assassinated in Brooklyn on Saturday — it goes back years and involves Al Sharpton, stop-and-frisk, and an inspector general. And the next battle — negotiating two major union contracts — is looming.
Updated: Dec. 23 at 2:17 p.m.
In mid-July 2013, Public Advocate Bill de Blasio, then a candidate for mayor, was arrested by the New York Police Department for disorderly conduct after refusing to disperse at a Brooklyn hospital closing protest. A fellow supporter, actor Steve Buscemi, followed him into the symbolic lockup.
At the time, de Blasio was tied for fourth place in the polls, even trailing the embattled Anthony Weiner. For 20 years, New York City had been run by GOP darling Rudy Giuliani and the moderate-to-right-leaning Michael Bloomberg. The mayoral heir apparent, City Council Speaker Christine Quinn, was already moving to the middle, betting on the electoral path of her predecessors.
De Blasio's candidacy — and liberal activism — was an afterthought.
That changed quickly. The other candidates began stumbling over themselves, clearly out of touch with simmering tensions in the Bronx and Brooklyn over policing practices such as stop-and-frisk. De Blasio, though, made reforming the NYPD his core message. He took a commanding lead in polls in early September 2013 and never looked back.
When NYPD officers Wenjian Liu and Rafael Ramos were ambushed and assassinated in Brooklyn on Saturday, the rhetoric between the union and mayor was never more razor sharp. Patrick Lynch, the president of the NYPD's largest union, said the blood of the officers "starts on the steps of City Hall, in the office of the mayor." When de Blasio arrived at the hospital after the shooting, the assembled officers literally turned their backs on him.
De Blasio became the only mayor in recent history willing to openly challenge the NYPD (he also defends them, very frequently) and its various unions, a powerful, and loud, force in electoral politics. And while those tensions have only hit the boiling point this past week — gaining national attention — they have actually been simmering for years.
"The bad blood between police and de Blasio pre-dates his election," a police source told BuzzFeed News, adding, "standing before a microphone and saying he supports cops is not enough when his actions say otherwise."
Administration spokeswoman Amy Spitalnick, said, "the mayor has been clear: actions speak louder than words. And Mayor de Blasio's actions have included unprecedented investment in the safety of our NYPD officers, including nearly $400 million in new investment since the June adopted budget."
Here's a short explainer on the feud, and how it came to be: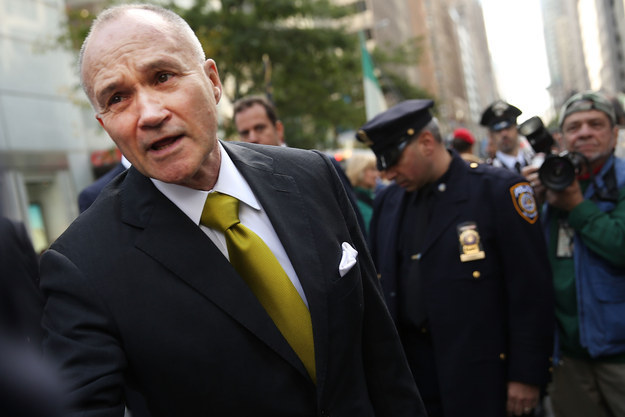 City Council and the Inspector General
One month after he was arrested, de Blasio showed strong support for two city council bills that were opposed by the NYPD, Bloomberg, and Quinn.
One bill would make it easier to sue the NYPD over discriminatory practices. (De Blasio, on the campaign trail, distilled the complex legal issue by saying the bill would "ban racial profiling.") The union at the time said the bill "starts with the belief that aggressively fighting crime to keep communities safe is a bad thing."
Another city council bill would create an NYPD inspector general, creating another potential set of eyes to investigate reports of police abuse. Raymond Kelly, who was NYPD commissioner at the time, said "another layer of so-called supervision or monitoring can ultimately make this city less safe."
Both bills passed.
Stop-and-Frisk and the Federal Lawsuit
In November 2013, de Blasio's camp let it be known that, if elected, he would drop the city's appeal to a federal judge's decision that stop-and-frisk was unconstitutional and needed a complete overhaul. The tactic largely helped usher in the past decade of sharply declining crime rates in New York City, and was widely used by former NYPD Commissioner Raymond Kelly. If this happened, Kelly said, the city's people would "suffer" as a result.
De Blasio took office on Jan. 1, and before that month was over, he followed through and dropped the legal action. It also ushered in the mandated, limited use of police body cameras and installed a federal stop-and-frisk monitor. NYPD supporters argued these measures would hamstring the police from doing their jobs.
Eric Garner, Al Sharpton, and the City-Wide Protests
In the days after Eric Garner was killed on July 17 by an NYPD officer's chokehold, de Blasio convened a "roundtable" at City Hall to begin what he hoped was a citywide healing process between police and the communities they serve.
It had the opposite effect. NYPD Commissioner Bill Bratton sat on one side of de Blasio at the event. On the other side was the Rev. Al Sharpton, a decades-long critic of the NYPD who is back in the graces of City Hall after years of Guiliani and Bloomberg-induced exile.
Sharpton spoke first, and relished the spotlight, telling the mayor, "If Dante wasn't your son, he would be a candidate for a chokehold..." adding that current police tactics cracking down on small-time violations" are disproportionate in the black and Latino community."
De Blasio adopted similar rhetoric in the hours after a grand jury decided to not indict the officer in Garner's death. Speaking at a Staten Island church, the mayor said he had to warn his son, who is black, about interacting with police.
"Chirlane [McCray, de Blasio's wife] and I have had to talk to Dante for years, about the dangers he may face," the mayor said. "We've had to literally train him, as families have all over this city for decades, in how to take special care in any encounter he has with the police officers who are there to protect him."
And on Dec. 13, after police said three NYPD lieutenants were assaulted on the Brooklyn Bridge during protests stemming from the grand jury decision, de Blasio brought on the union's wrath again. As the New York Times reported:
Even when trying to defend officers, the mayor has, at times, been criticized by them. After reports of an attack on two police lieutenants during protests on the Brooklyn Bridge on Dec. 13, union leaders lamented that the mayor's statement condemning the episode included the qualifier that police were "allegedly assaulted."
That same statement from de Blasio added: "Let us be clear: there is no place whatsoever for violence of any kind, whether against the police or against our fellow citizens, in New York City."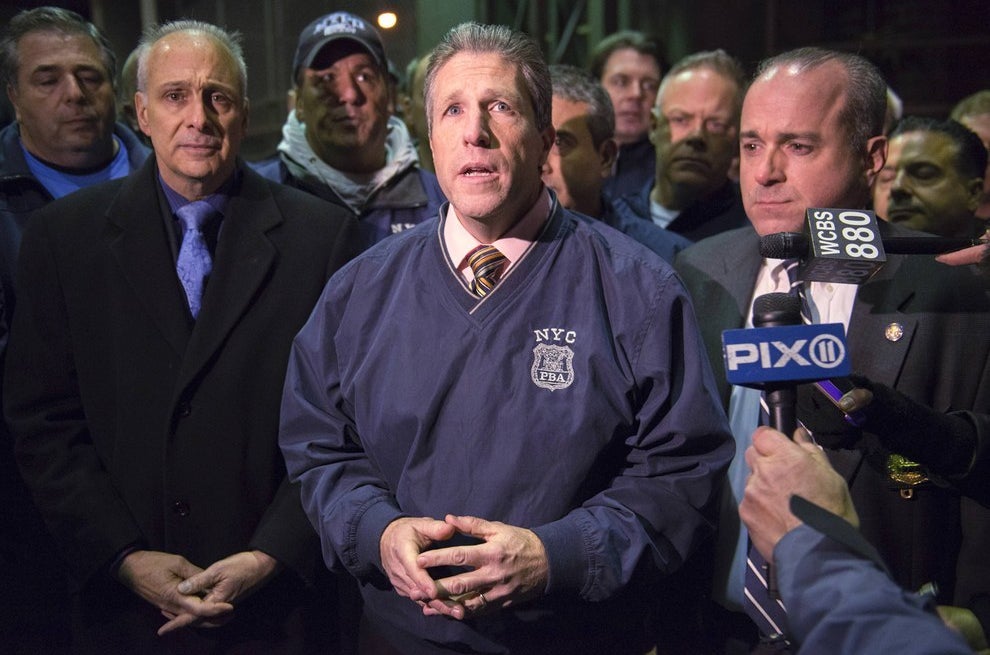 Patrolmen's Benevolent Association President Pat Lynch (right) and Mayor Bill de Blasio and NYPD Commissioner Bill Bratton (left) speak to the media at Woodhull Hospital on Saturday evening.
Union Contracts
The city's two largest police unions — the Patrolmen's Benevolent Association, which represents officers, and the Sergeants Benevolent Association — have respectively gone without contracts since 2010 and 2011. It's the most significant undercurrent in the union's recent sharp rhetoric against de Blasio.
The union leaders deny this. Ed Mullins, the SBA president, said in an interview after the officers were killed — where he criticized de Blasio's leadership — that, "this is bigger than money."
Still, there is always immense pressure for union leaders to deliver solid contracts to their workers. Their leadership positions and the department's morale depend on it. And since Jan. 1 de Blasio has cut contract deals with 71% of the municipal workforce. Some of those agreements include NYPD unions representing captains, detectives, and lieutenants.
(Bloomberg had a well-noted strategy to let every single city contract expire and punt all negotiations to the next mayor.)
Speaking on Monday about some of the "moving currents creating the current tension and atmosphere," Bratton said, "There's a lot going on in the NYPD at the moment, labor negotiations."
He added, "Some 10,000 of our officers are in a new pension system that limits significantly their benefits. This occurred about four years ago when Governor Paterson signed a bill at midnight, there's a lot of anger about that since we've had so many attacks on young police officers over the past year."
So how are the talks going? Meetings between the administration and the SBA "continue to be scheduled," a City Hall official told BuzzFeed News. The administration would not to comment on any ongoing negotiations.
The PBA is the only union that has entered independent arbitration. This means the negotiating — though no meetings have been set yet — will be left up to city lawyers and labor experts, the decision left up to a three-person panel. De Blasio and PBA President Patrick Lynch won't even have to sit across the table from one another.
Bill de Blasio began to lead in mayoral campaign polls in early September 2013. This post originally said 2003.