In the sixth and final season of HBO's Girls, there's a scene in the second episode ("Hostage Situation") in which Lena Dunham's character Hannah ducks into a picturesque gift shop in upstate New York, while seeking sanctuary from toxic bickering between her best friend Marnie and Marnie's soon to be ex-husband Desi. She promptly knocks over a stack of books.
"Oh, leave it, it's fine, I need to reorganize that anyway," says the shop owner, named Marlowe (according to IMDB) and played by model-turned-actor Joy Bryant (Parenthood). Clad in all black, her hair in a sleek ponytail, rocking plum-colored lipstick, and holding a tawny lap dog in one hand, she looks like a beguiling witch. Hannah says as much.
"Wow," says Hannah. "I have never felt such an intense need to Instagram a stranger."
"I get that a lot," quips Marlowe. She asks if Hannah has any questions. "I do have one question," replies Hannah. "Why are you not a model in Dubai making $10 million a year?"
Marlowe explains that, in fact, she used to work in fashion in Queens, but after she fainted onto the subway tracks one day and was rescued by Chris Noth, she found refuge in the countryside.
"Are you happier?" asks Hannah.
"How could I not be?" Marlowe says, "I'm living my truth."
There's a dramatic pause as Hannah considers this idea.
By itself, this scene is innocuous enough. Hannah is searching for meaning, viewers can deduce, and finds some comfort talking to this beautiful stranger, who happens to be black. But in the larger context of this season of Girls, that moment is merely the first in a string of scenes in which supporting characters of color help the white stars of the show find themselves.
In last week's episode, "Bounce," Elijah (Andrew Rannells), Hannah's fabulously bitchy roommate (and chronic scene-stealer of the whole show) is about to bail on a musical audition until he gets a pep talk from Athena Dante (Latisha Di Venuto), who checks all the boxes of the "sassy black sidekick" stereotype (ebullient and overweight): "Basically my ex showed up at my apartment this morning and basically destroyed this entire day for me," confesses Andrew. "Fuck that. Men are only on this earth to buy us jeans," Athena says, later advising him to "sing some shit that's really real to you right now." In the behind-the-scenes episode explainers, Dunham even admits as much: "We liked the idea of having a spirit guide for Elijah during the audition."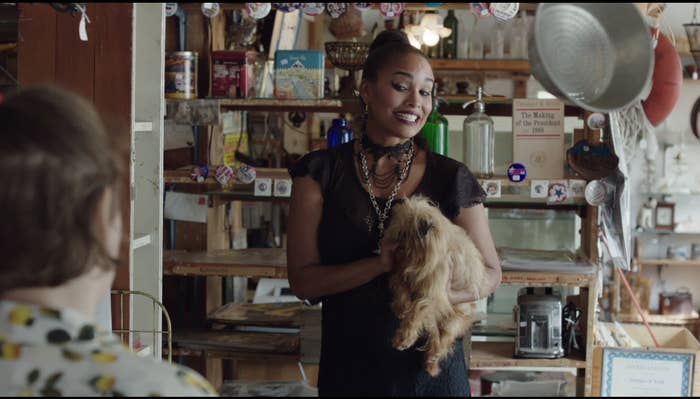 In that same episode, Marnie (Allison Williams), strapped for cash, tries to sell some family jewelry in a pawn shop. The store clerk, a man of indeterminate race with a noticeable foreign accent (listed as "Pawn Shop Owner" in the credits and played by Nikolas Kontomanolis, who is Greek), compassionately scolds her for her inability to take responsibility for her own actions. And in the episode airing on Sunday, a pivotal scene between Adam and Hannah takes place in a bodega, in which the brown store clerk, ("my very close friend Amir," according to Hannah) watches the proceedings in disinterested silence.
All of these "ethnic" stock figures, for lack of a better term, essentially serve as plot devices or scenery: They either help the white main characters overcome their self-doubt, chide them for their shortcomings, or work as mute comic relief. They also veer dangerously close to an archetype often seen in film that refuses to die — the "magical negro."
The term, popularized by Spike Lee, refers to black characters — like Will Smith in The Legend Of Bagger Vance, or Michael Clarke Duncan in The Green Mile — who help their movies' white protagonists with various problems at the expense of their own character development, personal betterment, or plain common sense. As Wesley Morris noted in his review of Ted 2 for Grantland in 2013, "In the movies, these are menial jobs for women and people of color, spending their slivers of screen time handing out advice, bits of plot, and verdicts."
As original television programming has grown, both literally in the sheer number of TV shows on various channels and streaming platforms, and also in scope and theme and complexity, variations of this old, unfortunate trope has become prevalent even in shows lauded for their progressive takes on other issues. Samira Wiley essentially played a "magical negress" on this past season of You're The Worst. The black therapist on Crazy Ex-Girlfriend occupies the same role. They exist only to tut-tut at the white characters and to highlight their blinding self-involvement. They are the straight foil for the white characters' wacky cluelessness.
Even before it aired, and throughout its run, Girls had attracted criticism for the whiteness of its cast and the ways in which the show's fictional version of New York City had failed to reflect the diversity of the real thing. But in its last season, the show appears on track to end its hotly contested, though often brilliant, run by falling hard for this trope.
The day after Girls premiered in 2012, journalist Jenna Wortham wrote in a piece for The Hairpin that "...the problem with Girls is that while the show reaches — and succeeds, in many ways— to show female characters that are not caricatures, it feels alienating, a party of four engineered to appeal to a very specific subset of the television viewing audience, when the show has the potential to be so much bigger than that. Girls is good for girls. But which girls?"
Similar sentiments soon followed from writers at Racialicious and Jezebel, and the debate eventually got so heated that Lesley Arfin, a Girls writer at the time, (now the co-creator of the Netflix series Love) tweeted: "What I really didn't like about Precious was that there was no representation of ME."
"Magical negroes" exist only to tut-tut at the white characters and to highlight their blinding self-involvement.
Ultimately, the most cogent critique at the time came from Ta-Nehisi Coates, who pointed out that more resentment should have been directed at HBO, which in 2012 had yet to grant a black woman her own comedy show. "It is not so wrong to craft an exclusively white world—certainly a significant portion of America lives in one," Coates wrote in The Atlantic. "What is wrong is for power-brokers to pretend that no other worlds exists."
Dunham's response to the controversy was actually quite thoughtful. In an interview with Fresh Air, she said, "Something I wanted to avoid was tokenism in casting ... I really wrote the show from a gut-level place, and each character was a piece of me or based on someone close to me. And only later did I realize that it was four white girls. As much as I can say it was an accident, it was only later as the criticism came out, I thought, 'I hear this and I want to respond to it.'"
In a retrospective oral history of the show in the Hollywood Reporter this year, Dunham admitted that, at first, she was much more defensive: "I had been metabolizing the criticism all week, and I made a really, really dumb joke that I'm perfectly fine to repeat now 'cause I was f—in' 25. I said, "No one would be calling me a racist if they knew how badly I wanted to f— Drake."
To her credit, Dunham has taken visible steps to collaborate with and highlight the work of non-white artists and writers outside of Girls. She actively sought out women of color to perform during her 2013 book tour for her memoir (though at first she didn't pay them), and has published the work of Doreen St. Félix, Durga Chew-Bose, and other racial minority women in her newsletter, Lenny. But as for Girls itself? The writers' room is still predominantly white, without a single woman of color. And the way that the show has handled its ethnic minority characters has always been shaky. To call most of them characters would be a stretch.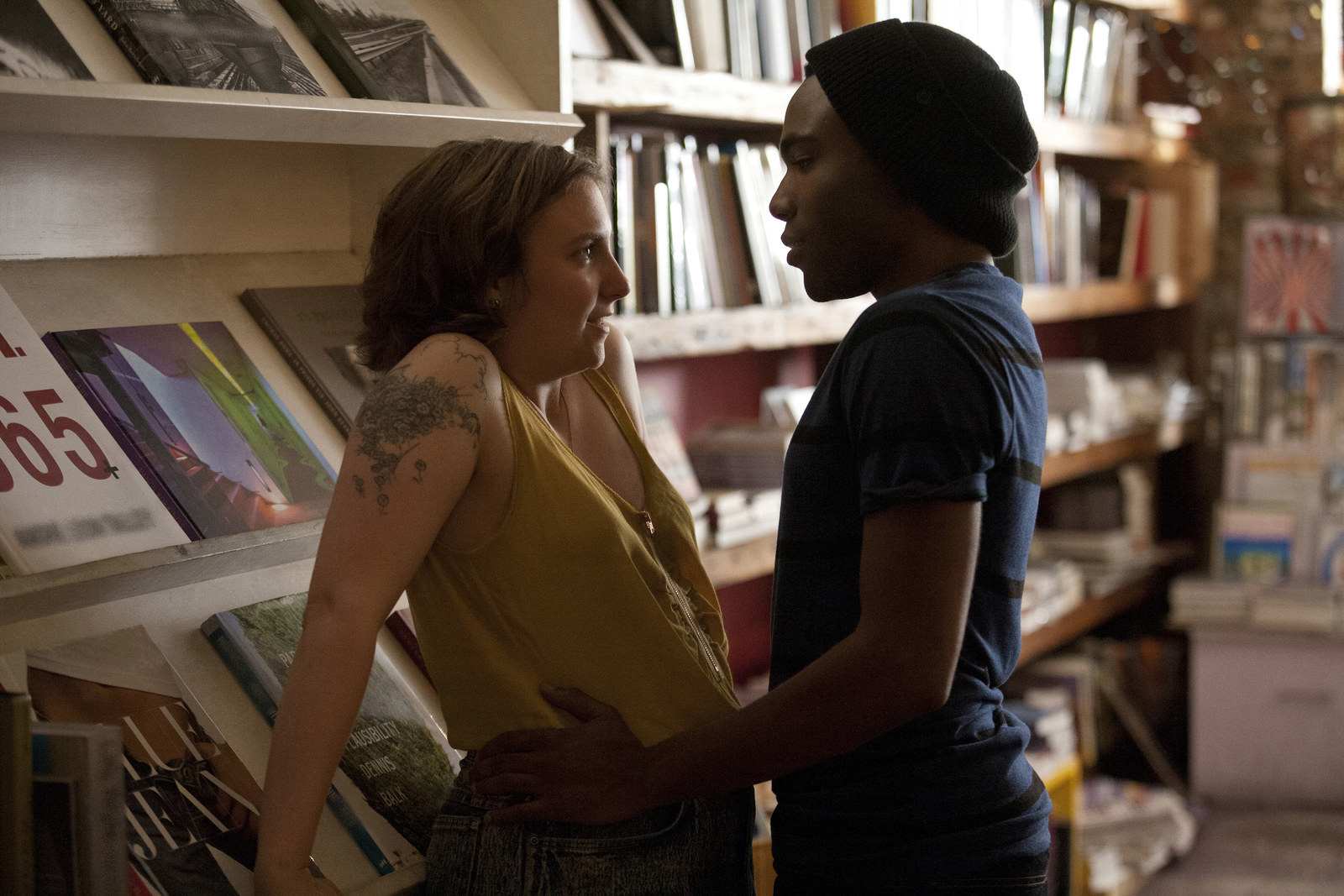 Take Donald Glover. Glover was cast before the controversy over Girls' beigeness dominated the thinkpiece mill, according to this Hollywood Reporter story. But as the first black character with a multi-episode arc on the series he ultimately only appears to highlight Hannah's racial cluelessness. He was a token character with a few random signifiers — His name is Sandy! He's a Republican! — that added bits of quirk. We first see him fucking Hannah in the first episode of the second season. "You wanted this," he tells her and she repeats him. "I wanted this." Then there's a cut to Girls' title card (in black and white, wink wink).
In the second episode, written by executive producer Jenni Konner, the true purpose of his character becomes clear. After telling Hannah what he thought of an essay she wrote, they endure an excruciating breakup scene in which Hannah primarily succeeds in humiliating herself and coming across as a painfully obtuse white girl. "I knew this. This always happens," says Sandy after Hannah suggests that they just be friends because "I think our political beliefs are just too different."
"What always happens?" asks Hannah.
"Oh, I'm a white girl and I moved to New York and I'm having a great time and oh, I've got a fixed gear bike and I'm going to date a black guy, and we're going to go to a dangerous part of town; all that bullshit," says Sandy. "I know this. I've seen it happen a million times. Then they can't deal with who I am."
"You know what, honestly maybe you should be thinking about the fact that you could be fetishizing me," Hannah retorts. "How many white girls have you dated? It sounds like a lot, from what you just said. Maybe you think of us as just one white blobby mass with stupid ideas so why don't you lay this thing down, flip it and reverse it because I don't think it's very nice." And then later: "The joke's on you, because you know what? I never thought about the fact that you were black once."
Girls is more self-aware than it's often given credit for, and in such a scene it's hard not to take Hannah's pronouncement as a meta critique. She's not supposed to be likable here. But Sandy, then, is merely the black mirror used to reflect that unsavory element of Hannah's character — in the same way that so many lackluster cringe comedies still seek out a person of color's face to dryly react to tone-deaf racist shenanigans taking place (a la Stanley in The Office).
Tellingly, Sandy never appears in another episode. Such figures aren't really characters after all; they're archetypes, symbols, soundboards for the white characters' verbal processing. (It certainly didn't help that Dunham loved to go on about how hot Donald Glover was IRL, in ways that foreshadowed her Odell Beckham Jr. debacle). This magical (or unimpressed) negro trope continues throughout the entirety of the show, though it's appeared most consistently in this last season.
In a strange form of comedic relief in Episode 5 ("Gummies"), written by Sarah Heyward, Hannah and Elijah argue dramatically over whether or not Hannah would be a good mother in the kitchen of a Chinese restaurant — the Asian workers merely serving as background for peak #whitepeopledrama. Elijah's coworker, a black woman named Paget (played by Jasmine Cephas Jones), is the one who encourages Elijah to get back into acting after he reads lines for a play she's auditioning for, essentially stealing her own storyline. All we know about her is that she's also a struggling actor.
Such figures aren't really characters; they're archetypes, symbols, soundboards for the white characters' verbal processing.
Shoshanna's entire arc in Japan last season felt an awful lot like an extended Eat, Pray, Love montage, with Shoshanna realizing how unhappy she is in New York by fleeing to Tokyo. Her Japanese love interest Yoshi (played by Hiro Mizushima, whom Lena Dunham admiringly describes as "a massive star in Tokyo") never moves beyond a cipher. To the show's credit, the character of Paul Lui (Riz Ahmed), Hannah's kooky, disinterested, waterskiing baby daddy is arguably the only character of color who has felt fully formed.
The intention here is not to nitpick. As Coates said, there's nothing wrong with owning the fact that New York, cosmopolitan mecca though it may think it is, is also plagued by rigid self-segregation. Most white people don't have any friends of color, period. It's not unrealistic to imagine that most of the people the characters of Girls interact with are white. And maybe the casting calls for these magical POCs were not imagined as specifically for people of color (reached through representatives, Dunham was unable to comment on this story).
Still, the consequences of relying on this trope are minority characters who are so shoddily developed that their inclusion is not a boon, but rather a regression. The solution? Either embrace the verisimilitude of white hipster New York — because after all, even if there are white New Yorkers who see ethnic minorities as "supporting characters" in real life, those minorities would never be as blindly invested in white strangers' lives as the supporting characters of color on Girls — or hunker down and create POC who do more than give sage advice, make sassy clapbacks, serve as mute comic relief, and then promptly disappear.
UPDATE
This post has been updated to clarify the inclusion of a character's physical description
Want more of the best in cultural criticism, literary arts, and personal essays? Sign up for the BuzzFeed Reader newsletter!