Filing past the red carpet press line can be an exhausting, repetitive ritual. There are only so many ways you can tell a reporter how excited you are to be there and how yes, coming out again on TV is weird. But if there were moments of fatigue for Lena Waithe, the 33-year-old breakout star of Master of None, she did not show it during a series of rapid-fire interviews at the second-season premiere of the Netflix series in late May.
"Can you say a few lines for our Snapchat?" asked a woman from Bon Appétit.
"Get an extra dose of mac 'n' cheese with Dev and Denise for Thanksgiving!" Waithe delivered, gamely.
Waithe was dressed in what chill would look like if it moved and breathed — designer sneakers, loose pants, a bomber jacket, and a wide-brimmed black hat that perched on her locs, showcasing the shaved sides of her head. She was wearing makeup, but barely, a dewy powder that highlighted the orange undertones of her skin and her soft and rounded cheekbones.
Her manner matched her clothing — relaxed and easygoing. She answered each reporter's question thoughtfully and carefully; there were no visible signs of anxiety for this woman on the cusp of a major breakthrough. Not only did she write and star in "Thanksgiving," the standout episode of Emmy-winning Master of None, but The Chi, a drama she created about a group of black men growing up on the South Side of Chicago, has been bought by Showtime. And next year, she'll be costarring in Steven Spielberg's film adaptation of Ready Player One, a virtual reality dystopian novel that sold a bajillion copies and should, if all goes well, return Spielberg to the top of his perch as king of the blockbuster movie.
Waithe belongs to a new breed of Hollywood star: the multihyphenate.
Waithe belongs to a new breed of Hollywood star: the multihyphenate. Writer, director, producer, actor — combining these titles is no longer the preserve of big-name celebrities for their vanity projects. Increasingly, they're the way people traditionally locked out of the Hollywood system — queer women of color certainly among them — can make the television and film that they want to see. Like her peers Issa Rae and Donald Glover, Waithe recognizes the necessity of being able to do it all — becoming versatile creators who eventually secure the support of major networks to make their own shit. And with their innovative work, they are forcing Hollywood to reckon with its own homogenous storytelling.
But before Waithe could bask in the adulations to come, she had to get through the press line.
"Who was the last person you texted?" asked another reporter.
"My whole girlfriend's crew," Lena responded.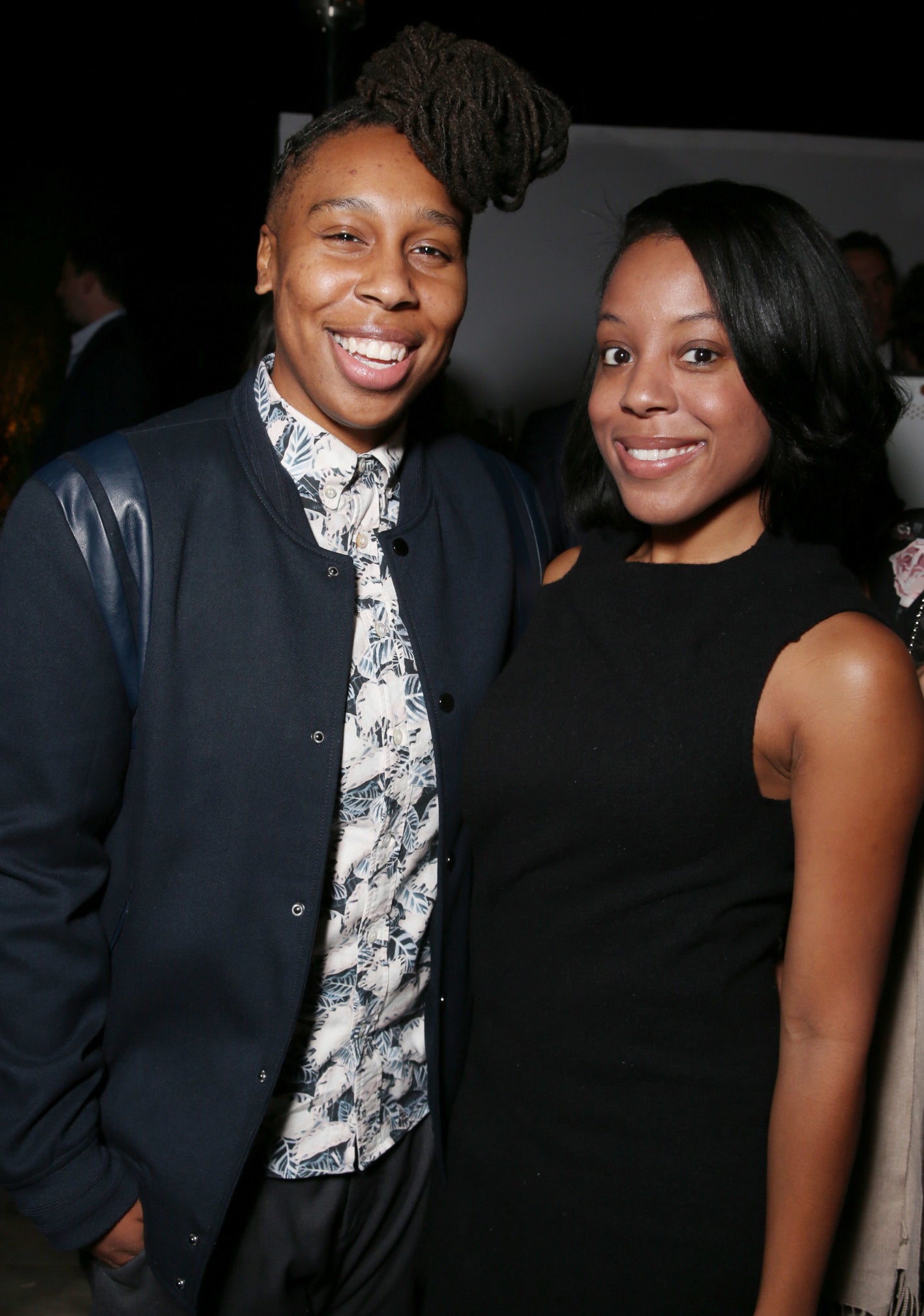 Her whole girlfriend's crew was there, in fact. Alana Mayo, her girlfriend of almost three years and the head of original development at Vimeo, had brought her brother, her father, a cousin, and a woman who I later learned from Waithe is Mayo's father's ex. (When I asked the ex how she knows Waithe, she responded, "How do we really know anyone?")
"They said I had five tickets this year so I thought I'd bring them all," Waithe explained. After answering more questions from reporters (on coming out again onscreen: "It was more cathartic than I thought it would be") she filed into Manhattan's SVA Theatre, entire crew in tow.
Following brief introductions from creators Aziz Ansari and Alan Yang ("Season 3's just going to be about dogs," quipped Yang) the lights dimmed and the first two episodes of the second season commenced. It was Waithe's first time seeing them, and afterwards she said, "I loved it; you know I'm just as much of a fan of the show as everyone else." Then added, with a smile, "A black girl, hehe." (Following complaints that Dev's love interests in the first season were all white, the first episode of the new season features a charming scene with a potential black love interest. It's all downhill from there though.)
After much back and forth over whether Waithe's crew would fit in one black SUV (spoiler alert: They did), they headed to the Standard Hotel for the afterparty.
I found Waithe holding court in the section reserved for castmates and family, arms around Mayo, chatting and mingling. Across from her, Danielle Brooks, clad in a striking orange number, twerked enthusiastically to Migos with a friend. Waiters carted around mini-burgers, and there was a cheese station and photo booth where attendees could pretend to bike in the hills of rural Italy, where the first two episodes are set. Bobby Cannavale floated by as breezily and charmingly as his doppelgänger on the show (sans the creep factor to follow). "Can you introduce me to Bobby Cannavale?" Mayo asked Waithe. She did and then teased Mayo about it later.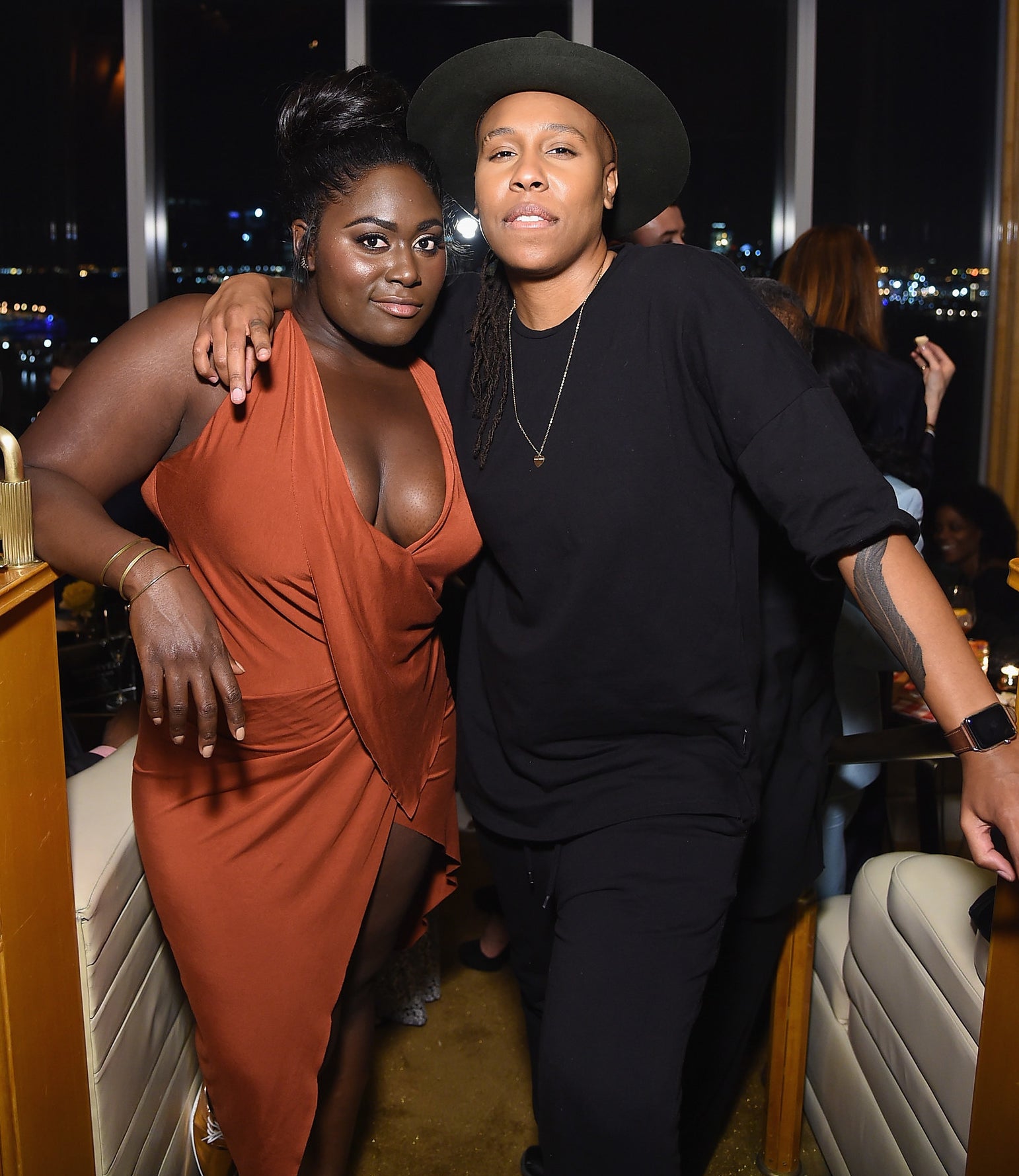 Waithe's table was the popular one throughout the night; with Brooks across from her, it was the only section of the party where dancing would occasionally break out, enthusiastic and boisterous. When the song "Bad 'N Boujee" came on, Aniz Ansari, a writer on the show and the younger brother of Aziz ran up to Waithe's table. "I was with three white people and this song came on and I was like, gotta go," said Aniz. Waithe laughed and she and Aniz danced; Aniz with the feckless abandon of the comics book nerd he is, Waithe with some cool, casual arm movements from the Future school of dance.
At one point Waithe was in deep conversation with a group of black women. Afterwards, when I asked her who they were, she told me they were assistants who had the lowdown on the after-afterparty.
"You know I used to assist and so I'm always looking out, keeping in touch," Waithe said. For many years, she grinded as an assistant in LA, working for a fierce cadre of black woman directors including Ava Duvernay, Gina Prince-Bythewood, and Mara Brock Akil. But she was also writing, producing, and directing her own work that she'd post online. She gave it her all because she had to. There was no room for a Plan B.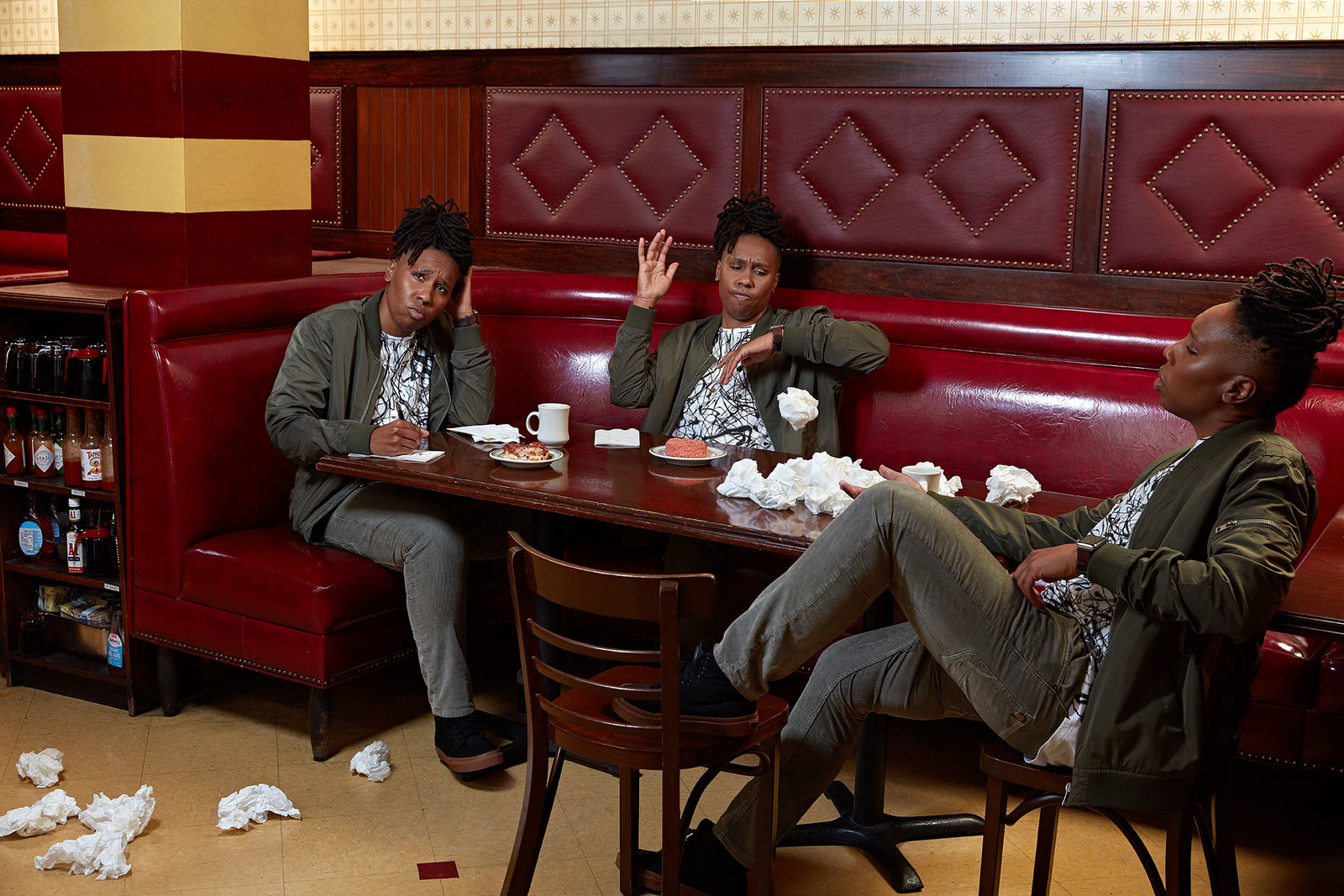 With a singularity of purpose rare to children, Lena Waithe always knew she wanted to be a TV writer. She grew up in Chicago, the youngest of two daughters raised by a single mother who did — well, Waithe doesn't really know exactly. "She figured it out, she was always hustling and always working," Waithe tells me in an interview three weeks after the Master of None premiere party at Tribal Cafe, in the Echo Park neighborhood of LA, where she lives.

"I never had everything I wanted, but I never wanted for anything," she adds. Growing up, Waithe was an avid television viewer, a devoted fan of Friends, The Mary Tyler Moore Show, and A Different World (both her official Youtube and Instagram handles are "hillmangrad," a nod to A Different World's fictional university). She worked at Blockbuster, Best Buy, and the local movie theater just to surround herself with TV and film, and naturally gravitated towards comedy. "It's weird, shows that are on TV right now for kids, like on Nickelodeon or Disney, the characters aren't really real. They're like big and loud and say weird things," says Waithe. "I was really lucky that when I was a kid, Rudy [Huxtable] was very much like me. Eve in Eve's Bayou is very much like me. They were actual people; it was still funny, but it was funny because it was relatable."
She went to Columbia College in Chicago and majored in screenwriting, where she was able to write through the kind of bad scripts that she says enabled her to get good quickly. "I think a lot of people don't have the luxury of [writing scripts in college]," says Waithe. "They come out here [to LA] and then they have to learn as adults but I've been writing bad scripts for a while, so by the time I got out here and was comfortable, the scripts started to get good."
"I've been writing bad scripts for a while, so by the time I got out here and was comfortable, the scripts started to get good."
After graduating in 2006, she moved to Los Angeles, where she worked a series of assistant jobs (as a PA on Ava DuVernay's first feature, I Will Follow, and as an assistant on Girlfriends, to name a few) and joined a writers group. It was in that group that she met future director and screenwriter Justin Simien, then just another black queer person trying to workshop a film script into a TV pilot. (In an ironic twist, his movie Dear White People, which was the first movie Waithe produced, would come out first and then become the basis for a Netflix TV show.)
Their meeting proved fortuitous. "I don't know what it was but it was like love at first sight. We just immediately connected in that moment and we were best friends ever since," says Simien. Together they collaborated on various web shorts that varied dramatically in subject matter and length. There was Save Me, a 2011 short Waithe wrote and directed (and Simien edited) about a little black boy whose house burns down in a fire. Though the general premise is dramatic, it shows Waithe's early flair for writing idiosyncratic characters with sass. (In one scene a boy asks the main character who Thelonious Monk is and he responds, "That's a loaded question.")
In 2013 Waithe teamed up with her friend the actor Ashley Blaine Featherson and the production company Black&Sexy TV to write the first season of the web series Hello Cupid, a fun, flirty look at two black women online dating in LA. But she got the most traction for Twenties, which she intentionally marketed as a pilot presentation and not as a web-only series: "I love a webseries," Waithe told Jezebel at the time. "But to me it does the girl in Detroit a disservice who just watches television. It does a disservice to the girl on the south side of Chicago who doesn't go online...It's really important that this show get to the masses."

In selected scenes from the presentation, which were directed by Simien and executive produced by Queen Latifah, a disgruntled queer black woman named Hattie, played by the actor Courtney Sauls, tries to make video blogging a thing. You can see Waithe's sense of humor firsthand: "So I watched The Voice yesterday and I was whelmed, but not overly," says Hattie. In another scene, Hattie recounts how shitty her life is: "I am currently living in my best friend's apartment because I eat out too much and never check my account balance. And to top it all off, I am in love with an emotionally damaged straight woman." On the heels of Girls, it was the sort of personal, twentysomething-in-crisis perspective that got a lot of press attention from women's sites like Jezebel and The Toast and drew favorable comparisons to Lena Dunham — though crucially, Waithe did not act in any of the projects she wrote.
The experience was an objective good — production companies have shown interest though Waithe is still trying to find the ideal home for the show. Like Issa Rae, whose career took off with her webseries The Misadventures of Awkward Black Girl, and Ilana Glazer and Abbi Jacobson, the women behind Broad City, there is tangible evidence that sharing your own content online (Broad City started as a web series) can lead to attention from network brass. Waithe declines to call it a deliberate strategy, though. "I was just being creative and I wanted to share it with people," Waithe says in an email about Save Me. "That's what artistry has always meant to me. Making something and then sharing it, right away."
But she can't deny that there is a bit of a moment happening. Though obviously not all black people in Hollywood know each other, there's a group of trendy, Tumblr-beloved black creatives who are supportive of each other's work.
"The cool thing about dope black style becoming in style is that the industry has no choice but to try and reduplicate that."
Waithe expands upon this idea: "Definitely cool with Issa. Donald [Glover] and I text sometimes. Justin and I, we're best friends. I would love to work with Ryan Coogler at some point in the near future. And Barry Jenkins is a friend too, he's in our crew. Hopefully he and I can collaborate soon. That's to me what's exciting, is getting to collaborate with everybody."
She credits shows like Empire and the critical and commercial success of Get Out with leading the wave, though she argues that execs often fall prey to simply replicating shows after they succeed. "I think once Empire hit, there was a lot of bad black TV that followed, because we work in the business of hit-seekers and copycats so they're like, 'Oh this is a show about black people, this is about music, OK let's do a version of that.' And of course it doesn't work because it's not organic," says Waithe. "You'll hear people say, 'Oh yeah, it's sort of in the vein of Get Out.' Or it's sort of like Moonlight. Or it's a little bit like Dear White People. And the funny thing is before Get Out came out, nobody was trying to make a layered satirical horror film about race and white supremacy. But when something becomes a hit, all of a sudden the exec code word is 'oh it's sort of in the vein of Get Out,' because that worked. The cool thing about dope black style becoming in style is that the industry has no choice but to try and reduplicate that."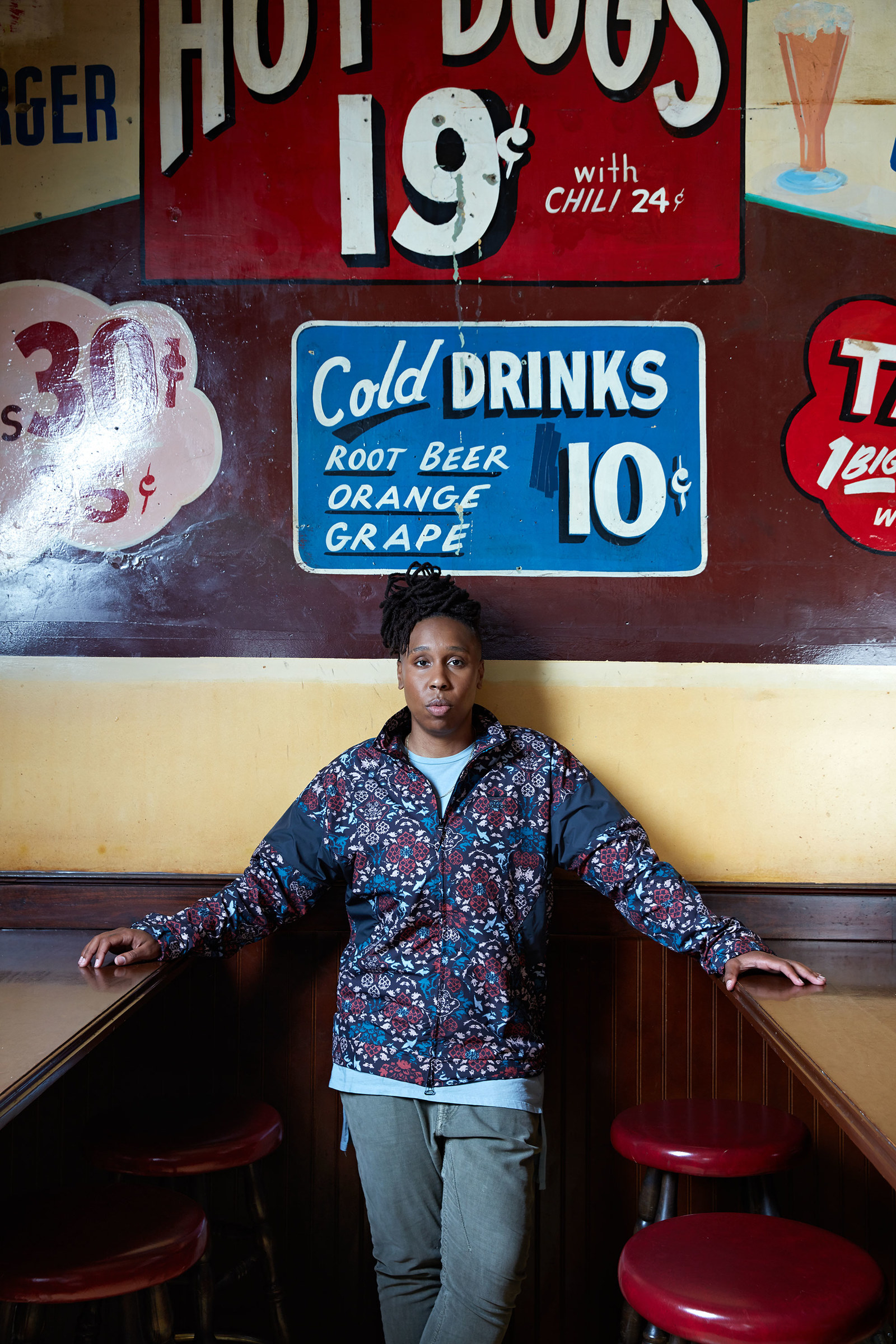 Waithe's acting career began with a fateful typo. If the website Refinery29 hadn't mistakenly referred to Waithe as both the writer and the star of Twenties, she may have never become a professional actor. Casting director Allison Jones, who helped launch the careers of Seth Rogen, James Franco, and Jonah Hill and has won an Emmy for her work, saw the article about Waithe and got in touch.

"I read about her doing a web series so looked her up – it was an article that referred to her as being the other LENA who was cool," Jones tells me in an email. Jones sent the article to Judd Apatow and Jennifer Euston, the casting director of Girls and Orange Is the New Black, since Waithe mentioned watching those shows. "I assumed she was an actress and thought her original and funny," Jones says. It was only after Jones invited her to read that she learned that Waithe had never acted before. Waithe, on the other hand, had no idea who Jones was.
Waithe's acting career began with a fateful typo.
"I was actually in Minneapolis, on the set of Dear White People [where she was producing the film] and my then-manager said, 'When you get back you should go sit with Allison Jones.' And I was like, 'Who's that?' And he said, 'She's a famous casting director.'" Waithe says. In keeping with her "just do it and see what happens" ethos, she met with Jones and they had a great conversation.
"She said, 'Hey, can I bring you in for some stuff'? And she did. She started bringing me in for things." Waithe read with Julia Louis-Dreyfus for a part on Veep. She auditioned for an Amy Schumer movie. But the first role she booked was a small part as an unimpressed blogger on the cult favorite HBO series The Comeback, starring Friends alum Lisa Kudrow. And as luck would have it, Sex and the City showrunner "Michael Patrick King was directing that particular episode so that was phenomenal."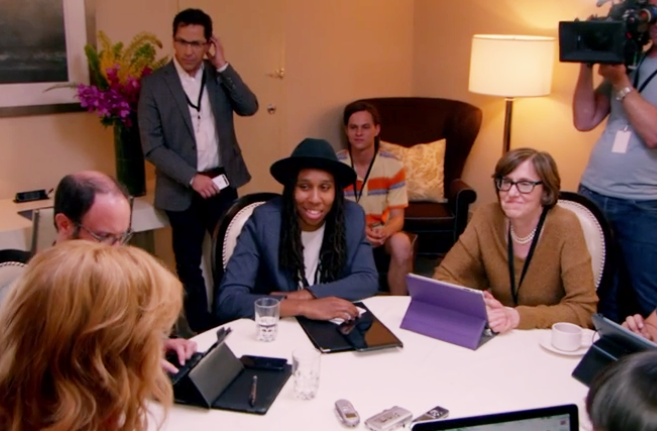 The Master of None audition was a similarly laissez-faire event: "When I got that call to go meet with Aziz and Alan — it wasn't an audition at first — it felt like a staffing meeting because I was just talking about my life and this and that. Then I got the call, 'Okay, now he wants to read with you.' And because of my writing background I punched up the scene. By the time I was testing, we were like, this is old hat." The story goes that Ansari and Alan Yang had originally envisioned a tiny straight white woman as Denise, but when they met Waithe, the chemistry was obvious and they happily rewrote her character to accommodate her personality.
Waithe was pretty adamant about not writing for Master of None in Season 1 ("I like to keep those things separate"), but her influence was felt nevertheless. (The "Ratch" cap she frequently wears stems from an expression she uses with her friends, and the scene where she explains what redbones are to Dev was basically taken verbatim from a set conversation she had with Ansari.)
It was only in Season 2 that she relented and wrote the most personal thing she's written for public consumption thus far. "I went and hung out with the writers in New York and I thought, Okay, [Denise is] probably going to have a girlfriend, I have a girlfriend," Waithe explained on an Emmy For Your Consideration panel in LA in early June. "Silly things happen in our relationship, so I was taking notes every time we did something silly or stupid, or every time something crazy happened to us. And I had my list of notes ready and I was sitting down talking about all kinds of stuff, and they were like, 'Well, how did you come out?' And I started telling my very animated version of the story, doing the impression of my mother and my aunt and my grandmother and they were really fascinated by that, and by the time I got back to my hotel, they were like, 'That's the episode.'" After some coaxing, Waithe agreed to help Ansari write it.
The episode, "Thanksgiving," directed by Melina Matsoukas (a respected music video director who worked on Beyoncé's "Formation") and starring Angela Bassett as Denise's mom, Kym Whitley as her boisterous aunt, and Venida Evans as her grandmother, is easily the second season's best. Over the course of multiple Thanksgivings spread out over decades, we see the burgeonings of Denise and Dev's friendship, her early attraction to women (in a running gag, she has a thing for Rachel from Friends; "Lena likes a lot of white shit," Simien tells me), her tomboy style, and the effect that her coming out and bringing home girlfriends has on her mother and aunt. It's a stunning piece of television, not just for range of themes it manages to convey in 34 minutes — the sanctity of the dining room table, the way chosen family can be just as important as the family you're born into, the cheesy, romantic perfection that is the New Edition song "Can You Stand the Rain?"— but also for its originality. (Coming-out episodes starring queer women of color are hard to come by.) Netflix execs are avidly pitching the episode for Emmy consideration, though when I ask Waithe about it, she's tentative about appearing too excited: "We'll see if they think it's worthy."
"Her work is funny in an organic, cool way — not the typical set up, punchline joke, but it just really feels effortless."
For her friends, the acclaim surrounding the episode is just a testament to her skill. "Lena's scripts are personal. Almost anything she writes, I don't care if she's writing about a white girl living in 1930s England, if she's writing the script, there's going to be something that's Lena, that came from lived experience," says Ashley Blaine Featherson. "She didn't sit at a computer and make up this whole crazy world and so I think [her scripts] lend herself to acting a lot of times because as actors, you know, we're supposed to be portraying real and honest, true experiences and it's a lot easier to do when the writer's work is coming from that as well."
Love & Basketball director Gina Prince-Bythewood, who hired Waithe as her assistant on 2008's The Secret Lives of Bees, agrees: "Her work is funny in an organic, cool way — not the typical set up, punchline joke, but it just really feels effortless."
Waithe's comedic talent and sense of timing — something she deftly employs in a rousing story she tells about trying to cold-call Whoopi Goldberg during an appreciation of Prince-Bythewood Waithe gave in mid-June for the Directors Guild Awards — is what makes her upcoming project, Showtime's The Chi, such a departure. "The Chi has been the only drama I've ever written. Everything else is half-hour, that's my focus, that's my sweet spot," she says, though she's tight-lipped on plot points for the show.
"We're still making it, so it's hard to say what it is or what it's going to be. But it's supposed to be about Chicago; it's supposed to be about humanizing black people. It's multi-protagonist," she tells me. If she's coy with details, it may be because she's been burned before. When the deal with The Chi was announced in 2015, the pilot that was originally filmed was scrapped. But in a credit to Waithe's ability, Showtime brass decided they still liked the voice of the script. Dope director Rick Famuyiwa signed on to executive produce the show and direct the new pilot. A premiere date has yet to be announced, but the show is filming in Chicago until September. Seeing as this will be most people's introduction to Waithe as a writer and show creator, I ask her if she's nervous.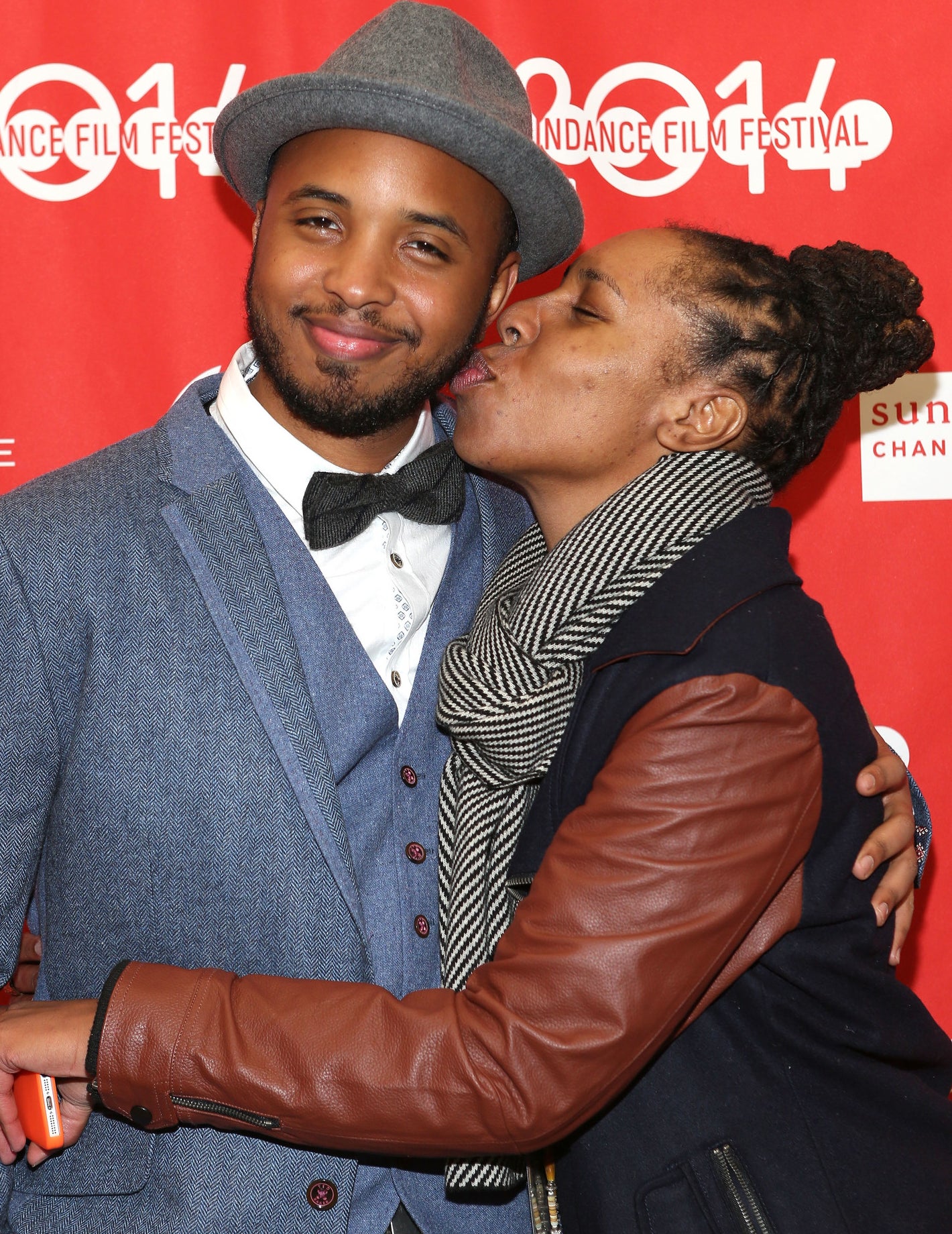 "Being nervous is a waste of emotion," she says. "You can't have any expectations, good or bad. There's always things to be learned and gained but to me it's what you get out of being in that situation, is that you don't repeat the same mistakes the second time around."
Where Waithe lands in the Hollywood firmament remains to be seen, though her supporters are convinced she is sticking around.
"Lena is here to stay," says Simien. "If this renaissance goes up in smoke like it did in the '90s, Lena Waithe is still going to be here. I don't know that that's true for everybody."
Prince-Bythewood agrees: "There's no limit or cap on her, and you just know that something big is going to happen for her, and clearly, she's on the cusp."
Waithe's ambitions are just as high as her peers' predictions.
"I really want to have a production company that's in the vein of what Plan B [the production company co-owned by Brad Pitt that produced Moonlight] does," she says. "They go grab stories that are often off the beaten path or that don't get a chance to tell a story on their own terms and help them do it." She may act or not; it depends on the script: "It has to be amazing and push the culture and the conversation forward in some sort of way." That sense of purpose is her modus operandi — and so far, it's working for her. ●
CORRECTION
New Edition sings "Can You Stand the Rain?" An earlier version of this story misstated the song's artist and song title.
Michael Patrick King was a showrunner and executive producer for Sex and the City. An earlier version of this story misstated his role.