Russia's Meltdown Will Shake The World, From Tajikistan To Tokyo
The collapse of the ruble is bad news for exporters, and a disaster for millions of families depending on migrant workers in Russia. And there are signs it is also fraying nerves in the Kremlin's inner circle.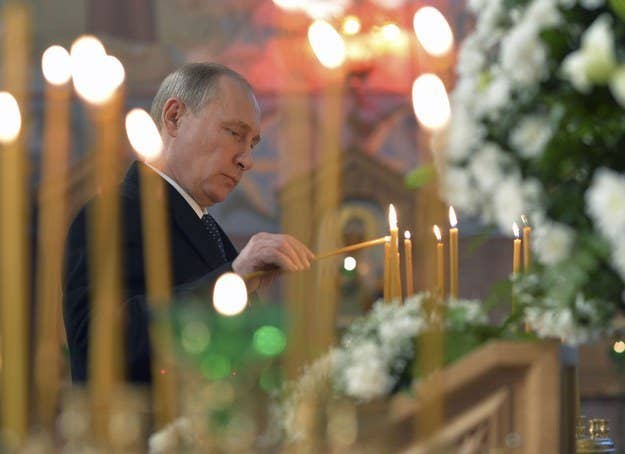 Apple has shut down its Russian online store because the ruble is falling in value so fast they can't figure out what to charge for an iPhone. There was a 1 a.m. rush on Ikea in Moscow last night as customers stocked up before an expected price rise in the coming days. People are queuing outside foreign exchange shops, trying to get rid of their rubles before they lose even more of their value.
The meltdown of Russia's currency, brought on by falling oil prices, collapsing confidence in the central government, and international financial sanctions, is now manifesting itself as a panic. It's "the most incredible currency collapse I think I have ever seen in the 17 years in the market, and 26 years covering Russia," wrote Timothy Ash, Standard Bank's head of emerging market research, in a note this morning. "No one expected the ruble to hit 60 this year against the dollar, let alone 70 or 80 even. And no one is positioned for this. This will impart huge short term damage to Russia."
And the reverberations will be felt beyond the country's borders, globally, but most acutely by its neighbors, where the oil-fueled Russian boom of the last decade has rained cash upon exporters and economic migrants alike.
Consider Tajikistan. Remittances — cash sent home from citizens working abroad — make up 42% of the Central Asian republic's GDP, according to World Bank data, with almost 60% of those remittances coming from Russia. In the course of just a few months, the value of those remittances has been chopped in half. The results will be devastating.
It's not just Tajikistan: Moldova gets about 25% of its GDP from remittances, the Kyrgyz Republic 31%, Uzbekistan 12%. Russia is the largest source for each, and that flow of much-needed cash is now being reduced dramatically.
Cuts in remittance flows cause an unusually direct kind of economic pain, because the money goes quite literally into the pockets of everyday people, typically working-class families relying on a breadwinner working abroad for their disposable income. Unlike, say, international aid programs or foreign direct investment, the money isn't siphoned through a bureaucracy or multiple intermediaries before getting spent — every dollar less that makes it home is a dollar less that gets spent in the local market.
It's not just the family of a Moldovan taxi driver in St. Petersburg who get stung by a collapsing ruble. As its oil wealth swelled, Russia became an enormous importer of new cars from Japan and Germany, electronic gadgets from China, meat from Brazil. Exporters in all these countries now face a future where one of their largest clients has a lot fewer dollars to spend. In a world of slowing Chinese growth and stagnation in Europe, every dollar lost from Russia matters.
Here are the countries with the most to lose: Russia's biggest import partners.
A collapsing ruble hits all those countries. And with the central bank failing to control the situation via a massive hike in interest rates — which should encourage people to keep their rubles in local banks rather than convert them to dollars — some now believe more drastic steps could follow, including capital controls, restricting the conversion of rubles to dollars. That's an even more dire prospect, both for Russia's migrant workers and exporters around the world.
The crisis is also hitting at home in the halls of power in Russia, and there is some evidence that it is rattling figures at the top of Putin's inner circle. Alexei Kudrin, a former finance minister and longtime advisor to Putin, tweeted that the ruble's fall "is not just a reaction to the low oil price and to sanctions, but also a lack of trust in the government's economic measures," and described a massive 625 billion ruble ($9 billion at the time) bond issue by state oil giant Rosneft last Friday — which analysts said was largely purchased by state-owned banks — was "an opaque deal," and "extremely bad timing" due to its effect on the ruble market.
Rosneft chief Igor Sechin — one of Vladimir Putin's closest allies — hit back hard at Kudrin's comments, calling them a "provocation" and suggesting they were part of a conspiracy against the country. "Who are these people, who are these Navalnys, Nemtsovs, and Kudrins, and whose goals are they realizing," Sechin said, bundling Kudrin, a favored member of the Putin clique, alongside well-known opposition figures often demonized in the state-controlled media and described as agents of the West.
Kudrin and Sechin stand on opposite sides of the spectrum — Kudrin, although he is no longer in government, seen as a voice for relatively liberal economic policies, and Sechin, the architect of Putin's campaign to bring oil and gas back under the state's control, the head of a faction of hard-liners. To see internal squabbling break into the open is extremely rare, and suggests tempers are flaring as the country's economy crashes.
But for Putin, there was a consolation prize to all this unpleasantry. This morning, he was announced Russia's Person of the Year, selected by the overwhelming majority of respondents to a nationwide poll. Respondents cited conflict in Ukraine, the Sochi Olympics, and the reclaiming of Crimea as triumphs deserving of the accolade, but the award has become something of a tradition. Vladimir Putin has been named Person of the Year in Russia for fifteen years in a row.